If you like games and have been thinking about composing music for video games or perhaps want to step outside of the box and try something different then this post might be for you. Making music for games can be very fun and lucrative, but it can also be a bit challenging if you aren't familiar with the territory and expectations.
Below I've outlined some crucial essentials that'll help you get up and running in terms of needs, tools libraries to use, etc. Please take these essential tips into consideration before diving in.
A couple of them may seem boring, but trust me, they definitely pay off big in the end.
Let's get started.
Immerse Yourself In Video Games:
Consider this part of the process to be market research. Pay attention to the game genres, music used within them, the audience, and why that audience enjoys the game(s).
If you are a regular or casual gamer, start with the video game genres you enjoy playing first. For me, these were always action-styled games: Shooters, Sports, Fighting, and so on.
If you're not a gamer, start with whatever grabs your attention. If nothing immediately grabs you, choose video games that are popular or any game you can get your hands on, there are lots of free ones out there today.
No need to spend money on a console and games just to experiment in the field, that could be money spent on good, high-quality sound libraries.
Essentially, the more information you can gather and understand, the better off you'll be.
Pay Attention To How The Music Works
Video game music has advanced a lot since the early days of the original NES that was released in the early 90s. Oftentimes, the music ran in a linear fashion, like a movie or music video, and in some instances, if you took too long to complete the level, the music would either stop or return to the very beginning part of the music sequence(s).
This wasn't bad if you enjoyed the music, and there was a good length of music before everything looped around, but even the coolest music scores at some point would become annoying and or monotonous.
Some video games were extremely limited in the number of tracks used per level and got annoying real quick. I remember some game's music was so annoying that I'd mute it and only listen to the sound fx.
Today, video games are more sophisticated, there's more space and computing power to handle high-level graphics and music scores/cues as well as plenty of variations of them to stop the music from getting boring.
More importantly, the music is adaptive to gamers' personal experiences within the game. If there is a battle, the music is likely to be hard-hitting, and fast, and contain instruments that sell the scene. When there is no battle, the music is softer and serves as good background music/white noise also aiding the scene and player's surroundings, but not intrusive and off-putting.
For a common music producer, this can take some time to get used to and this is why It's important to not only play video games but also pay attention to the music being used, and most importantly, how it's being used throughout the gameplay.
A Few Different Genres Of Video Games To Consider
Action: These tend to be fast-paced, tense, adrenaline-boosting, and competitive, putting players in situations where they have to think quickly on their feet and rely on their, reflexes as well as hand-eye coordination.
Role Playing Games (RPG): RPGs often place emphasis on story and character development. Players are often given the opportunity to make choices that affect the outcome of the game, and many RPGs also give players the freedom to customize their characters to suit their playstyle.
Platformer Games: These games sparked popularity in the 1980s. They are essentially video games where you control a character that jumps between suspended platforms and avoids obstacles and enemies in a linear fashion. Think Super Mario, Donkey Kong, and Bonk's Adventure.
Puzzles Games: With this game genre you're mostly problem-solving using logic, mathematics, and other strategic processes to move forward in the gameplay. The main one that comes to mind, when I was younger is Tetris, it was fun. Similar games still captivate people today, especially on mobile devices.
A Few Music Genres That Work Well In Video Games
Orchestral Score: Early music scores early were mostly MIDI and 8-bit as there was a limited amount of space for the game. Today, more video games are using full-on scores recorded by orchestras and or composers who can create realistic orchestral mock-ups using today's amazing sounding libraries.
Chiptune: This genre mimics the sound of older console games that you'd find on the NES, Super NES, and Sega gaming systems. It's a relatively cheap sound, fun to make, and found in many indie game releases today.
Hip-hop, Rock & EDM: Normally sports games will incorporate some form of Hip Hop, Rock, EDM, or a hybrid of all 3. These are high-quality productions generally used on the loading screen, menus, in the soundtrack, or in the main theme of the game title. Oftentimes these don't require a game composer per say and are a collection of really good high-energy sounding tracks that can be rotated throughout the gameplay.
There are just a few genres that come to mind, but look into; World Music, Jazz, Ambient, Drones…
You could literally find 20+ different genres / sub-genres that work in games. Which genre you'd want to create depends on what the developer wants, but if you immerse yourself in video games you'll start to notice that certain game types utilize certain genres more than others. This is why the research is important.
Learn Gaming Engines and Middleware
As a music composer, you are always looking for ways to stay relevant and stand out above the competition, there are a lot of talented composers out there. Spending money on better sounds, and honing your craft, are great ways to accomplish this, but another thing to strongly consider is learning how to use middleware.
As a music composer, knowing how to use middleware immediately makes you, the composer a bigger asset to a video game developer. Using Middleware allows music creators to control how music is delivered to listeners. It can also help them to create more efficient compositions.
Here are a few of the most well-known within the video game industry.
UNREAL
The Unreal Engine has a number of features that make it an ideal choice for game development. It includes a physically based rendering engine that enables realistic lighting and shadows, a robust animation system, and a powerful AI system. The engine also supports a wide range of platforms, including PC, console, mobile, and virtual reality.
FMOD
FMOD is a cross-platform audio library, It was created by Firelight Technologies in 2002. It provides developers with a powerful and flexible tool for creating interactive audio experiences. FMOD is used in a wide range of video games, from mindblowing AAA titles to indie darlings, and its versatility has made it one of the most popular audio engines in the industry.
UNITY
UNITY is a game engine developed by Unity Technologies. It is used to create video games and simulations for computers, consoles, and mobile devices. Being one of the world's most popular gaming engines, It has been used to create many successful games, including Cuphead, Dead Cells, and Hollow Knight.
Highlight: Unity is free to use for personal and commercial projects and it's open source, meaning anyone can contribute to its development.
WWISE
Wwise is a powerful, feature-rich audio middleware solution for game developers. Known for its efficiency, and flexibility Wwise is capable of handling complex requirements of AAA games, while still being easy to use and integrates well into Unity, Unreal Engine, and other game engines.
As you can see there are different types of middleware, and each has its own advantages and disadvantages. I'm not saying you have to understand all of them, but knowing your way around one or two is worth knowing.
Now, the chances of you, the composer implementing the audio into the game and working with middleware isn't likely unless you're working with an independent game developer with a small team. Most of the time game developers have a person who handles the implementation.
Choosing A DAW That's Right For You (and The Job)
DAWs (Digital Audio Workstations) are vital tools in today's industry. You'd be hard-pressed to find a recording studio or music production setup that isn't set up around one. They are virtual versions of Audio Workstations that give you the capability of creating, arranging, editing, and mixing music.
This doesn't mean a hardware setup is in cable, but digital is a lot easier to manage, and overall more flexible and efficient, especially when it comes to recalling projects.
There are many DAWs available and while all are capable of creating music with, some offer specific features that are better suited for specific fields within the music. Music for media for example would be best created with a DAW equipped with video features vs a DAW that doesn't.
In no order, here are a few DAWs I'd recommend for those looking to compose music for video games.
Note, I'll be focusing on what I consider, the most important assets/features of each.
Reason Studios: Equipped With Amazing Production Tools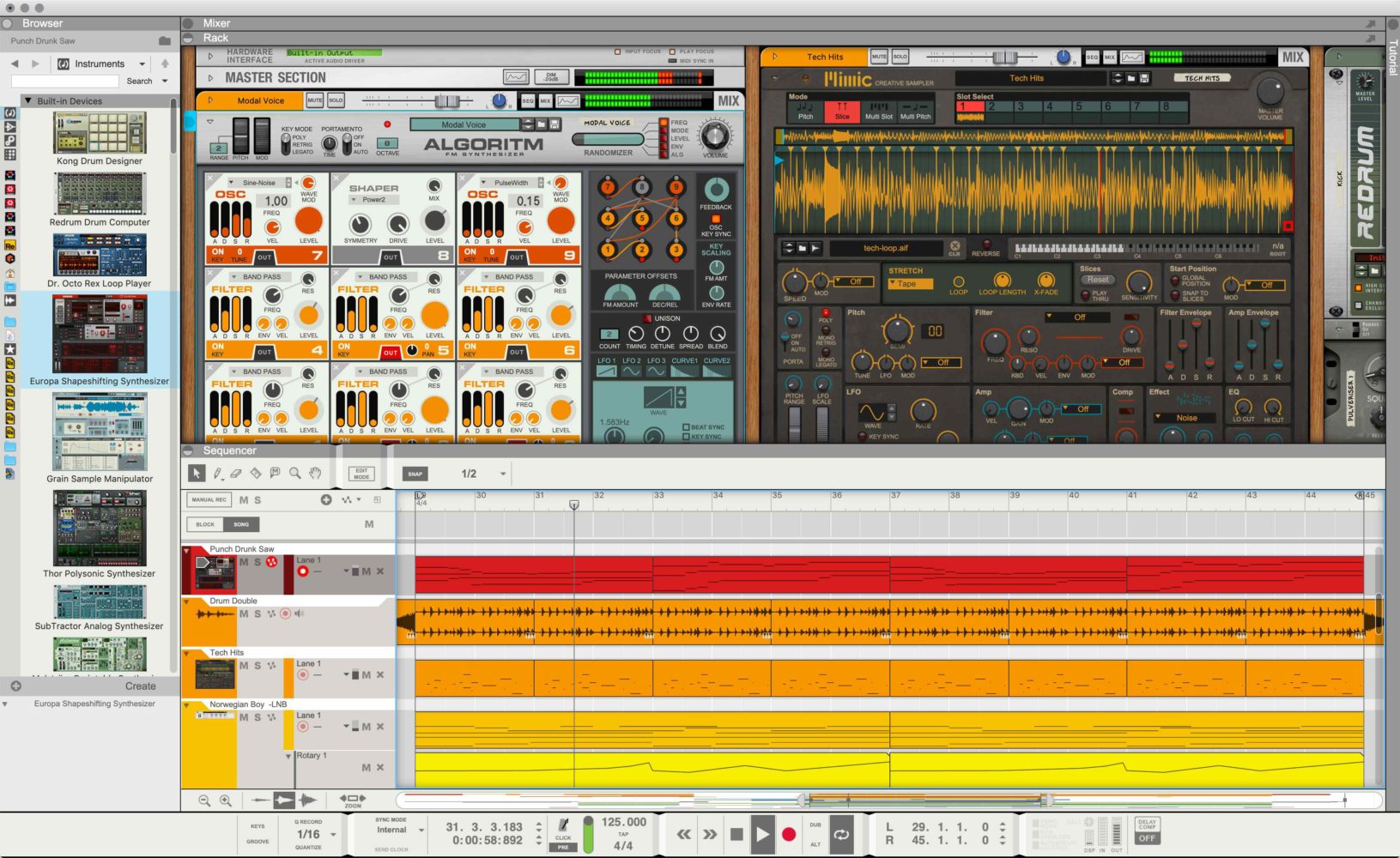 Stock Sounds: Reason comes packed with thousands of sounds: Flutes, bassoons, guitars, pianos, drums and percussion, sound fx, orchestral layers, synthesizers… You name it, they have it. Now, even though most of the sounds were supplied over 20 years ago, they're still used by hit songwriters and producers today.
Mixing Suite: Aside from Reason Studio's stock sounds, they have a wide range of mixing tools that they've been refining and adding onto over the years. Between EQs, Compressions, Delays, Tape Emulations, and the Combinator, you have more than enough to churn out good-sounding music.
Reason Rack Plugin: This feature came about in Version 11 and allows Reason to be used as a plugin within any DAW. This is super beneficial as it allows you to use your DAW but have access to all of Reason's powerful devices.
Reason is both OSX and Windows Compatible.
Logic X Pro: Full Mixing & Production Suite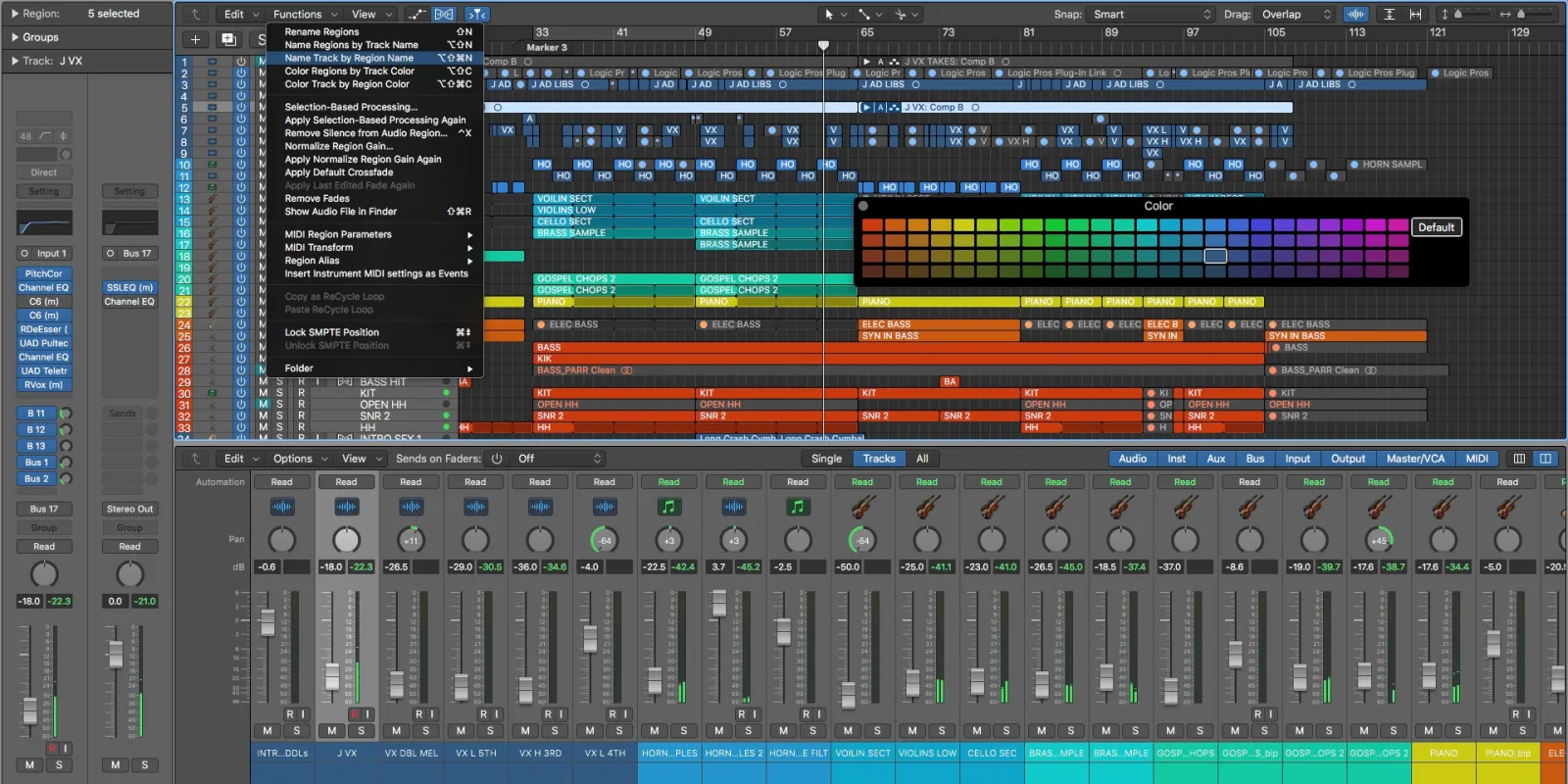 Logic X is a beast when it comes to music production. It's feature-rich, simple to use, and comes with a lot of nice high-quality stock sounds.
Orchestral Sounds: The orchestral libraries are very and the articulations are extremely handy and can be controlled within the sequencer.
Stock Mixing Tools: I love the fact that Apple models vintage-styled compressors and EQs. This adds to the application flexibility and gives users access to quality hardware emulations.
Score Editor: The Score Editor is used to notate music. Some clients will require you to provide them with a notated score along with your stems and mixdowns. This will allow them to print off sheet music in the event live musicians re-record your mock-ups.
Video Player: Handles a variety of video formats; MKV, MOV, AVI, and MP4. These are popular formats clients will provide with briefs.
Unfortunately, Logic X is mac compatible only.
Reaper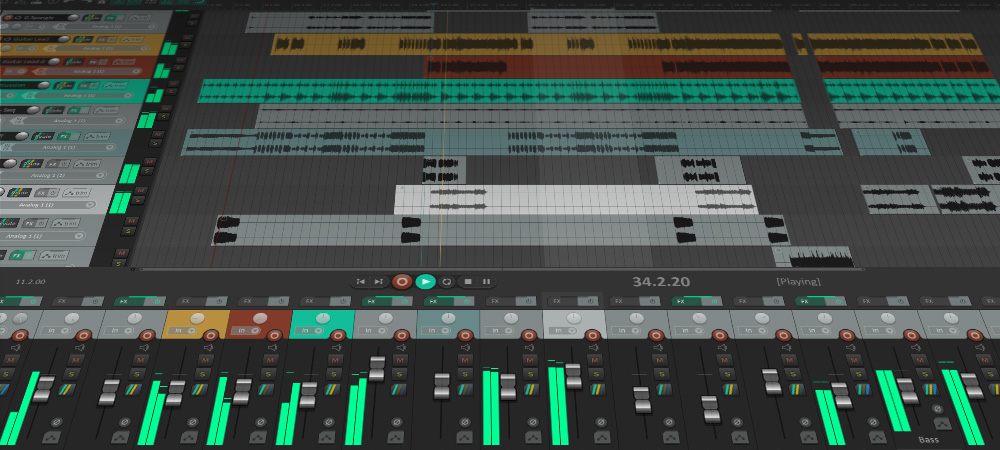 Price: Almost Free ($60)
Video Player: Similar to Logic X Logic and other major Daws, Reaper has a video player which makes working with multimedia a breeze.
Customization: This is one of Reaper's best assets, the ability to customize the DAW to fit your workflow. I don't mean doing simple things like; changing skins, and colors or changing simple shortcuts. You can customize the way Reaper looks and functions. It does require a bit of coding knowledge, but not to worry, there's a huge community willing to share custom scripts for free.
CPU Usage: Reaper doesn't take up a huge footprint given that it doesn't come with its own sounds and it's very gentle on the CPU. If I take a Reaper session and compare it to Ableton Live or Fl Studio with the same plugins, a number of channels/data, etc Reaper always uses fewer resources.
Cakewalk (Bandlabs)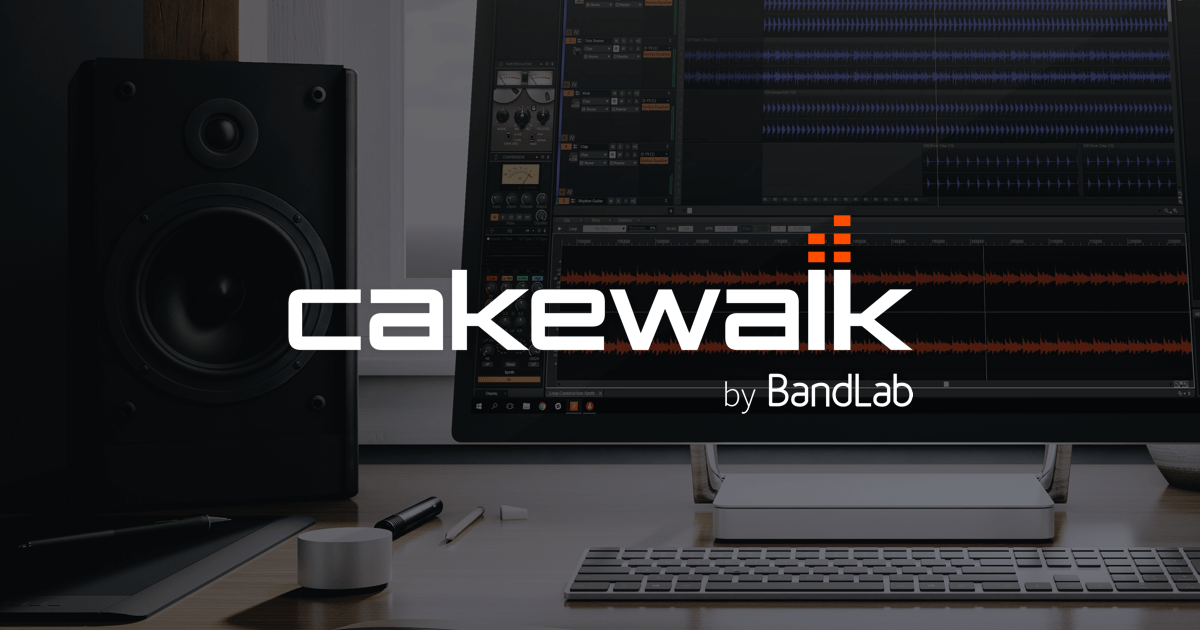 Price: 100% Free. That's probably the most important thing next to the DAW being functional.
It's a great DAW that's capable of doing pretty much everything you can do and all the other linear Daws, there is however one thing I would caution is purchasing plugins from the Bandlab site. BandLab acquired Cakewalk from Gibson in 2018 and currently isn't honoring the purchase of any of the products listed on the site. I believe this has something to do with the licensing of the applications.
Other than that, it's a great DAW to work in and is extremely user-friendly. They also have a mobile application you can use for getting ideas. It's similar to iMaschine but more robust in features.
Not currently available for OSX users.
There are a lot of other DAWs that could be mentioned like; FL Studio, Cubase Digital Performer, Pro Tools, etc but the ones listed above I believe have the most bang for the buck.
Keep This In Mind When Choosing a DAW
One important thing to keep in mind when picking a Daw is making sure you know how to use it to get the results that are needed for the video game developer. I find it easier to use a DAW that has video support as this allows you to create video-based deliverables for clients. It also makes the workflow a lot faster.
Now Reason Studios is a DAW that doesn't have a video feature but as a quick workaround, you could utilize a video VST/AU. This often does the job decently enough. Reason was mentioned because it can also serve as a good Sound Library due to its vast array of sounds and production tools. Reason Studios really hit the nail on the head when they enabled Reason to be used as a virtual instrument.
Nice Affordable Kontakt Libraries for Video Games
One thing that can't be stressed enough is the importance of using high-quality sound libraries for your production. DAWs like Logic X Pro and Reason is packed with some pretty good stock sounds. Some of the sounds can be used as is, but others need quite a bit of massaging to get them up to par by today's standards.
Stock sounds, while good, will only go so far. Do yourself a favor and invest in some good sounds, this will make your job a lot easier and help you sound much more professional to your clients.
With that being said, here are some quality sound libraries that you should consider investing in. No, you don't have to get all of them at once, start with what you can afford and build over time.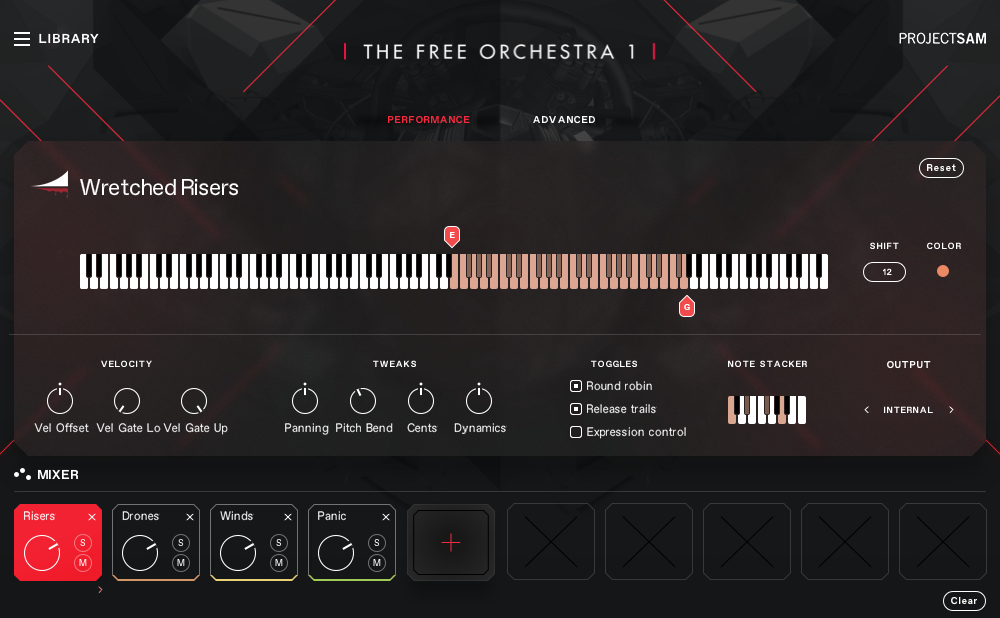 This is a very versatile Orchestral that makes use of Kontakt's free version. It's made up of sounds from their flagship libraries like True Strike, Lumina, Pandora, and a few others, giving you a taste of each, which is brilliant.
This is more than enough to get started, I can believe it's FREE.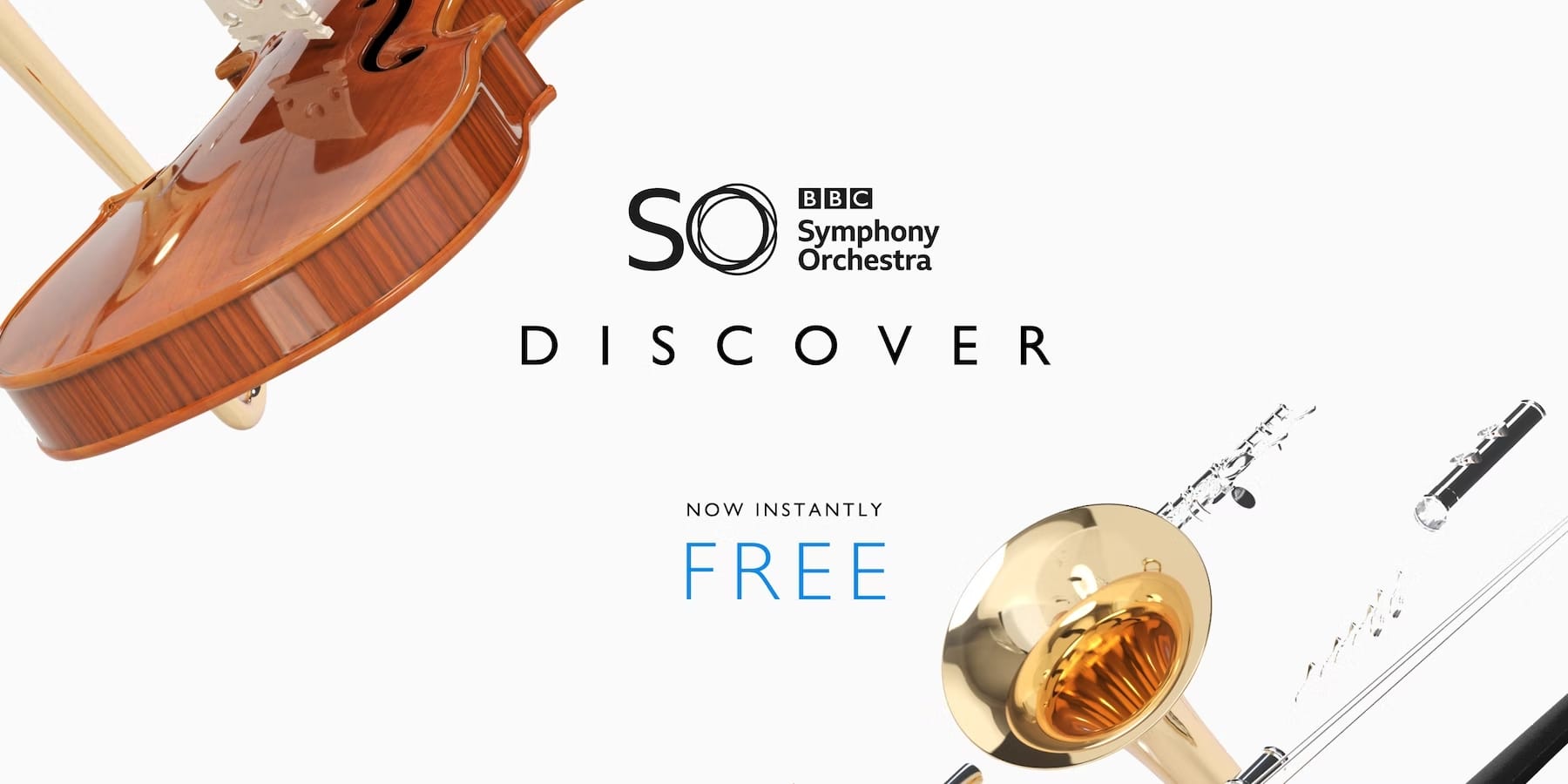 Here's another great-sounding Orchestral Library (Free of charge). It includes 33 instruments; Brass, Woodwinds, Strings, etc including articulations all housed within their own plugin architecture. This is a bit more traditional sounding in terms of recording style and texture of sound, it was pieced together with the idea of being a go-to for entry-level and professional composers alike.
Cinematic Keys is the perfect choice for anyone looking to add eclectic sounds to their arsenal. The recordings of destroyed pianos offer a creative, big-screen feel that is suitable for dramatic, emotional, and cinema-styled music. I love the built-in sequencer/arpeggiator, it's helpful for embellishing chords, and melodies, as well as spatial sounds, and the stuttering capabilities within, are a nice addition as well as its wide range of sound-shaping options.
Witness and listen to some of the destruction
The SAGA Trailer Percussion Library is a must-have for composers and producers looking to add realistic orchestral and world percussion to their tracks. The ensembles, cymbals, gongs, and solo drums are recorded in high quality. You'll find this trailer library to be powerful sounding yet still leaves room for you to do your own processing.
Also, the field recordings are also great for adding realism and depth to your tracks.
Drum Fury is 11 gigs of drums and percussion sounds recorded in a variety of location settings: Churches, auditoriums even The Skywalker Scoring Stage. The sounds are authentic and huge, they have a great cinematic sound and blend of traditional/modern drums that are well designed, but not overproduced.
This is the perfect library for creating cinematic drumlines, trailers, epic battles scenes, and cues for first-person shooter games
Take a listen for yourself here
The Giant is ideal for those looking for a unique and impactful sound. It comes in two flavors, Giant which has sparkling highs and deep low end, and then there is Cinematic Giant. Cinematic Giant has a much darker sound with unique textures added to it such as; sweeps, scrapes, and resonances. Both sound great.
On top of that, The Giant includes a convolution engineer with over 100 impulse responses.
You can hear Giant in action here
Video Game Composing Essentials Wrap Up
Granted, there is a lot more that goes into composing for video games, but this should be enough to get you started and headed in the right direction. It's definitely a field worth diving into if music and video games are something that you love. Not to mention, the future video games look quite promising. As technology advances, games get better, requiring more media content and resources and it's becoming easier for developers to make video games, especially on the independent side.
Also, there are more independent game developers in the industry and they have more creative control over what kind of video games they create vs AAA game companies. Think of titles such as; Call of Duty, Final Fantasy 4 NBA2K23, etc.
Anyway, I hope you've found this post beneficial, please leave questions and comments below.

About Author: Greg Savage is a music producer/sound designer with over 20 years of experience in the field. For information on music licensing and mentoring please visit https://www.diymusicbiz.com/