Neo Soul Keys® Studio 2 by GM
Neo-Soul Keys® Studio are some of the most realistic, organic, and warm sounding electric pianos ever created. We pride ourselves on the intangibles. By intangibles, we mean: grit, dirt, release, bark, mechanics, bumps, clanks, and all of the electromechanical goodness that makes up an electric piano. Without such great detail, your electric piano can be very sterile, lifeless, and without character.
retail price 199.99
Rewards
Login
to see your rewards
?
For every dollar you spend with APD, past, present or future, we will give you back at least 10% in store rewards credit that will be saved in your rewards wallet.
current price
$149.99
base price $99.99
Show prices in:$€£¥
Overview: Products Included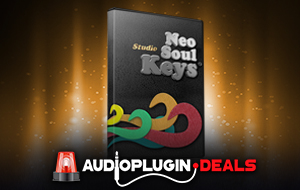 Neo-Soul Keys® Studio are some of the most realistic, organic, and warm sounding electric pianos ever created. We pride ourselves on the intangibles. By intangibles, we mean: grit, dirt, release, bark, mechanics, bumps, clanks, and all of the electromechanical goodness that makes up an electric piano. Without such great detail, your electric piano can be very sterile, lifeless, and without character. Alternatively, don't be mistaken–Our EPs can sound as clean and clear as a whistle, but you are always welcome to dial in as much dirt as you want. See what the late-great George Duke has said about Neo-Soul Keys® and why he chose to use it live, rather than a real electric piano:
$199.99 Value
key Features
Available for VST/AU/AAX/Standalone
Operating Systems: Windows 7+ and OS X 10.7.5+
21GB of High Quality Samples
88 Distinct Electric Piano Timbres
60 Dedicated Mechanical FX
126 High Quality Presets
All of the VKFX Vintage Effects from Overloud
VKFX Included as Standalone FX to use in your DAW
18 High quality AMP Sims
Copyright © 2021 Audio Plugin Deals. All Rights Reserved. Terms and Conditions