A NEW DEAL REVEALS EVERY 4 HOURS
- ALL PRODUCTS IN THE SHOP ARE AT BASE PRICE -
NO REWARDS MONEY NEEDED!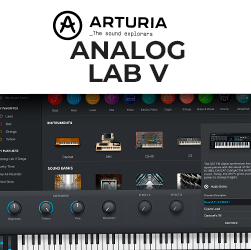 Deal 1
50% Off Analog Lab V by Arturia
For only $99.00 (normally $199.00), get Analog Lab V by Arturia!
Analog Lab V is a plugin that combines thousands of world-class presets spanning dozens of timeless instruments, instant-access controls, and flawless integration – in one place.
Analog Lab V gives you instant access to the most iconic synth and keyboard sounds of all time, fresh from the award-winning V Collection.
This is a limited-time offer you should not miss, hurry and save!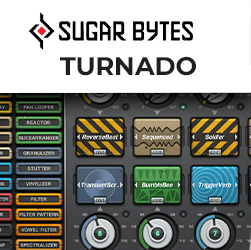 Deal 2
59% Off Tornado by Sugar Bytes
For only $49 (normally $119), get TURNADO, a real-time multi effect by Sugar Bytes!
Turnado is a revolutionary Multi Effect for massive real-time audio manipulation.
Turnado combines unique and dynamic effects with the most intuitive and immediate control you can imagine. Just turn it on and crank it up. It comes with 8 knobs, each firing up an effect and varying it with their dial. It invites play and experimentation with one or several effects.
Get TURNADO now at 59% off for a limited time only, hurry and save!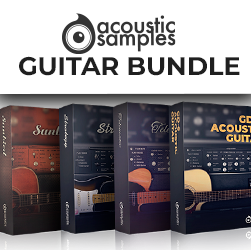 Deal 3
83% Off AcousticSamples Guitar Bundle
For just $99.99 (instead of $576), get the AcousticSamples 4-in-1 Guitar Bundle comprising of GD-6 Acoustic Guitar, Strategy, Sunbird and Telematic V3!
These are some of the world's best guitars and are available at an insane exclusive deep discount for only a few days.
Acousticsamples creates virtual instruments focused on the perfect recreation of acoustic and electric instrument such as guitars, pianos, organs and more.
Originally $576, the whole bundle is now available for just $99.99 for a limited time only (you save a whopping $476). This is an amazing no-brainer offer you should not miss!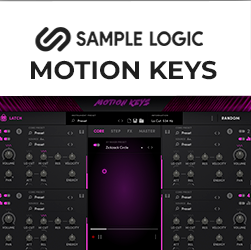 Deal 4
75% Off Motion Keys by Sample Logic
For only $75.00 (normally $300), get Motion Keys by Sample Logic.
Motion Keys is a refreshingly new approach to the world of keyboards and pianos, utilizing extraordinary organic motion with infinite sound-shaping possibilities unlike any other keyboard instrument.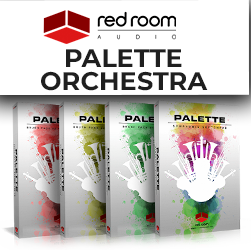 Deal 5
83% Off Palette Complete Orchestra by Red Room Audio
For just $270 (instead of $900), get PALETTE ORCHESTRAL SERIES by Red Room Audio! This Kontakt Player bundle features all 4 in the series: PALETTE – SYMPHONIC SKETCHPAD, PALETTE – MELODIC, PALETTE – ORCHESTRAL FX & PALETTE – RUNS & ARPS.
Palette is a series of thematic professional orchestral and cinematic Kontakt virtual instruments for songwriters and media composers. It was recorded in a dedicated hall with world-renowned performers by a passionate and experienced team of sample makers.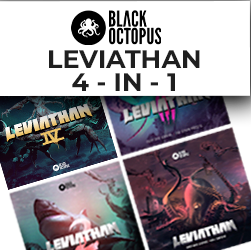 Deal 6
84% Off 4-in-1 Leviathan Bundle by Black Octopus Sound
For just $49.99 (normally $299.99), get the Black Octopus Leviathan Anthology Bundle featuring Leviathan 1, 2 3 and 4!
Get all four of the iconic Leviathan sample packs from Black Octopus Sound in one incredible bundle! The Leviathan series has become a go-to sample library for many music producers due to the exceptional quality of samples, impeccable organization, and versatility for many styles of music.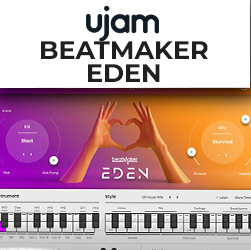 Deal 7
72% Off EDEN by Ujam
For only $19.00 (normally $69), get Beatmaker EDEN for Mac and PC by UJAM.
Beatmaker EDEN is a dance music and EDM specialist, comfortably headlining any venue from small sweaty Berlin clubs to ginormous global festivals. EDEN provides the driving beats that keep the dancefloor full and party going all night long.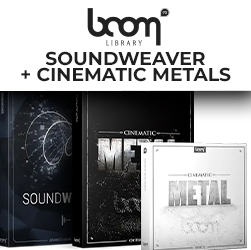 Deal 8
75% Off Soundweaver + Cinematic Metals Construction Kit by BOOM Library
For only $94.50 (normally $378), get SOUNDWEAVER + Cinematic Metal Construction Kit by Boom Library!
With just a few clicks, SOUNDWEAVER will automate all of those time-consuming steps for you and generate as many suggestions as you like. All that's left for you to do is have a quick listen and keep the ones you like best.Focus on your creative process while SOUNDWEAVER takes care of the rest.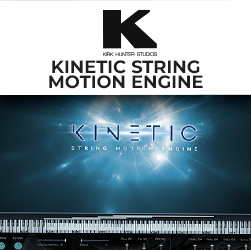 Deal 9
75% Off Kinetic String Motion Engine by Kirk Hunter Studios
Kirk Hunter Studios' – Kinetic String Motion Engine is on offer for just $49.99 instead of $199.99 for the next few hours!
At the time of this product release, there does not exist another instrument that can let you play FOUR string sections (violins, violas, cellos and basses) at the SAME TIME. But with Kinetic, you get the entire string section in one instrument.

NEXT DEAL UNLOCKS IN
The deal will be launched soon
The deal will be launched soon
The deal will be launched soon
The deal will be launched soon
The deal will be launched soon
The deal will be launched soon
The deal will be launched soon
The deal will be launched soon
The deal will be launched soon
- ALL PRODUCTS IN THE SHOP ARE AT BASE PRICE -
NO REWARDS MONEY NEEDED!