Audiomodern releases a brand new plugin, Loopmix! This is an excellent addition to their current product line as it works well with Chord Jam Playbeat and, of course, Riffer!
Definitely check out Chord Jam and Playbeat if you are unfamiliar with them.
[ez-toc]
What is Loopmix?
Loopmix is a creative remixing plugin that allows you to take existing audio loops (6) and re-arrange them creatively using 6 different engines that help get the creative vibes going.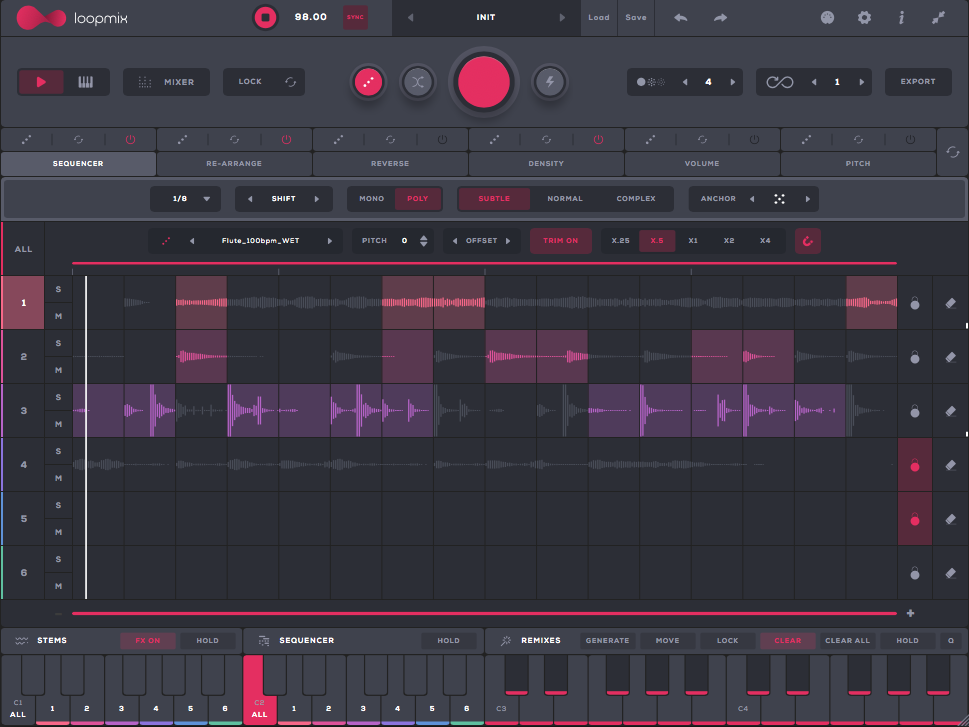 Loopmix reminds me of Looperator by Sugar Bytes, slightly. However, Loopmix focuses its processing on audio loops. This is going to be ideal for flipping loop packs and samples in interesting ways.
Loopmix Features
Create Loop Remixes
Load your Own Loops
Unique Randomization Parameters
6 Intelligent Engines
Remix up to 6 Audio Loops
Temporary Random Functionality
Generate Unlimited Grooves, Patterns, and Ideas
Signature Infinity Mode
Drag MIDI Stems & Pattern
Drag Audio Stems & Pattern
Multi-Functional Performance Keyboard
Available as VST • VST3 • AU • AAX •AUv3 • Standalone
The Loopmix Engines
There are a total of 6 engines, each containing 3 settings, randomize, reset, and disable/enable.

Once your loops are loaded, you're ready to go through an endless rabbit hole of possibilities using any or all of the 6 engines.
Sequencer: This is where the beginning of the manipulation begins. Load up to 6 audio loops within the sequencer and select the chops you want to play vs. the chops you want to be muted.
Or, you can let Loopmix randomize specific parameters for you. For example, choose to play chops back in mono or poly, shift them, etc. There are a lot of options to choose from.
Reverse: As its name suggests, this engine allows you to reverse your chops. You can do this across 1 Loop or multiple loops. Sometimes it creates impressive additions to the existing loop or totally shifts it into something new and unique.
Pitch: The pitch feature has a few different flavors to choose one. You can use the scale function (love it) or the pitch/formant shifter. Try mixing them both and see what exciting sounds you come up with.
Re-Arrange: Here is where you have the ability to move sections of the loop around via its chops. Swap 1 with 7 or duplicate select chops. This is great for remixing the loop or extending it.
Density: Density is a stutter or note repeat function that allows you to select up to 8 repetitions of the chop.
Volume: The volume engine can help add a little humanization to your chops, especially if it's a loop where the notes all have the same velocity. Do this by adjusting the volume of each chop (or slice).
See Loopmix In Action
Here Are A Couple Of Loopmix Tips
Once you find something you like, per channel (audio loop), enable the lock option on it and continue running through randomization options for other loop channels. Whatever is locked will remain untouched as you go through the engine's creative possibilities.
Select the engines you want Loopmix to randomize for you. For example, Pitch, Volume, and Re-arrange. This will restrict the engine to randomizing within those engines only.
Is It Bad To Use Loops As A Music Producer?
Using loops as a music producer is perfectly fine unless you have a client who asks you not to or you've led them to believe that the music you're creating for them is made from scratch. At that point, it can be a huge problem.
Will Other Producers Respect Me If I Use Loops?
Some producers are extremely critical of others using loops, calling it lazy production or cheating. Don't mind these producers, do what makes you happy and what helps you reach your goals.
Also, remember there are many successful producers out there who use loops, so there's that!
Audiomodern: Dynamic Presets And Own Packs
Audiomodern supplies 1.6 GB of sounds and dynamic presets to help get you started. Use the presets, mangle them, create your own variations and save them as your own presets, or you can create your own entirely from scratch if you choose to.
If you have a lot of pre-existing loop libraries, load them in and see what you can come up with.
Conclusion
Loopmix is a straightforward plugin to use, with a lot of manipulation options. What you're able to create with simple loops is impressive, and the life you can breathe into older tracks, even if they're simple ideas, is reinventing in ways. So look at this as something other than an AI tool to write music for you, but as an application to help inspire, and help get the creative juices flowing.
About Author: Greg Savage is a music producer/sound designer with over 20 years of experience. For information on Music Licensing and mentoring, please visit https://www.diymusicbiz.com/