Here's a good collection of Vintage Reverb and Delay Plugins
It's rare to stumble upon a deal that offers incredible value and brings a touch of vintage sonic character to your mixes.
Black Rooster Audio brings that and more to the table with their Vintage Reverb & Delay Bundle. These plugins infuse the nostalgic vintage warmth of the past with the precision and accuracy of today's digital tech.
The VST bundle is now available for just $45.00, a massive 70% off the original price! But this deal isn't just about savings; it's about having quality at your fingertips.

What's Included In The Reverb and Delay Plugin Bundle
These are the lovely plugins that come loaded within the bundle, all of them sound fantastic.
TD-201 Vintage Tape Echo
The 201 is an emulation of Roland's Tape Echo, The RE-201. This classic piece has been used on numerous classic albums and is known for its warm, organic sounding delays. The RE could also serve as a flexible reverb.
RO-SPR Vintage Spring Reverb
Offers 6 different spring types (A-F), 3 band EQ, Bass cut, and a spring length control. This reverb was known for its bouncy sound due to sound waves interacting with the coils and tanks. They are great for introducing low end to instruments.
Yes…Reverb and Low end, what a concept, huh?
RO-140 Vintage Plate Reverb
The 140 is modeled after the EMT 140 Plate Reverb. It contains a Damper, 3 Band EQ, Input, and Output, as well as 6 different plate materials you can choose from, and it can be set in MONO or Stereo mode. This plate is a beast yet still very easy to use.
RO-GOLD Vintage Plate Reverb
RO-Gold is a much simpler version of the 140, offering a damper, bass cut section, and wet/dry mix as pre-day. The damper helps smoothen the harsh sounds (depending on the sound source), resulting in a better mix and, overall, more professional sounding music.
Each plugin was made to emulate iconic hardware reverb and delay units that have stood the test of time, helping shape classic albums and cementing their sonic imprints in history.
Music producers and Mixing engineers will appreciate the nuances and imperfections that aid in producing warmth, depth, glue, and a more organic feel.
People fall in love not only with the rhythm and bass but with each instrument, its arrangement, and the authenticity of sound as a whole.
These characteristics of the plugins help mixes stand out and can be expensive to create using analog equipment.
Without reverb and delays, we just have dry, lifeless, and dead sounding music…who wants that?
Tips For Using The Reverb and Delay Plugins
Black Rooster Audio's time based plugins do a great job of emulating the unpredictable sound character of their hardware counterparts. I'd be pressed to believe you couldn't mess around and find settings that sound great, but here are some tips to get you started.
RO-SPR Vintage Spring Reverb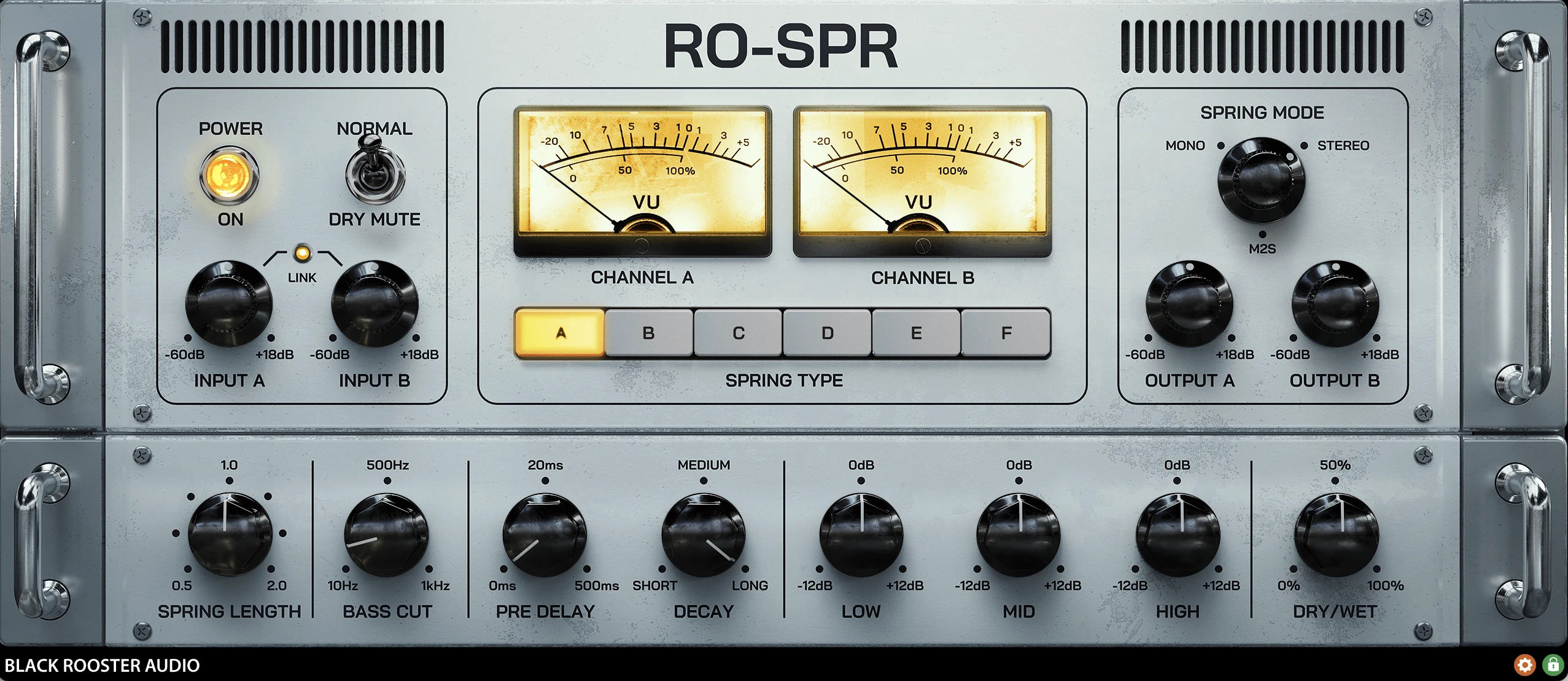 1. Subtle Settings: Spring Reverbs are known for offering a lot of character. Start off with a low mix, meaning dial the wetness back. Adjust your input and output for gain staging purposes.
2. Cycle Through Spring Types: Once you have your reverb mix and EQ dialed in, start cycling through the different types and experiment with them. You may need to readjust your mix settings, depending on how the reverb plays with your source sound.
3. Use the EQ: The built in EQ is powerful. Use it to shape the tone of your Reverb. Reducing lows can remove muddiness, and taming highs can reduce harsh sounds. Sometimes, a bass boost on an instrument like a guitar can give warmth.
4. Bass Cut: This feature is used to further tame the low end frequencies, ensuring the bottom end of the instrument or mix, depending on where the reverb is placed, doesn't get out of hand.
5. Spring Length and Mode: This changes the behavior and sound of the reverb, experiment with it
RO-GOLD & RO-140 Vintage Plate Reverb

Plate reverbs can have both a smooth and dense sound. Here are some tips to make the most of the RO-GOLD and RO-140:
1. Understand the Material Differences: The RO-140 offers different materials, each with its own sound. Experiment to find the one that fits your track best.
2. Decay Time: It's easy to fall in love with the sound of the reverb, but the decay times (length of tail) have to be managed. Otherwise, you'll wind up with very amateurish results. You can adjust your decay time to match that of your song's tempo or simply go by ear.
3. Utilize Pre-Delay: Pre-delay allows you to tell the reverb when to kick in. This is beneficial when you want the initial attack of the sound to be present in the mix before being processed by the reverb. A good example is claps and snares. You may only want the tail end of the clap to have reverb while the initial impact is unaffected.
4. EQ: Use EQ to shape your tone as well as declutter your mix. It's a very simple feature, but one people overlook all the time.
5. Multiple Reverbs: Place reverbs on multiple instruments or buses and give them unique settings this will help them sound more realistic and make your overall mix sound more natural. Yes, this will be a little CPU intensive, but the results are huge.
TD-201 Vintage Tape Echo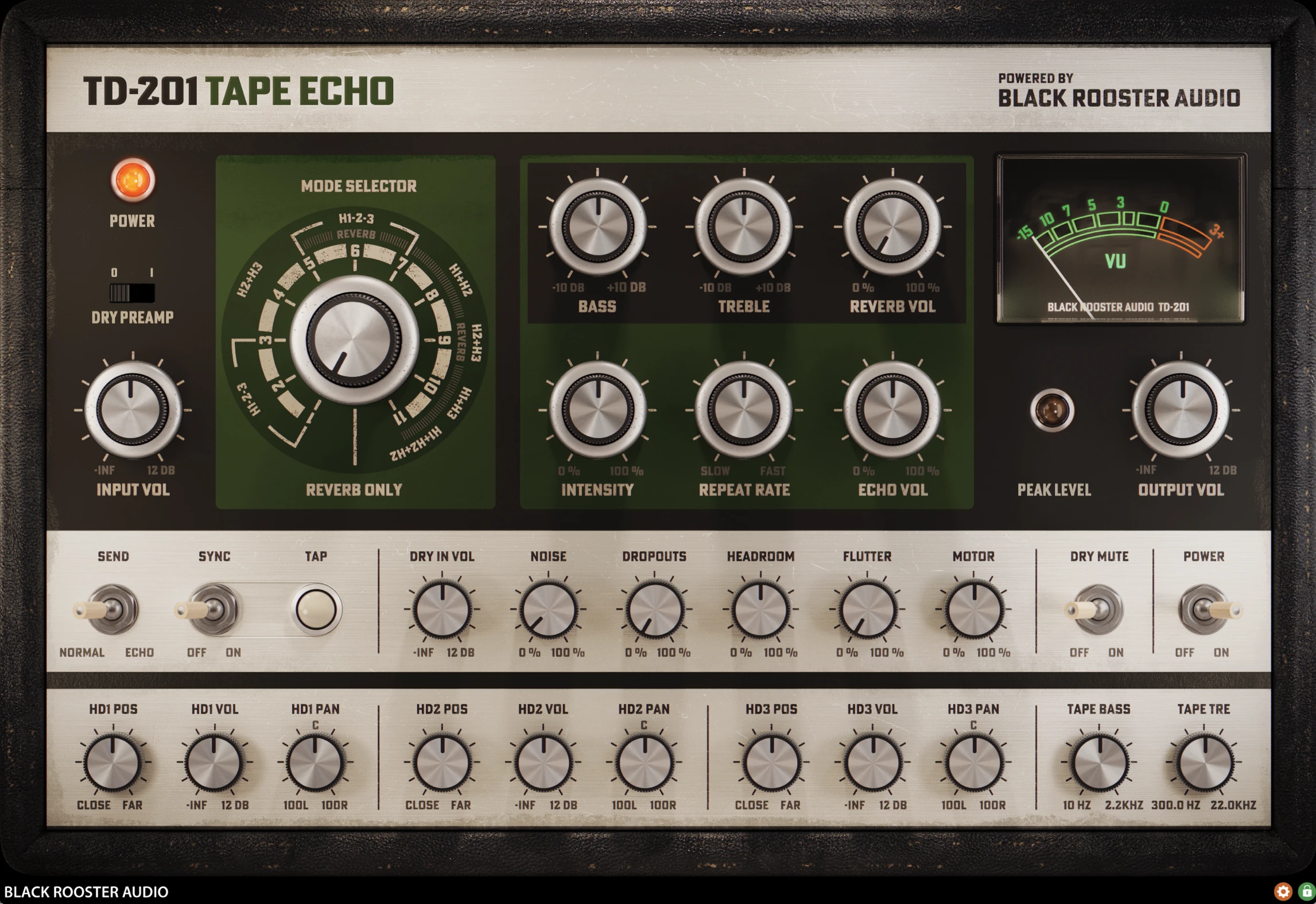 Black Rooster Audio did such a great job with The TD-201, it has a lot to offer and deserves its own post just on Tape Echo tips.
But for now, here's some to get you going.
1. Sync To DAW's Tempo: Sync the delay to your DAW's tempo, this will help create cohesive echoes with a good rhythmic feel to it.
2. Use The Feedback: Be careful with the Feedback. When overdone, it is a chaotic mess, but dialed in correctly or automated, it will result in beautiful self oscillating soundscapes.
3. Tape Saturation: One of the main reasons I enjoy the Tape Echo is its Tape Saturation! Use it subtly to add warmth and depth to guitars, drums (yes), strings, or any sound in the mix that sounds too sterile and clean.
4. Use Stereo Settings: I love messing with the stereo image of my mixes. No specific settings, you'll just have to play with these. The stereo/Ping ping can create some happy little accidents.
5. Combine With Reverb: You can use the Tape Echo as a reverb, but for added depth or even to add more ambiance to a sound, try placing it after the 140 or any other reverb of your choosing.
FAQ: Vintage Reverb and Delay Plugins (Bundle by Black Rooster Audio)
What Is The Difference Between Spring and Plate Reverbs?
Plate reverbs produce a dense yet smooth sound. Spring reverbs tend to sound more bouncy or splashy sounding. Tones and characters change based on the type of plates and springs used in each.
Which Music Genres Are These Plugins Best For?
Rock, Hip-hop, Pop, Soul, Neo-Soul, Punk, EDM, Jazz, Dub, Reggae, Experimental Music. These plugins can be used for any genre of music, just about how they are used.
I'm New To Music Production. Are These Plugins Easy To Use?
Yes, the Reverb and Delay Bundle plugins are extremely easy to use. Don't let the words 'vintage' or 'hardware emulation' fool you.
There will be a slight learning curve if you don't know when to use reverb. That just takes a bit of time and exposure.
Will Black Rooster Audio Plugins Work With FL Studio
Black Rooster Audio Plugins work perfectly with Fl Studio as well as Reaper, Reason Studios, Ableton Live, as well as many other DAWs. Always check that your DAW is compatible with the following formats to ensure compatibility: VST3, AU, and AAX plugin formats.
Also, be sure to check the documentation of the plugin you wish to purchase, which can be found on Black Rooster Audio's website.
Software Specification: System Requirements for Vintage Reverb & Delay Bundle by Black Rooster Audio
The provided specs will ensure the plugins operate smoothly. However, for more complex projects, you'll benefit from a more robust computer, meaning a much better specs system. If you can, invest in the best computer possible, not one that meets the minimum requirements of the plugins you plan to use.
General Requirements
Windows  Requirements
Processor: Intel Core i5 or equivalent AMD processor, 2.5 GHz or faster
Memory: 4 GB RAM (8 GB or more recommended)
Graphics: Graphics card with DirectX 10 or later
Sound: ASIO compatible sound card for low latency performance
Mac OSX Requirements
Processor: Intel Core i5 or later, 2.5 GHz or faster
Memory: 4 GB RAM (8 GB or more recommended)
Graphics: Standard Mac GPU
Sound: Core Audio compatible interface