Mellotron V: The Psychedelic Analog Sampler
Arturia is one of those companies that has been at the forefront of music production for decades.  Needless to say, many analog heads were very excited when they brought their expertise of vintage-sounding instruments and detail with their Arturia Mellotron V.
This powerful instrument combines the classic sound of the original Mellotron with modern technology, making it perfect for numerous music production tasks and genres.
If you've unfamiliar with Arturia's V Collection, let this be your introduction.
[ez-toc]
The Original Mellotron: A Orchestra At Your Fingertips
The Mellotron, developed in the early 1960s, was an amazing and unique instrument in which each key plays back a magnetic tape recording of the corresponding note…Each set of tapes (in the Mellotron) contains three distinct sounds, and you can choose between them using this sound selector switch.
Also, the tape recordings were limited in how much information they could hold. This means the longer you depressed the key(s), the more warble you'd hear until the sound ended; there was no infinite sustain.
What Sounds Does A Mellotron Have?
The Mellotron 400 had; Flutes, Stings, and Violin sounds. Other Mellotron models had a wider range of instruments, including strings, brass, choirs, percussion, melodic loops, etc.
Many consider the Mellotron a sampler, while others see it as a Rompler or keyboard with sample playback functionality. Arguments for both are warranted, as you can't directly sample into the Mellotron.
At least not the way that you could with something like an MPC or an SP 303, or any other type of modern sampler.
If you wanted to change the sounds, you would have to import tape that had expansions, sort of how expansion cards worked on workstations, namely, the Korg Triton or the Yamaha Motif.
As you can imagine, this would take quite a bit of work.
Popular Songs & Artists Who Have Used The Mellotron
A lot of classic songs have been created using the Mellotron; here are a few.
The Rolling Stones: "We Love You," "Citadel," "She's A Rainbow,"
David Bowie: "Space Oddity," "Ashes to Ashes"
The Moody Blues: "Nights in White Satin," "Legend of a Mind," "Emily's Song"
Pink Floyd: "It Would Be So Nice," "Julia Dream," "Sysyphus Parts One-Four"
"Its realism was infused with the quirks of each key playing a moving analog tape, creating a sound that went down in history with The Beatles, The Moody Blues, King Crimson, Led Zeppelin, David Bowie, and countless others. Mellotron V brings that history, with every beautiful sonic imperfection, to your musical future." – Arturia
Not bad for a unit that almost didn't make it, right?
What Is The Mellotron V?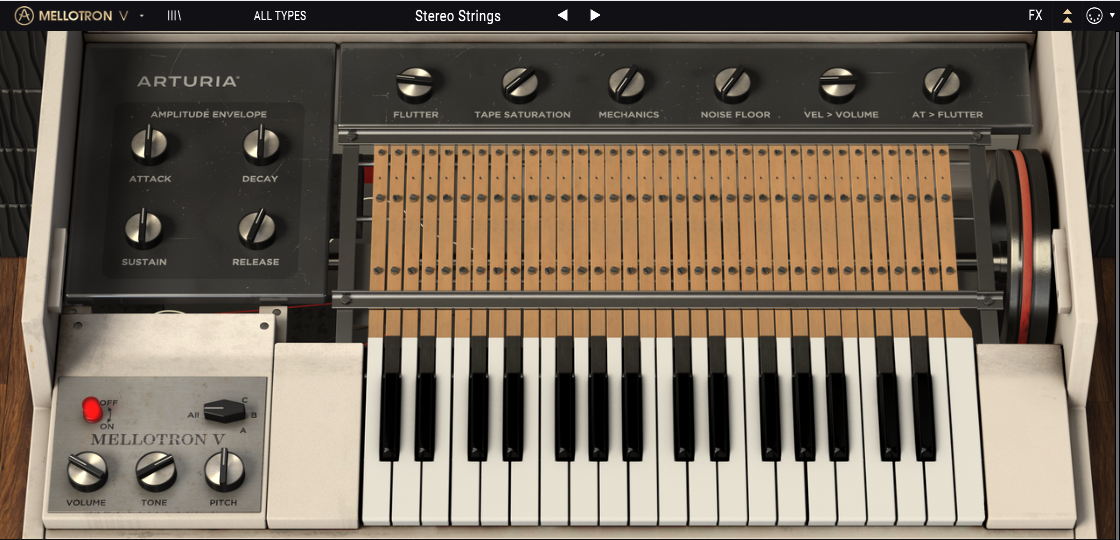 The Mellotron V is an emulation of the original Mellotron. It contains the same features of the original tape-based keyboard but with some modern features: Midi integration and lots of cool sounding fx to really help you mold your sound the way you want.
Let's Dive Into A Few
ADSR: is a set of controls you can adjust to determine how long it takes for a sound to reach its maximum level, how long that sound lasts, and how long it takes before the sound dies off.
Flutter: Controls the amount of tape speed fluctuation.
Tape Saturation: This controls the amount of gentle distortion and compression added to the signal. Remember, the original was a tape-based machine, so being able to dial in how much of it you want is a nice touch.
Mechanics: This feature imitates hardware noises. It's Excellent for introducing realism into compositions can be problematic for those who like to make super clean-sounding music.
Noise Floor: Noise, again adding that realism of the unit into the production.
Vel>Volume: This controls your velocity sensitivity. In a nutshell, the harder or softer you play, the more or less volume you get.
AT>Flutter: Now, this is a really cool feature where the aftertouch governs the amount of flutter effect.
Sample Import: That's right, you can load in samples and treat them with the Mellotron's fx and roll your own, essentially increasing the unit's flexibility.

The Moody Blues, The Beatles, King Crimson, Led Zeppelin, David Bowie, and several other musicians helped make history with a sound that was filled with the oddities of each key playing a moving analog tape.
Your music compositions, beats, and explorations are enhanced with Mellotron V, which brings that heritage and all of its lovely sonic flaws.
What Arturia's Mellotron Sounds Like
What Was Special About The Mellotron?
The Mellotron's sound was unique, given it was tape-based. And for a long time, it was the only way for people to experience playing orchestral sounds via a keyboard. However, the Mellotron was not originally marketed to music professionals but more so as something the family could gather around and enjoy.
Are Mellotrons Still Being Made?
Yes, Mellotrons are still in production today. However, the current models being made have a sleeker look and many improvements over the old units used in the 60s. Some of the newer models include the M4000D Rack, M4000D, and the M4000D Mini.
What Sounds Does The Mellotron V Have?
The Mellotron V has 6 core categories of sounds: Brass, Keys, Organ, Pad, SFX, and Strings, along with various renditions of each, giving users a good blend of authentic and experimental sounds to fawn over.
Conclusion
Mellotron V is an excellent choice for music producers looking to incorporate that authentic vintage sound into their productions but with modern-day control. It's perfect for composers chasing nostalgia, creating older-sounding classics, and even sample makers.
Mike Pinder pioneered it; The Beatles made it popular, King Crimson perfected it, and now you get to live it.
Ready to add Mellotron V to your toolkit? Click here.
About Author: Greg is an active music producer/sound designer with over 2 decades of experience. For information on Music Licensing and mentoring, please visit https://www.diymusicbiz.com/