If you aim to inject that '80s synth flair into your compositions on a budget without hurting your pockets,
Waldorf's PPG Wave 3.V
, a testament to Wolfgang Palm's legacy, is the perfect way to go. The synth gives you the sound and vibe that the early '80s offered, plus functionality that players back then wouldn't have been able to dream of.
Check This Out
Most synth companies try to strike a balance between honoring the past and embracing the future. Still, only some achieve this as masterfully as
Waldorf with their PPG Wave 3.V
making it a great synth for today's producers, beatmakers, and sound designers.
Wolfgang Palm is a German engineer and inventor recognized as the pioneer of wavetable synthesis. He is the founder of PPG (Palm Products GmbH), producing a series of innovative synthesizers in the 1970s and 1980s, including the renowned PPG Wave series.
Key Things To Know About Wolfgang Palm:
Wavetable Synthesis: Palm's most significant contribution to the world of music is the development of wavetable synthesis. This method uses a sequence of waveforms that can be scanned or modulated.


PPG Synthesizers: Under Palm's direction, PPG released a series of synthesizers that utilized wavetable synthesis, with the PPG Wave 2, 2.2, and 2.3 being the most famous and used by many prominent artists.


Legacy: Wolfgang Palm's pioneering work has significantly influenced the world of synthesizers. Today's software synthesizers, including Waldorf's PPG Wave 3.V, build on and enhance the wavetable synthesis techniques that Palm developed.


Later Work: Beyond his work with PPG, Wolfgang Palm continued to innovate in music technology, developing new software synthesizers and mobile applications that push the boundaries of sound design.
What Is Wave Table Synthesis?
This synthesis approach offers the ability to seamlessly shift between sets of waveforms or tables. This lets us change the sound's tone and harmonic structure in real time using just the oscillators.
As a result, each patch provides a broader sound spectrum and good dynamic control. 
Waldorf PPG Wave 3.V Synthesizer Features
This synth may have vintage roots, but it has great features and functionality.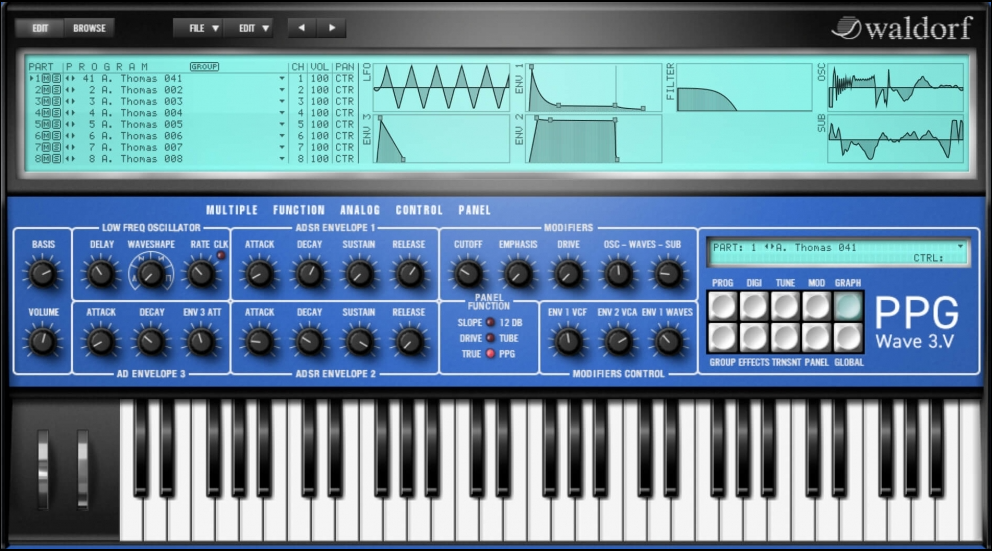 General Synth Info
Maximum of 256 voices per instance, contingent on CPU capabilities.
Multi-faceted 8-part mode.
Eight distinct stereo outputs.
Comprehensive host and MIDI controller automation for most parameters.
Over 100 new wavetables crafted by Wolfgang Palm.
Access to the original Waveterm B Factory Sample Library and PPG Wave Factory Sounds.
Voice-specific Features
Dual wavetable oscillators.
Sample playback options ranging from 8-bit to 32-bit.
Genuine aliasing emulation modes from PPG Wave versions 2.2, 2.3, and 2.V, with an option for no aliasing.
Low pass filters are available in 12dB or 24dB, authentically emulating the PPG Wave 2.2/2.3.
Overdrive functionality positioned post-filter.
Single LFO and three envelope generators.
Unique modulation graininess emulation, toggleable with the "True PPG" feature.
Other PPG Synth Features

Modes include Poly, Dual, Quad, and Mono (with 8 voices), each with eight semitone offsets for chord or melody creation.
Arpeggiator modes encompass Up, Down, Alternate, and the unique Cascade mode, a PPG specialty.
"True PPG Mode" allows users to switch between the sounds of PPG Wave 2.2, 2.3, and 2.V.
In-built 4-band equalizer.
Multiple overdrive modes.
A phaser with a maximum of 12 stages.
Chorus effect with up to six stages.
Additional effects include flanger, stereo delay, and reverb.
How The Waldorf PPG3 Sounds
Artists/Bands Who Have Used The PPG Synth
| Artist/Band | Description |
| --- | --- |
| SAGA | A Canadian progressive rock band renowned for their synth heavy sound and intricate compositions, a staple in the prog-rock scene since the late 1970s. |
| Depeche Mode | Originating from the UK, an iconic electronic band known for their dark, atmospheric sound and pioneering contributions to the new wave and synth pop genres. |
| Charlie | A British rock band from the 70s and 80s, known for catchy melodies, blending rock with elements of pop and sophisticated production. |
| The Fixx | An English rock band celebrated for their new wave sound with hits from the 1980s like "One Thing Leads to Another". |
| Sammy Hagar | Before joining Van Halen, Sammy Hagar, the "Red Rocker," had a successful solo career spanning hard rock to melodic anthems. |
| John Parr | Best known for "St. Elmo's Fire (Man in Motion)," an English musician who achieved 1980s success with his blend of rock and pop. |
Listen to these songs
Sammy Hagar Never Say Goodbye
The PPG synth is featured in the introduction
Charlie It's Inevitable
PPG Synth is used heavily throughout this song
Waldorf PPG Wave 3.V Synthesizer System Requirements
For Windows Users
Operating System: Microsoft Windows 7, 10, or 11.
Hardware: Compatible with both Intel and AMD-based PCs.
For MacOS Users
Operating System: MacOS 10.14.x or higher.
Hardware: Designed for both Intel and the latest M1-based Macs.
Plugin Formats Supported
VST2
VST3
AU (Audio Unit)
AAX
The Waldorf PPG Wave 3.V is not only a legendary synthesizer; it's a testament to the timeless appeal of great sound design.
If you listen to music that's out today, you'll definitely hear the 80s sound infused within. At $19, this is a steal. Comes with great sounding presets and is pretty easy to program.
Have fun with it!
Also, check out other deals on plugins via this link https://audioplugin.deals/shop/
New To Audio Plugin Deals?
Are you new to the site? Not sure how all the sales, discounts, and deals work? Not a problem.
Here's everything you need to know about acquiring discounts and other exclusive deals → https://audioplugin.deals/how-it-works/