Metallic percussion samples are a staple in any cinematic composer's percussive toolkit. Today, we dive into Reforged, a percussion sample library produced by Impact Soundworks. This particular library features a collection of organic metal samples, all recorded in the Welsh countryside. It also comes with an extensive range of sound design material – not just cinematic hits and impacts, but textures, atmospheres, loops, percussion beds and more. This library is incredibly versatile, and Impact Soundworks's demo playlist on SoundCloud shows how the sounds can be used in a variety of genres and contexts. I've linked the playlist at the bottom of the article.
Click button below to subscribe to our Youtube channel!
Interface
The interface is super clean and well organised. We've been provided with all our basic controls: volume, sample start offset, tuning and ADSR. On the top right, we also have a basic but powerful sequencer which we can use to create some really cool rhythmic patterns from the longer samples.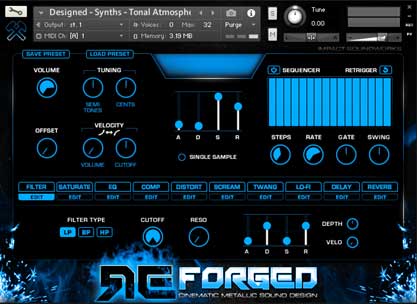 Down the middle, we have a horizontal strip of buttons which serve as our built-in FX rack. It comes with all the essentials – delay, reverb, filter, EQ and compressor – but it also includes some great distortion FX, including a 'scream,' a 'twang' and a 'lo-fi' effect. Each of these adds a unique flavour to the sounds in this library. All the FX parameters can be adjusted by clicking the 'edit' button underneath the effect. This will reveal a new set of controls at the bottom half of the interface, to tweak to our heart's content.
A cool feature in this library is the 'single sample mode,' which can be toggled by pressing the button just underneath the ADSR panel. This mode takes the sample you last triggered and spreads it across the keyboard. The keys higher than middle C will trigger pitched-up versions of the sample, while the keys below middle C will trigger pitched-down versions of the same sample. Playing several of these pitched versions simultaneously can really thicken the sound of a sample or a loop.
Sample Content
As mentioned earlier, Reforged comes with both organic and designed sounds. In both categories, there are a mix of single hits and loops, many of which sound absolutely insane. These can all be combined to create some awesome rhythms.
Reforged also comes with a series of versatile, designed tonal sounds. These tonal sounds have a wide variety of applications – from low, dark basslines to high, airy pads. The effects rack can add so much to these tonal sounds, and many of them sound really cool when sequenced as well.
In closing
I can't write much else about the library, so I recommend that you check out my video on Reforged to hear it in action!
Tech Specs:
Kontakt 5.1 FULL or higher (does not work on free Kontakt player)
Samples are downloadable in either WAV/REX2 or Kontakt format – both versions combined take up 5 GB disk space
4 GB of RAM recommended
Core i3 processor or higher recommended
The Reforged Demo Playlist