With all the EQ options available on the market, it's understandable that many people can be confused about whether it fits their needs.
Considering that many people are conscious about their finances and time, they don't want to invest in two or more products that do the same thing, other than overloading the list of plugins to scroll through during their sessions.
Sonible PureEQ vs Melda Production MTurbo EQ
Here is a comprehensive comparison between the Sonible Pure EQ and Melda Production MTurbo EQ –
| | Melda Production MTurboEQ | Sonible pureEQ |
| --- | --- | --- |
| User Interface | Unified interface for vintage EQs | Modern and intuitive interface |
| Equalizer Algorithms | Multiple classic EQ styles | Proprietary AI-powered equalizer |
| Filter Types | Low-shelf, high-shelf, peak, etc. | Dynamic spectral balance |
| Saturation | Available for vintage character | Warm feature available |
| Automatic Gain Control | Yes | Yes |
| Suited for | Production, Mixing & Mastering | Production & Mixing |
| Workflow Efficiency | Makes EQ selection easy | One-knob control |
| Sound Character | Captures vintage analog essence | AI-driven spectral balance |
| You need it if | You don't have a full suite of analog EQs yet or are looking for a faster workflow. | You want to shape sounds by commonly shared standards quickly. |
Let us look at both plugin in detail and discuss their noteworthy features.
Sonible Pure EQ
In the world of audio processing, Sonible PureEQ stands out as a game-changer. This innovative plugin takes the art of equalization to a whole new level, making it accessible and efficient for beginners and seasoned audio professionals. Let's dive into what makes Sonible Pure EQ a must-have tool for your audio toolkit.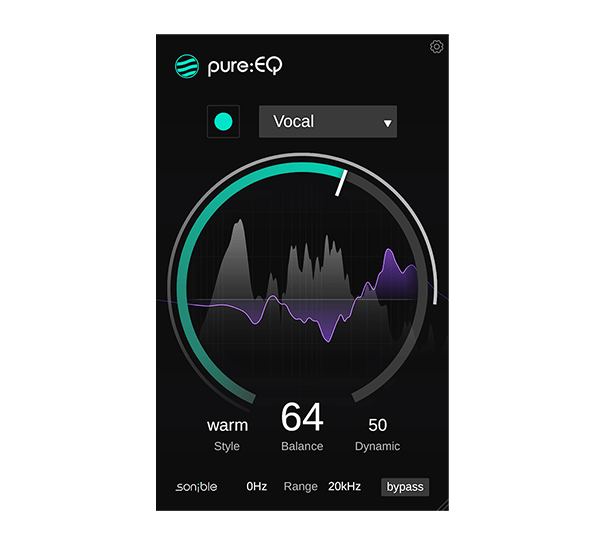 Intelligent Sound Profiling
Sonible PureEQ harnesses the power of artificial intelligence to analyze your audio material comprehensively. Instead of relying on static presets, this plugin offers something revolutionary: intelligent sound profiling. By selecting a profile that matches your audio source (e.g., vocals, drums, keys), you empower Pure EQ to understand the unique characteristics of your sound.
Effortless Learning and Adjustment
The process is remarkably straightforward. Hit the "green button," let PureEQ learn from your audio, and witness the magic unfold. Within seconds, it generates a precise EQ curve that addresses problematic frequencies and spectral imbalances. You no longer need to spend valuable time tweaking parameters endlessly. PureEQ streamlines the entire process, ensuring you get professional-level results without the steep learning curve.
Dynamic or Static EQ
What sets Pure EQ apart is its dynamic adaptability. It seamlessly toggles between static and dynamic equalization, providing incredible flexibility. Whether you want a static EQ to shape your sound or dynamic EQ to respond to changing audio dynamics, PureEQ has you covered. This versatility makes it suitable for a wide range of applications.
Three Distinct Styles
To cater to your sonic preferences, PureEQ offers three distinct styles: neutral, bright, and warm. Each style imparts a unique character to your audio. Whether you seek a clean, transparent tone or prefer a warmer, vintage vibe, you can achieve it with a simple click. These style options elevate your creative possibilities and ensure your sound matches your artistic vision, making the plugin much more versatile.
Efficiency Without Complexity
PureEQ's interface is refreshingly simple. It avoids overwhelming users with unnecessary technical details. Instead, it focuses on delivering outstanding results efficiently. With just a few controls—Style, Balance, Dynamic Adaptation, and Bandwidth—you can sculpt your audio precisely how you want; there are no sub-menus to navigate or confusing options to decipher. It's a straightforward solution for creators who appreciate pro-level sound and a simplified control set.
Melda Production MTurboEQ
MTurboEQ by MeldaProduction is a groundbreaking equalizer plugin that seamlessly integrates the world of classic hardware equalizers into a single, intuitive interface. Designed to simplify and streamline the equalization process, MTurboEQ combines the best aspects of legendary vintage EQs while eliminating their complexities. Here's a detailed review of this innovative plugin: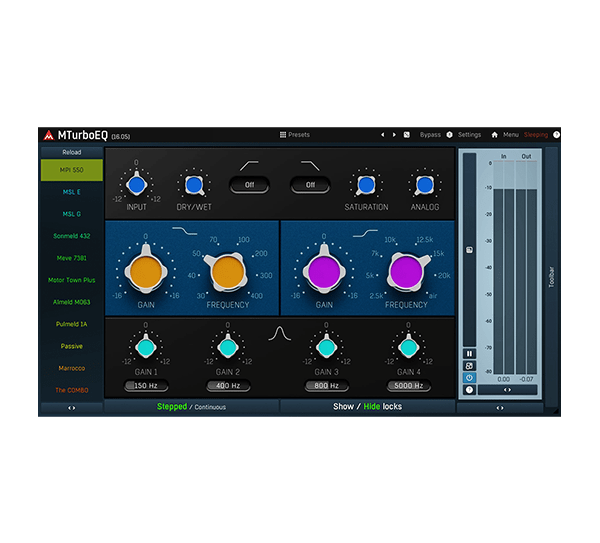 A Unified EQ Experience
The standout feature of MTurboEQ is its ability to provide users with a unified EQ experience across a range of classic hardware equalizers. Instead of grappling with varying interfaces and controls, MTurboEQ offers a consistent, user-friendly environment. This not only enhances workflow but also ensures that users can harness the sonic characteristics of multiple vintage EQs without the learning curve.
Versatile Algorithmic Reproductions
MTurboEQ includes software reproductions of numerous classic hardware equalizers, each offering a rich sonic palette. Users gain access to low and high-shelf filters, four peak filters, saturation, dry/wet controls, and automatic gain compensation for nearly all the included algorithms. This versatility allows producers to tackle a wide range of equalization tasks with ease.
Preserving the Essence of Analog EQs
MTurboEQ captures the essence of classic analog EQs by offering a user-friendly experience without compromising on sound quality. It replicates the thoughtfully designed EQ curves and frequency/gain interactions that define vintage hardware units. This ensures that users can achieve the coveted analog sound while enjoying the convenience of a digital environment.
Support for Different Audio Configurations
Whether you're working with mono or stereo signals or even dealing with mid/side encoding for stereo field processing, MTurboEQ accommodates various audio configurations seamlessly. It offers separate controls for left and right channels, making it adaptable to various mixing scenarios. Moreover, it extends its capabilities to support up to eight channels of surround audio, making it a valuable tool for audio professionals.
Stepped and Continuous Controls
MTurboEQ caters to different user preferences by offering both stepped and continuous control options. The stepped mode simplifies decision-making with predefined values for filter frequencies and gain adjustments. This facilitates quick and straightforward adjustments, especially when users need to make significant changes. On the other hand, continuous mode grants access to a broader range of frequencies and parameters, perfect for fine-tuning and precision work.
Conclusion
Thanks for reading! We hope that this article will give you a detailed comparison between Sonible Pure:EQ and Melda MTurbo EQ.
In case you want to try them before pulling the trigger, both pureEQ and MTurboEQ offer a Trial period.
Also, make sure to check out our latest deals and products. Explore the shop and see a wide range of fantastic sample packs, VST plugins, Kontakt libraries, and instruments we have to offer.