This is an excellent budget friendly orchestral library.
Music is an exciting and fulfilling journey, but it can be pricey to dive into. I remember going to college for music, eager to learn and fortunate to have my own gear. However, many of my peers weren't so lucky.
For Mac users, affordable options like GarageBand were available, and Logic Pro X, priced at $199, provided a comprehensive suite that packed everything you needed, from mixing plugins to virtual instruments.
But the catch? You needed a Mac to use the Logic X and GarageBand. This investment was at the very least $1,000-$1,200 at the low end.
This left Windows users in a bind. While there were some budget friendly or even free options for DAWs, like Reaper, it didn't come with its own sounds. This means you still had to purchase this yourself, which could be another $300 to $500 investment.
It's challenging to find affordable yet quality software. That's where Neo Composer comes in.
Neo Composer: A Brief Overview
Neo Composer is an Orchestral Library with a carefully curated set of instruments that cater to a wide range of music needs.
Neo Composer provides foundational instruments for composition and orchestral mock-ups, ballads, Rock, or short intricate pieces to help spice up a Pop or hip-hop track. Whatever it is, this orchestral bundle will fit in nicely.
Neo Composer helps bridge the gap between ideas and production ideas you can push play on.
Does Neo Composer Sound Good?
Neo Composer Orchestral Instruments
The orchestral bundle is comprised of many sounds such as; the Blue Grand piano, the iconic Electric Guitar LP, versatile Bass Trio, dynamic Supreme Drums Orange, Acoustic Guitar, and expressive Strings.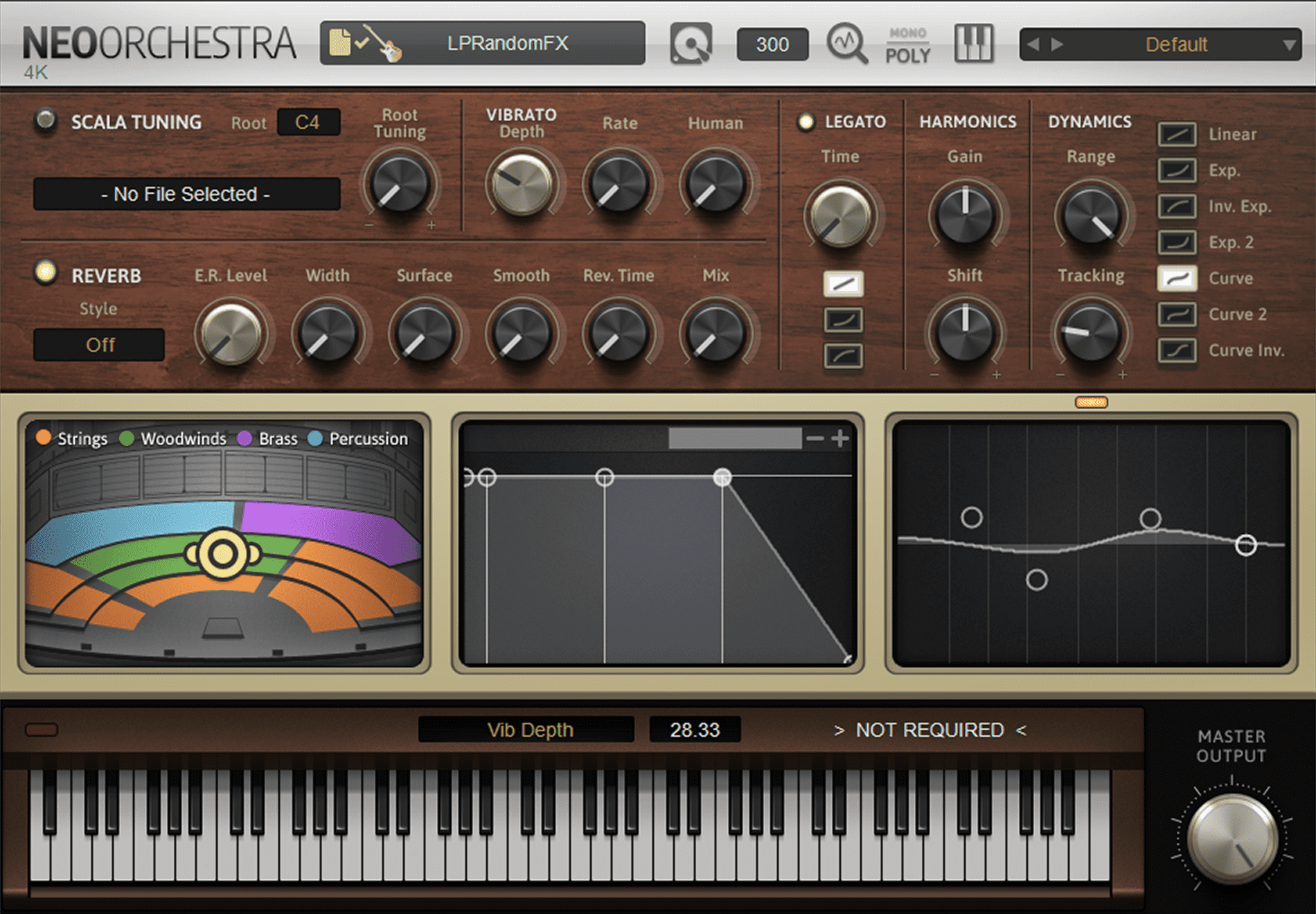 Here's a breakdown of my favorite ones.
Blue Grand
This rich and dynamic piano offers lots of depth and good resonance, providing musicians with a classic and contemporary sound in one piano, making it powerful for sketches and songwriting.
Blue Grand Key Features:
Two-in-One: Combines two Steinway Grand Pianos.
Sound Quality: "Vintage 1927" for rich tones; "Living Stereo" for live vibrancy.
Advanced Technology: Hybrid Modeling and HD Velocity Layer 3 with HDR.
Robust: Works with systems supporting 127 to 65,536 velocity layers.
Staccato: Captures the unique sound of strong staccato play.
Authentic Resonances: Recreates natural piano resonances for a true concert hall feel.
Sound Controls: Damper controls to adjust age and material for varied tones.
Electric Guitar LP Lite Version:
Neo Composer captures the iconic sound of the 1963 Les Paul, a legendary guitar that has been a staple on numerous rock albums, particularly throughout the vibrant 60s era. This guitar's rich history and resonance have left an indelible mark on music.
Key Features:
Authentic replication of the 1963 Les Paul sound
Deeply sampled for rich tonal nuances
Multiple velocity layers for dynamic playing
Hybrid Modeling technology for enhanced realism
Integrated effects and amp simulations (from previous knowledge)
Versatile for various music genres beyond rock
User-friendly interface for easy sound customization.
Bass Trio:
Bass is the backbone of many music genres, and with the Bass Trio, musicians get a taste of three extraordinary bass brands: Lakland, Silvertone, and Hofner.
Key Features:
Extensive library with over 18GB of content
Advanced legato techniques
Expressive glissando
Dynamic sound modulation
Precisely modeled vibrato
Real-time slides and bends
VStomp Effect System for enhanced tonal possibilities
Bass Trio is flexible enough for multiple genres, such as but not limited to, Rock, R&B, Jazz, Orchestral, etc.
Solo String Instruments:
Great tones, sound, and richness. Neo Composer brings to life the genuine style and feeling of solo violin, viola, and cello.
Key Features:
Three Instruments: Solo violin, viola, and cello.
High Quality Recording: Record in New York's Platinum Sound with vintage Neumann microphones.
Legato: Smooth, connected notes played sequentially without noticeable breaks or gaps.
Dynamic Vibrato & Tremolo: Control over speed, depth, and transitions.
EQ: 5 parametric EQ, and harmonic control.
Articulations: From vibrato and pizzicato to Jeté
NEO Composer Compatibility & Specifications
Windows System Requirements
Operating System:

Windows XP or later

Processor:

1.8 GHz Intel Core 2 Duo or AMD Athlon 64 Dual-Core 4000+ (or equivalent)

Memory:

Minimum 1GB RAM

Storage:

At least 54 GB of available space
OSX System Requirements
Operating System:

OSX 10.6 or later

Processor:

1.8 GHz Intel Core 2 Duo or equivalent

Memory:

Minimum 1GB RAM

Storage: At least 54 GB of available space
NEO Composer was created with the budding composers, students, and professionals in mind. It's an affordable orchestral library accessible to everyone, making it easier to start composing and get your musical ideas from the brain or paper into the DAW.