Warning!… Mixbox fanboy here. After reading this, you may become one, too. I apologize in advance, but prepare to take your mixes to the next level!
Quick note: For those familiar with the T-RackS suite, Mixbox stands on its own as it functions with a different purpose, offering a fresh approach with features not found in the current T-RackS suite.
If you've never owned an IK plugin, this is a perfect time to get familiar.
Alright, let's get down to business!
MixBox is a 500 Series, Lunch box styled multi-effects rack, with over 70 effects. Drawing inspiration from IK Multimedia's flagship products like T-RackS, Syntronik 2 and AmpliTube, MixBox offers a diverse range, from classic compressors and EQs to rich reverbs and saturators.
The plugin is designed to cater to both beginners and experienced producers.
The simple GUI allows ease of routing and chaining of effects, enhancing your workflow.
With MixBox, you'll have everything in your possession to help create good sounding mixes that rival the professionals.
What Does Mixbox Sound Like?
MixBox Effects Overview: What Does It Come With?

1. Channel Strips:
3 channel strips you can use on instruments, synths, pads, drums or your mix and master bus.
2. Amps:
9 amazing sounding amps that emulate brands such as, Roland, Fender, as well as Mesa Boogie.
Highlights include 'Tone Control' and the 'SVT Classic' (Ampeg emulation).
3. Distortion FX:
5 distortion units to choose from
Favorites: Sat-X, LoFi, and Crusher.
All over different flavors and sonic characteristics and are useful when pushing harmonics and taming harsh sounds.
4. Filters:
10 filters, including Filter – M (Moog) and Filter – O (Oberheim).
They are modeled after filter sections of iconic synthesizers.
5. Reverb:
9 Reverb Units.
Favorites: Convo Reverb (includes H/LP filter), Hall Reverb, and The Stereo Imager.
6. EQs:
4 EQ units.
Top picks: Vintage EQ 1A (Pultec EQ) and EQ PG (API 560 EQ).
7. Modulation FX:
17 Awesome Modulation FX.
My Go To's: Ensemable, Auto pan, Ensemble, and Opto Tremolo.
8. Dynamics FX:
7 Dynamic Units, all badass emulations
Highlights: Black 76: Emulation (176 compressor).
Bus Compressor: (SSL Glue compressor).
DeEsser: Effective for controlling sibilance.
Model 670: (Fairchild 670 compressor).
White 2A: (LA2A leveling amplifier).
9. Delay/Channel Strips:
3 Delays to assist with building depth and versatile soundscapes.
10. Saturation:
3 Saturation Units.
Top choice: Saturator X and Tape Cassette
Bonus Mixbox Features:
Over 500 top quality presets/preset chains to help get those mixes in line.
All Fx units are derived from IK Multimedia's TRacks, AmpliTube, Sampletank, and some newly created units.
Mixbox Mixing Tips: Drums, Bass Guitar, 808, and Strings
Mixbox can handle just about any mixing task you throw at it. Here are some general mixing tips for getting the most out of the plugin and hopefully get you on your way to creating something great.
Let's get into some mixing tips.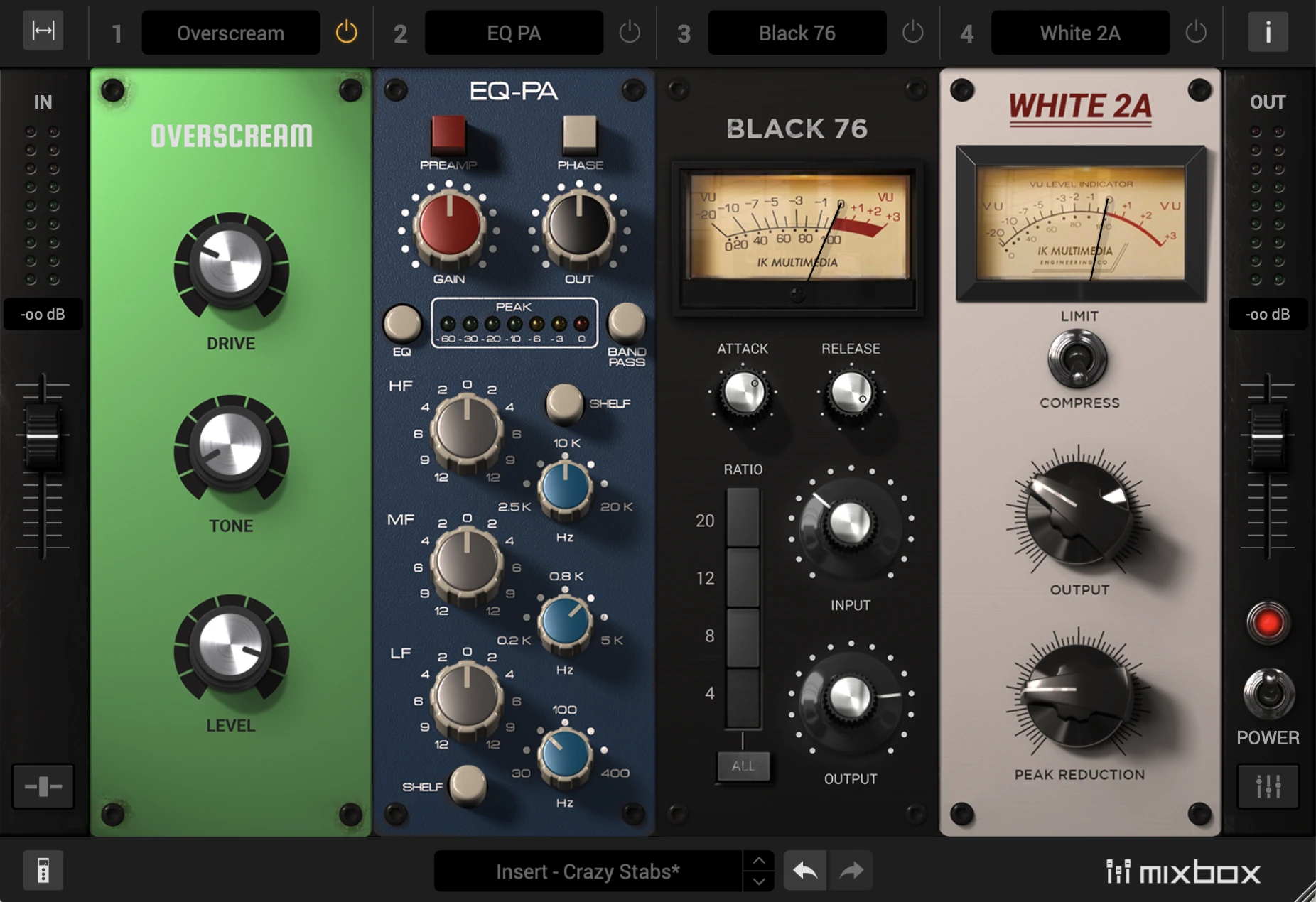 Mixing Drums and Percussion
For drums, use the EQ or a channel strip to add punch to your kick or add a little snap to your claps and snares. The EQ 1A is good for push pulling.
Or, as some say, the Pultec trick, it sounds lovely.
The channel strips get a little more surgical while still offering the tone shaping of the emulation. Try the EQ 81. It has a nice preamp you can color the sound with as well.
Compressors are great for tightening up drums as well as the drum mix. Start with the Black 76 if you want to tame transients, and use the White 2a to add roundness.
Mixing Bass Guitar
Use MixBox's amp emulations and saturators to add character and warmth to bass.
Compressors here are great for maintaining dynamics and making sure the audio is consistent. As with the advice concerning the drums, use the 76 to control transients and the White 2a to add that extra oomph.
If you really want your drums and bass to sound big and some controlled reverb to help introduce depth. Yes folks, reverb on your drums and bass; it does wonders.
How To Mix 808s?
Mixing 808s can be tricky. Some professional producers like the 808 to stand out, and others like it to play nicely with the kick. Take the 808 and carve space in it where your kick can sit nicely using a channel strip or EQ.
Follow that up with the Overscream, Overdrive, or one of the saturation plugins if it's a deep sounding 808 that you want to translate across small device speakers.
Mixing Strings
Strings can be fun but must be handled with care, and the same goes for brass instruments, as they are easy to overdue.
Take a channel strip and pull the mids down slightly to stop them from getting muddy or harsh, depending on the strings you're working with.
Next, add a reverb like the Convo Room and another channel strip, like the EQ 81 or the EQ PA, to push the frequencies you want more present in the mix.
You can add modulation for depth and movement when it comes to strings as well.
Side note: Even if the frequencies are the mids you removed, they will now be a little softer and lush sounding.
Mixbox vs T-RackS: Which One Is Better?
TRackS and MixBox are both great plugins to own. Here's a breakdown of how they differ.
TRackS Mixing Suite
Main Purpose: TRackS is designed for mixing and mastering, aka the final stage of music production.
Features: T-RackS suite is comprised of great analog emulated plugins ranging from compressors, reverbs, EQs, limiters, and classic tape machines that help make your music sound like butter.
It's a must have if you want your music to have warmth and depth and less fragile or sterile sounding.
MixBox
Main Purpose: MixBox is an 8 slot virtual effects rack that allows users to chain multiple effects in one instance.
Features: Mixbox comes with 70+ effects, derived from previous T-RackS bundled into 1 simple plugin.
Mixbox can be used as a plugin or in standalone mode, making it ideal for mixing Live Sound, Podcasting, and experimenting.
While T-RackS and MixBox have overlapping effects, they cater to different aspects of production and audio processing.
Yes, you will spot identical units in both. Unfortunately, they don't share presets and configurations.
You must take advantage of this deal if you need quality plugins and want great sounding mixes without breaking the bank.
All effects units sound amazing, and they have great drag and drop functionality. You're getting the same quality you'd find in the T-RackS Suite. It only costs $29.
You can't go wrong with this, even if you accidentally purchased it twice.