We have a sweet Affordable Trailer Sound Library For You!
Trailer music sets the tone for a film's most thrilling previews, often packed with epic, suspenseful, and emotive soundscapes.
'Aftermath' is a sound library that promises to enhance any trailer project. The library is packed with over 200 expertly crafted, high impact sounds. It's an invaluable asset for music producers and composers looking to inject cinematic flair into their work.
This library's diverse range of aggressive sound effects, available in the universally compatible WAV format, ensures that your trailers will grab the attention of the listener.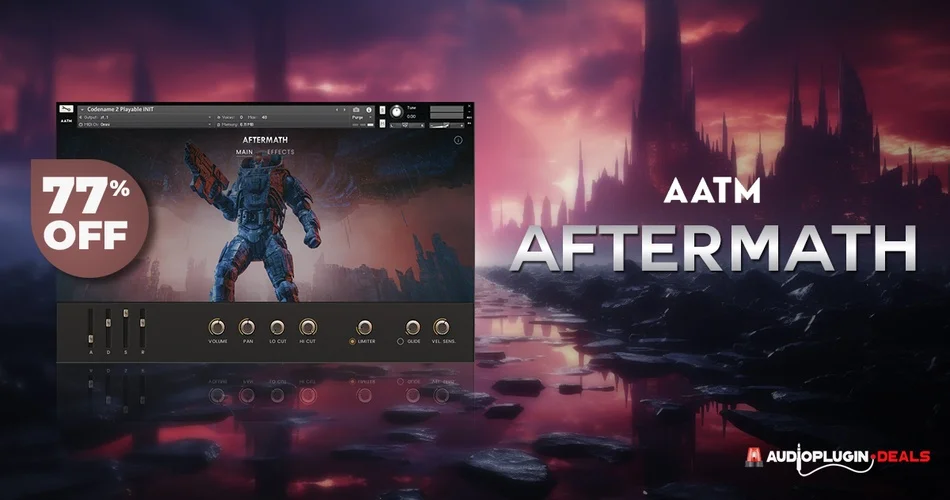 Take a Listen To Aftermath's Affordable Trailer Sound Library
Users are impressed by the high quality and volume of production-ready sounds that require little to no tweaking. Laced with standout synths and braams.
Trailer Sounds Included In Aftermath
Braams: Deep, resonant horns that add weight and drama.
Drones: Sustained, atmospheric tones for tension and mood builds.
Downers: Creative pitch drops for impactful transitions.
Risers: Synths and fx that ramp up, building intensity, leading to a climax.
Booms: Deep, thunderous percussive elements for emphasis.
Hits: Powerful, striking sounds that are often used for emphasis on the 1 or endings.
Whoosh Hits: Swishing sounds that culminate in an impactful hit.
Whooshes: Swift, moving sounds for transitions and movement.
Bass: Low end frequencies for depth, body, and power.
Leads: Melodic lines that can guide a piece or accent moments.
Pads: Airy, layered, harmonic backdrops used to create space, glue, and depth to compositions.
Plucks: Crisp, short notes that add rhythm or melodic punctuation.
Navigating Aftermath's Pages and Controls
The 'Aftermath' sound library interface is structured across various pages, each designed for specific sound customization tasks:
The Main Page (One-Shots): This page is where you can fine-tune individual samples, adjusting their pitch and dynamic characteristics such as attack, decay, sustain, and release, along with volume and panning.
The Main Page (Playable): Settings on this page allow you to shift focus to global settings for playable patches, affecting all sounds collectively with controls for ADSR, volume, and pan. It also includes a glide function for pitch transitions.
Effects Page: The Effects Page allows for the addition and adjustment of effects within an eight-slot master chain, with the ability to activate or deactivate each effect as needed.
The page layouts ensure that tweaking process is straightforward, suitable for both beginners and seasoned professionals.
4 Key Points to Know Before Investing in 'Aftermath' Trailer Sound Library
1. Kontakt Version: 'Aftermath' is specifically designed to work with Kontakt 7.2.0 or later. This means it will not work with the free Kontakt Player, so make sure you've got the right Kontakt version.
2. Extensive Collection: Access over 200 bold and aggressively processed trailer sound effects.
3. Special Pricing: Grab 'AFTERMATH' for just $34.99, a steep discount from the regular $106.
4. Sound Format: All sounds come in a dedicated WAV folder for universal compatibility with 3rd party samplers.
'Aftermath' is a high-quality sound library tailored for epic sounding trailer music production, delivering an extensive array of dynamic sound effects.
It's an excellent value for its price and doesn't take up much room on the hard drive.
As always,  check out our other amazing deals on your favorite software brands at https://audioplugin.deals/shop/
New To Audio Plugin Deals?
Are you new to the site,,,Haven't shopped with us before? Not sure how all the sales, discounts, and deals work? Don't worry, we have you covered! 
This is everything you need to know about our discounts, freebies and other exclusive deals → https://audioplugin.deals/how-it-works/

FAQ Aftermath Trailer Sound Library
This FAQ aims to address common questions and concerns buyers are likely to ask before purchasing the Aftermath Trailer Library.
What Software Do I Need To Use 'Aftermath'?
'Aftermath' requires the full version of Kontakt 7.2.0 or later. Without this, the sound library will not load. However, you can import the individual wav files into any sampler that supports the wav file format.
Is 'Aftermath' Good For Beginners?
Yes, Aftermath is suitable for beginners and professionals alike. Understanding Kontakt will give users an advantage, but the sampler's functionalities can be learned over time for those new to it.
Can The Sounds From 'Aftermath' Be Customized?
The sounds come processed and ready to go, but can be further manipulated within Kontakt or 3rd party software.
What file format are the sounds in 'Aftermath'?
The sounds are provided in WAV format, ensuring compatibility with most music production and editing software.
Does 'Aftermath' include metadata?
While the promotional material doesn't specify, professional sound libraries typically include metadata for easy navigation and use. At the very least you can find metadata within the file names of the wav files.
Can I use 'Aftermath' for commercial projects?
Yes, sounds from 'Aftermath' can be used for commercial music production projects. Always review license agreements that come with your sound libraries for any restrictions.