Sample Logic has once again expanded the horizons of music production with the release of World Fury. At the heart of World Fury lies rich multi-sampled traditional world instruments, meticulously captured to bring the authentic sounds and vocals from the farthest reaches of the globe right into the studio.
This library is not just a collection of sounds; it's an inspiring palette that paints with the broad strokes of world instruments, each note and rhythm infused with the spirit of World AI's animated instruments.
World Fury Instruments In Action
This is a great demonstration of what World Fury is capable of
The sounds are so beautiful
The front panel of World Fury offers immediate access to a range of essential features for sound manipulation. The core of the interface consists of Tabs for Presets, Randomization, Effects, and Global Controls.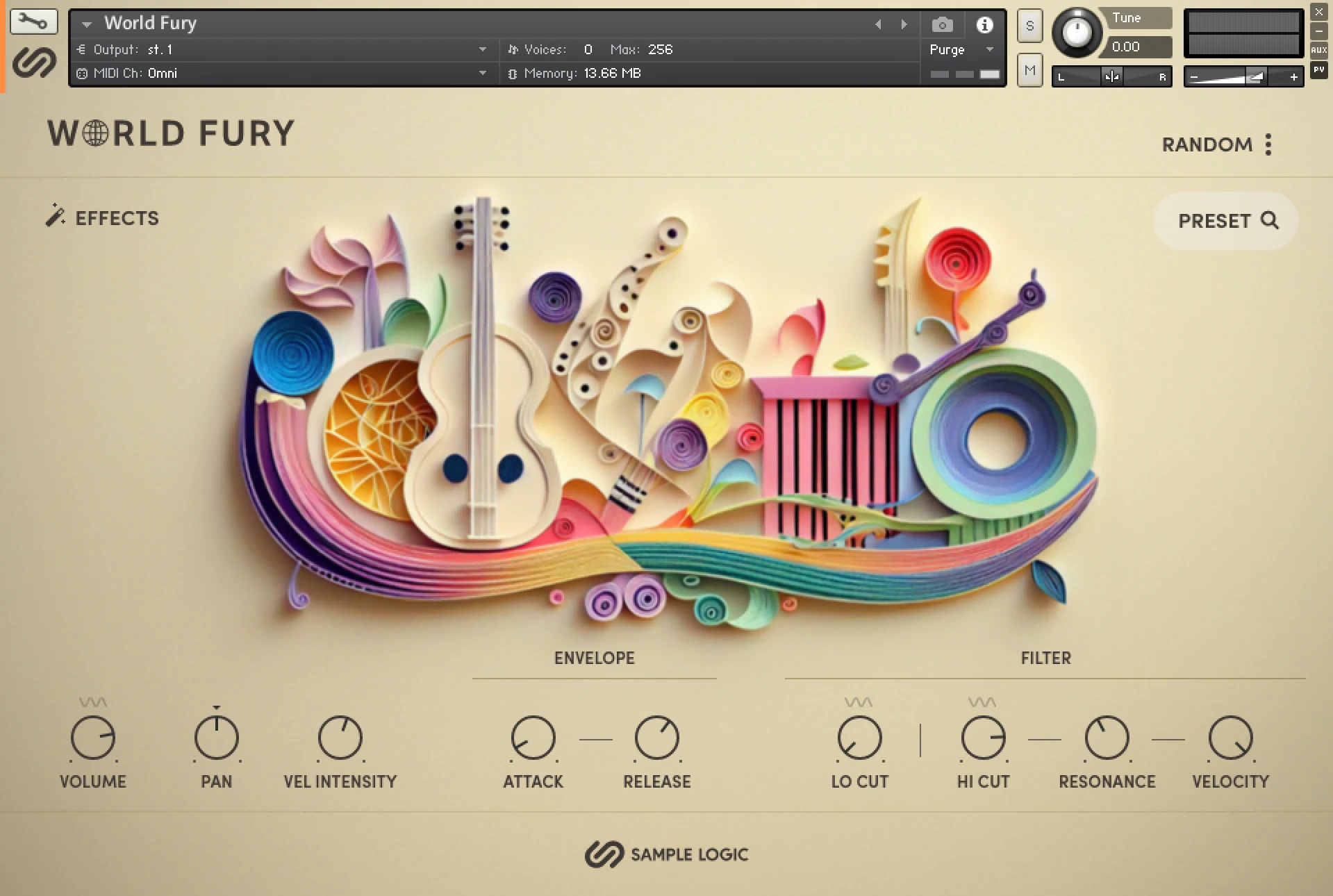 The Presets tab allows users to browse a diverse array of sound presets. At the same time, the Random Tab provides a unique tool for generating d unexpected sound combinations, sparking creativity.
The Effects tab is where users can modify various effects, such as reverb, delay, and EQ, enabling detailed shaping of the tone and texture of the sounds.
Central to the interface are the Global Controls, which include a Volume control for adjusting the overall output level and a Pan control for setting the stereo positioning of the sound within the mix.
The Vel Intensity, or Velocity Intensity, is a crucial feature that determines how the sound responds to the velocity of MIDI input, adding dynamics and expression.
The Filter section, with its high and low cut options and resonance control, allows for precise sculpting of the frequency content.
Lastly, the Envelope controls, consisting of Attack and Release parameters, shape the dynamics of the sound, controlling how quickly it reaches its peak and fades out.
World Fury Tagging System
The tag system in World Fury is designed to simplify finding specific sounds and presets, making your music creation process faster and more efficient.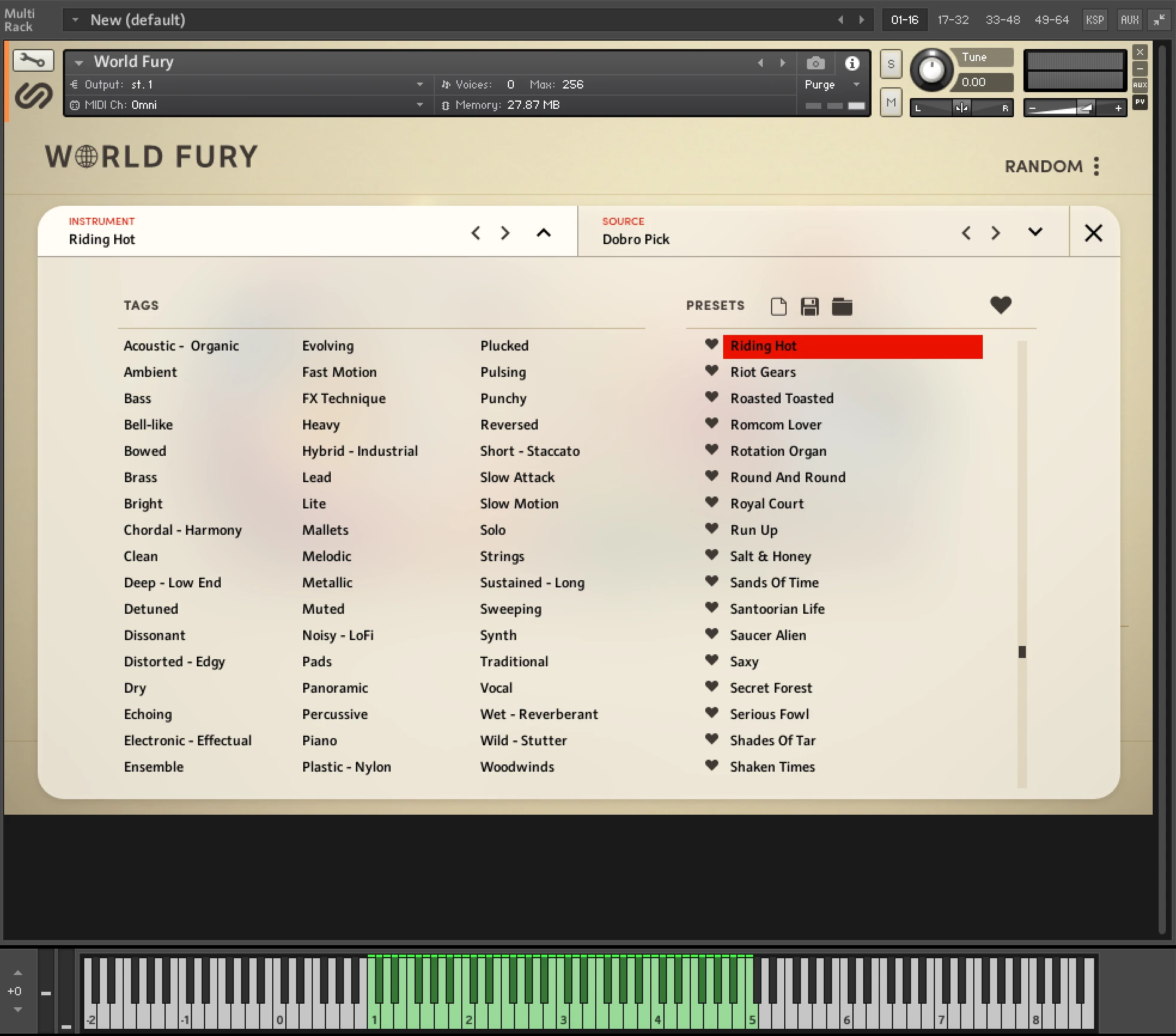 | Sound Category | Category Description |
| --- | --- |
| Acoustic & Organic | Pure, natural tones from delicate string plucks to warm woodwinds, the heartbeat of World Fury. |
| Ambient Textures | Ethereal, expansive soundscapes perfect for adding depth and a sense of place. |
| Bass Tones | Ranging from deep sub-bass to nimble acoustic lines, providing a solid track foundation. |
| Bell-like | Crystal-clear tones reminiscent of bells, ideal for a sparkling top-end. |
| Bowed Strings | Emotive, ranging from intense cinematic swells to intimate melodies. |
| Brass | Bold, brassy sounds for commanding attention and adding grandeur. |
| Chordal & Harmony | Rich presets for complex harmonies and lush chord progressions. |
| Detuned & Dissonant | Tension-adding sounds with a twist on the conventional for an avant-garde edge. |
| Distorted & Edgy | Gritty, aggressive presets for raw energy and modern bite. |
| Electronic & Synth | Ranging from retro analog warmth to futuristic digital precision. |
| Ensemble | Full-bodied, layered sounds representing groups of instruments. |
| FX Technique | Special effects sounds adding intrigue and unique sonic signatures. |
| Heavy & Metallic | Weighty presence from industrial clangs to thick drones. |
| Lead Melodies | Standout sounds designed to cut through the mix and carry the main tune. |
| Percussive & Rhythmic | Global rhythm section, from traditional ethnic percussion to contemporary drums. |
| Piano & Keys | Ranging from grand pianos to electric keys, covering classical to modern tones. |
| Plucked Strings | Variety of plucked instruments for textures from sharp and percussive to soft and melodic. |
| Vocal | Human voices and choirs from solo lines to layered harmonies, adding a human touch. |
| Woodwinds | Flutes, clarinets, oboes, etc., offering everything from breathy intimacy to piercing clarity. |
| And More | There are lots of nuanced sounds with the dynamic meta-tag system, catering to various moods and styles. |
More Ear Candy From World Fury
The default presets already deliver solid vibes, but the FX lets you truly personalize the core sounds of the World Fury instruments.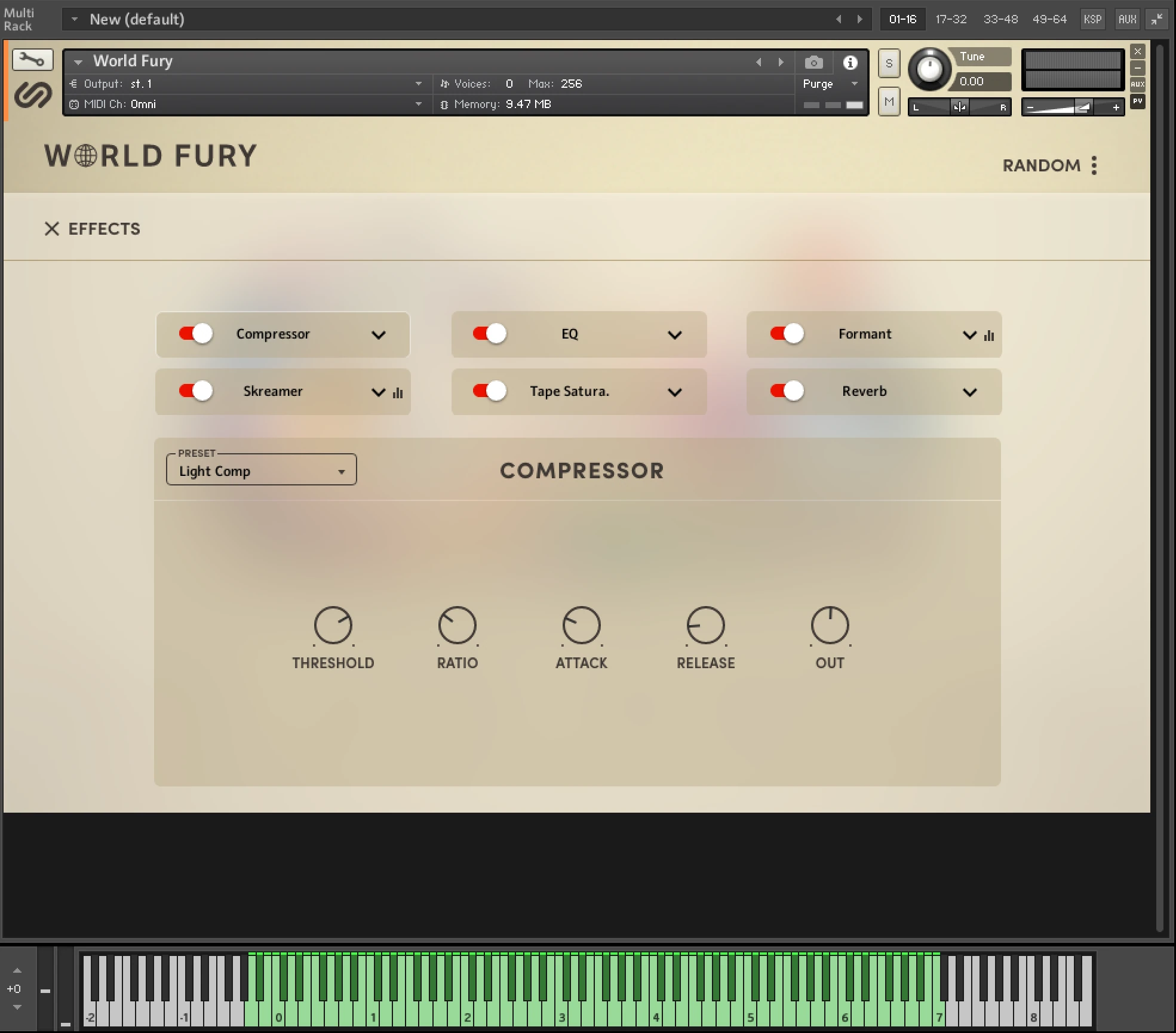 Each effect is straightforward in application. Below are the controls available to you for shaping your sound.
1. Reverb: For creating space and depth.
2. Delay: For echo effects and rhythmic enhancement.
3. Compression: For dynamic control.
4. EQ: To sculpt the frequency content.
5. Saturation: To add warmth and richness, enhancing harmonics.
6. Transient Control: To sharpen or soften the attack and decay of sounds, giving more punch or smoothness.
World Fury System Requirements:
Kontakt: Full version 6.7.1 or higher (not compatible with free Kontakt Player).
Operating System: Mac OS 10.14+ or Windows 10+, 64-bit only.
Processor: Intel i5 or equivalent.
RAM: 4 GB minimum, 6 GB recommended.
Storage: 7 GB free disk space.
Plugin Formats: Stand-alone, VST, AU, AAX.
Internet: Required for download and activation.
World Fury by Sample Logic offers a blend of traditional world sounds and contemporary sonic innovation.
For the composer seeking to sprinkle their tracks with the spice of world sounds, or the music producer aiming to weave a global narrative through their music, World Fury is the key to unlocking those possibilities.
Currently available at an irresistible 50% discount

Check out our other deals via this link https://audioplugin.deals/shop/
Are You New To Audio Plugin Deals?
Wondering how all the wonder sales and discounts work? Not a problem.
Here's everything you need to know about acquiring discounts and other exclusive deals → https://audioplugin.deals/how-it-works/