In this article, we're going to go over the 533 EQ. It's NoiseAsh's take on replicating the Neve's 5033.
If you know anything about Neve, you know they are a huge staple in the music industry and have been pumping out quality preamps and channel strips for a very long time.

Review: EQ 533 Shortcut Topics
What Is The Neve 5033 (533 EQ)?
The Neve Portico 5033 is a 5 band parametric EQ equipped with Low Frequency and High Frequency Shelving Filters.
The bands are broken down like this
The Low Frequency (LF) Shelving = 30Hz to 300 Hz.
High Frequency (HF) Shelving Filter = 2.5 kHz to 25 kHz.
The mid range section of the EQ is comprised of
The Low Mid Frequency (LMF) = 50 Hz to 400 Hz.
The Mid Frequency (MF) = 330 Hz to 2.5 kHz.
The High Mid Frequency (HMF) = 2 kHz to 16 kHz.
Each section allows you to boost or cut up to 12dB
NoiseAsh's 533 contains the same features as the Neve 5033 but with some additional functionality, making the EQ quite versatile.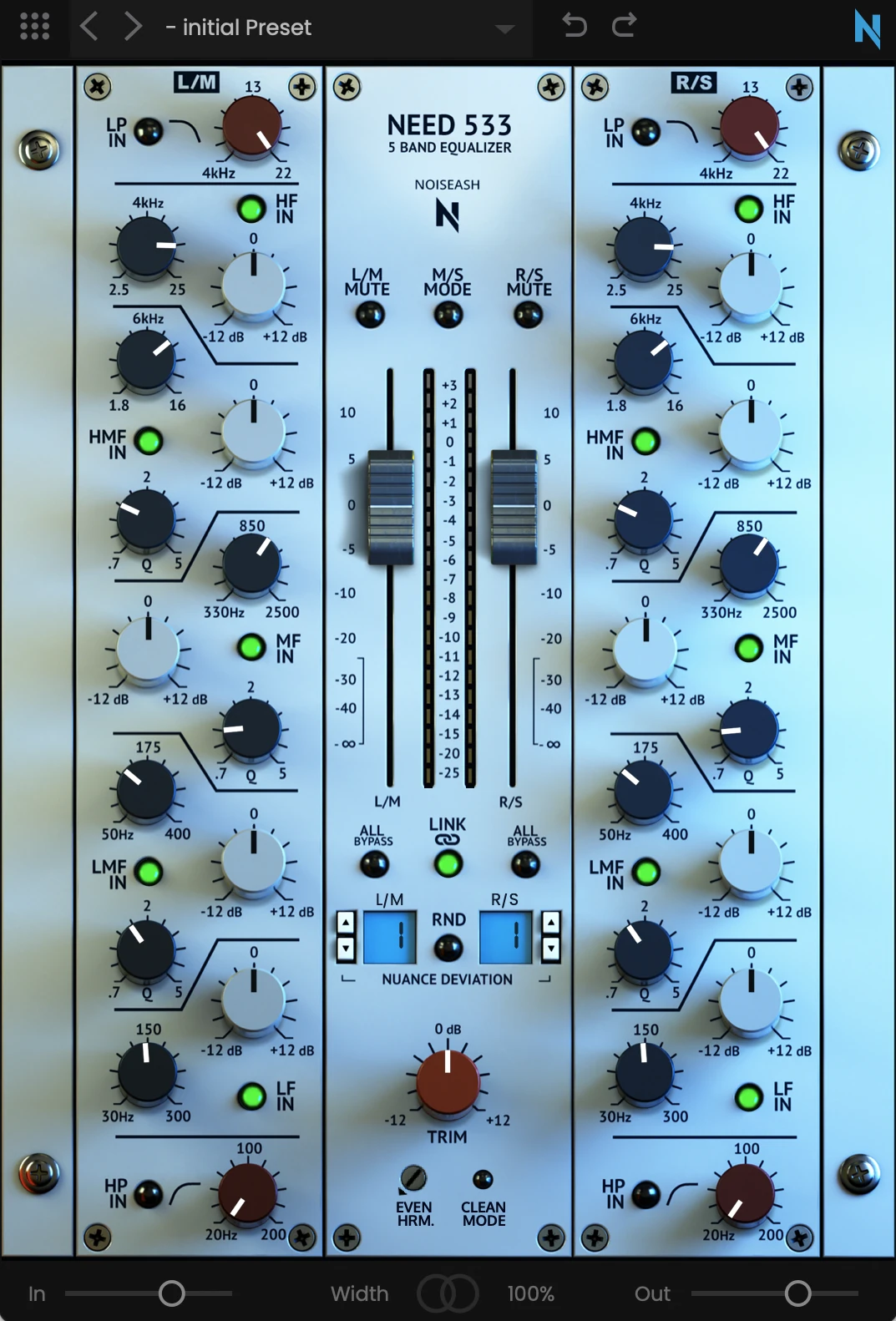 When you look at the 533, you'll notice it looks like there are two EQs, one on the left side of the plugin and one on the right side.
This is beneficial because you can either process the left and right channels together, mirrored, or you can disable the link function and adjust them separately.
You can also put the EQ in mid-side mode, which will allow you to process the mid and sides of the audio or mix separately.
Both options give you greater control over the stereo image.
The Nuance Deviation (ND for short) feature helps the 533 give us that analog console sound. When you use a real mixing console, 24-48 channels, etc.
You'll notice that no two channels are the same as there are slight deviations between each, and when summed together, it gives it a unique sound character.
The ND allows you to change the left and right signal channels. For example, the left channel can be channel 5, and the right, channel 16, will give a different sound texture than if we choose 1 and 7.
You can also use a random feature that will randomly select the channels between 1 and 20 for you.
NEED 533 EQ: Simple Mixing Tips
EQs are very powerful mixing tools. With the right sounds and EQ, you can avoid the need for a compressor.
Here are some simple yet extremely effective mixing tips you can start using right now
1. Use the High-Pass Filter
The high pass filter is ideal for removing unwanted low frequencies, the rumbling sounds. This will help clean up your mix, enhancing perceived loudness and increase your mixes headroom.
2. Manage Your Midrange Frequencies 
Controlling your midrange frequencies is critical. It's where the intelligibility of speech and most instruments' character lie. 
We can also manipulate perceived loudness, as the human ear is sensitive to mid-range. Too high of a boost in the mid-range area can sound painfully harsh. 
With the 553 EQ, boosts and cuts sound wider and smoother, making it great EQ to mix and blend with.
3. Use The High Shelf To Add Air
The high shelf can add a sense of Air and openness to your mixes. Use it sparingly to avoid making your mix sound harsh.
Adding Air is done by pushing the high frequencies of the mix, enhancing clarity. You want to do it this gently to get a feel of what the EQ is doing to your vocals or sound source.
Boosting too much, as with anything else, will not do you any favors.
4. EQ In Isolation
A lot of mixing engineers will tell you to refrain from doing this. I will tell you there is a time and place for it. EQ in isolation to find and fix problems such as clicks, pops, artifacts, etc.
Or if you're generally doing some creative EQ. You have to know what you're hearing before making moves. 
Then un solo, listen to the results, and further EQ within the context of the song's mix. 
5. Don't Over EQ
As with any EQ, it's easy to go overboard. Remember to use your ears and make subtle adjustments.
It's easy to fall into the idea that everything has to be EQ-ed. While this is good in theory, if overdone can result in a thin or less cohesive sounding track. This is the opposite of what we want to do with the 553.
Before adjusting your EQ, listen and ask yourself, "Does it sound good as is?" if it does, leave it be.
FAQ : 553 EQ and Compatibilities
Is The 533 a Mixing or Mastering EQ?
Like the 5033, the 533 can be used on individual tracks: Drums, horns, strings, bass, etc. The 533 can also be for mastering.
Is The 533 EQ M1 Compatible?
The NoiseAsh 533 EQ is compatible with both Intel and M1 Macs and Windows-based computers.
This includes compatibility with Apple Silicon, including the M1, M1 Pro, and M1 Max chipsets for macOS.
Does The 533 EQ Work With Fl Studio?
Absolutely, the NEED 533 EQ is available in VST3 format, which FL Studio supports. Additionally, the NEED 533 EQ also comes in AU and AAX formats. 
This means the EQ will work in Reason Studios, Reaper, Logic X Pro, Pro Tools, and any other DAW that supports VST3, AAX, and AU.
The NEED 533 EQ is going to make mixing a lot easier for you, especially if you need to add color to your tracks and depth to your music
How Will The 533 Make Mixing Easier?
With this little bonus tip
Add the 533 EQ to every bus and hit randomize on the ND. This will emulate a console giving each bus its own characteristic.
If you have enough CPU power, place it on every channel just for the color! 
Right now, this EQ is on sale for $39.00, don't miss out on it.