Sound Yeti Collision FX
Hey guys, it's Jon again with another synth review. Sound Yeti offers up quite the beast of a synth with the Collision FX.  Sound Yeti Collision FX has truly massive tones. The first preset I fired up immediately immersed me into a world of whirring drones and mournful sirens. So much so, that I actually recorded captured almost all of these early performances. I've selected the best of these for my review video, which you can check out below.
Click button below to subscribe to our Youtube channel!
(Remember to like and subscribe. Stay up-to-date for all of our great deals at Audio Plugin Deals!)
Unleash the Beast!
Unleash the beast with the Sound Yeti Collision FX! There's a diverse palette of presets to work with. You can use this entirely on it's own and have great, cinematic tracks. Or you can use it in tandem with other synths as the ace up your sleeve. But let me tell ya…you're gonna get lost in this synth! Certainly don't forget to hit record, the ideas are gonna be falling like snow in a blizzard!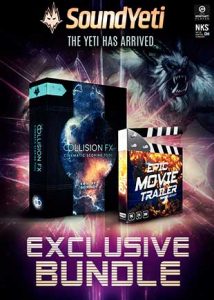 The limits are nearly endless with Sound Yeti Collision FX. This hybrid blend of orchestra, synth, and drones will have you inspired. Go Hulk mode! This is great for trailers, video games, movies, or television. It has excellent sounds for moody atmospheres, intense climaxes. From horror drones to trailer stingers, Sound Yeti Collision FX will certainly bring you MONSTER sound!
This will certainly keep sound designers busy with it's epic stock media. including strikes, drones and tones.
Jam Sessions
I always try to cook up a demo track for my video reviews and articles, to display the sound and vibe of the synths I review. But this week, I've left it up to the jam sessions to do the talking…check out the video earlier in the article!
By the way, this library can be used with Kontakt Player, so if you don't have Kontakt Full you can still grab this awesome instrument.