Hey guys, Jon here again with Audio Plugin Deals. Today I'm checking out another Boom library – namely, their gun SFX. Boom took the time to deep sample 17 different instruments. Not only will you get single shots, shot sequences, and bursts, you'll also get reloading sounds and general weapon handling SFX. These SFX are recorded with the highest quality.

Customize
Have fun tweaking them further. Insert a single shot of a revolver from Boom, then add in some VST FX to beef it up. Add your own layers like a snare drum drenched in Spring Reverb, or a synth noise for a futuristic Sci-Fi weapon approach. The sky is the limit when you mix and meld these SFX into your own unique gunshot sounds!
Click button below to subscribe to our Youtube channel!
These gun sounds are ready for use in your DAW (digital audio workstation) such as Ableton, Pro Tools, Fruityloops, Reaper, or Cubase. Or they can also be used directly in your video editing software, from Windows Movie Maker to Adobe Premiere Pro. For an example, check out the image below. It's an example of the gun SFX from Boom being used in the very production of the YouTube review in this article!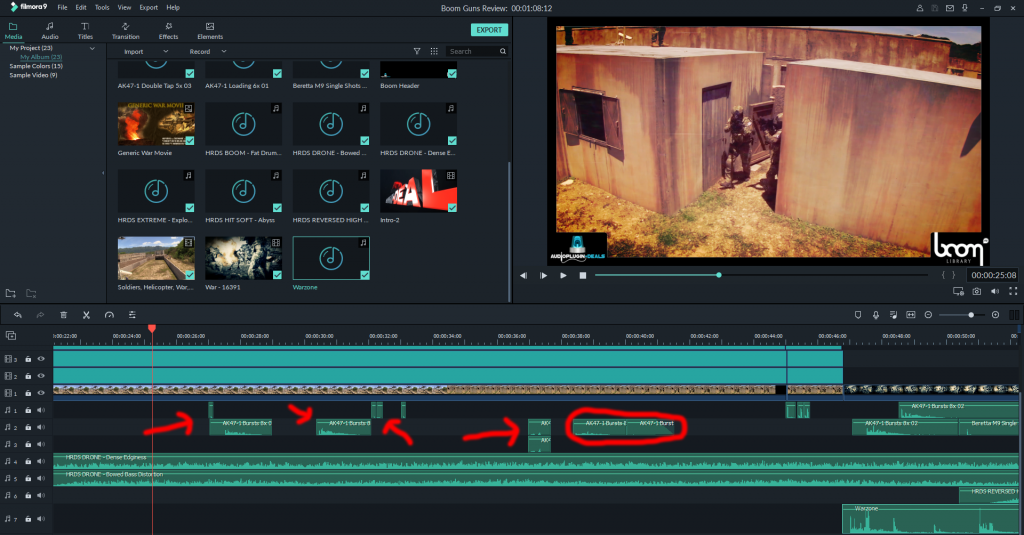 The quality of these gun SFX are very high. They are perfect for use in movies, TV shows, video games, mobile games, web series, or guided meditations. Well…maybe scratch that last one.
This library is the perfect all-round package for your next game. The best part is that all sounds are royalty free. So whether you are making a FPS game or strategy game you will love Guns Construction Kit by BOOM Library.
Design your own unique royalty free gun sounds and also design unique weapon sounds with Guns Construction Kit by BOOM Library. You can also get an explosive deal in the APD shop. 
Demo
I put together two short video demonstrations within the video review at the Audio Plugin Deals YouTube page. Just a bit of stock footage, filters for a more cinematic effect, and a bit of Boom Cinematic Horror as well to give it a bit more cinematic edge (while keeping it in the Boom Family). I will also upload the audio beds below.
Remember to subscribe for updates on all the great deals here at Audio Plugin Deals. Happy composing and sound designing!