In this article, we're going to discuss Rigid Audio's Everything Bundle. It contains everything from Lofi Drums, Spacey Atmospheric Pads, and Drones to Edgy Cinematic Textures and Loops.
If you're looking for a massive amount of Kontakt Libraries at an affordable price, you won't want to miss out on this bundle.

Why Are Kontakt Libraries Popular?
Kontakt, a sampler developed and released by Native Instruments in 2002. Since its release, its become the go to sampler for music producers, sound designers, and composers.
Its popularity stems from its robust features, including advanced scripting and library creation capabilities.
Music producers are drawn to Kontakt's flexibility and sampling power and appreciate the vast selection of high quality sound libraries specifically designed for compatibility with Kontakt.
Lofi Explorer Bundle: These VST Plugins Are Excellent For Ambient, Chill, and Lofi Music
These genres are often mid-tempo mellow sounding genres that people listen to when they want to relax, meditate or study.
Over the years, each genre has gained lots of popularity, spanning multiple playlists on platforms like YouTube and Spotify.
The Lofi Bundle is comprised of 3 Lofi plugins: Lofi Drummer, Traveller, and Explorer, packed with over 200 ambient, mellow sounding presets.
Lofi Drummer: Beats Beats & More Beats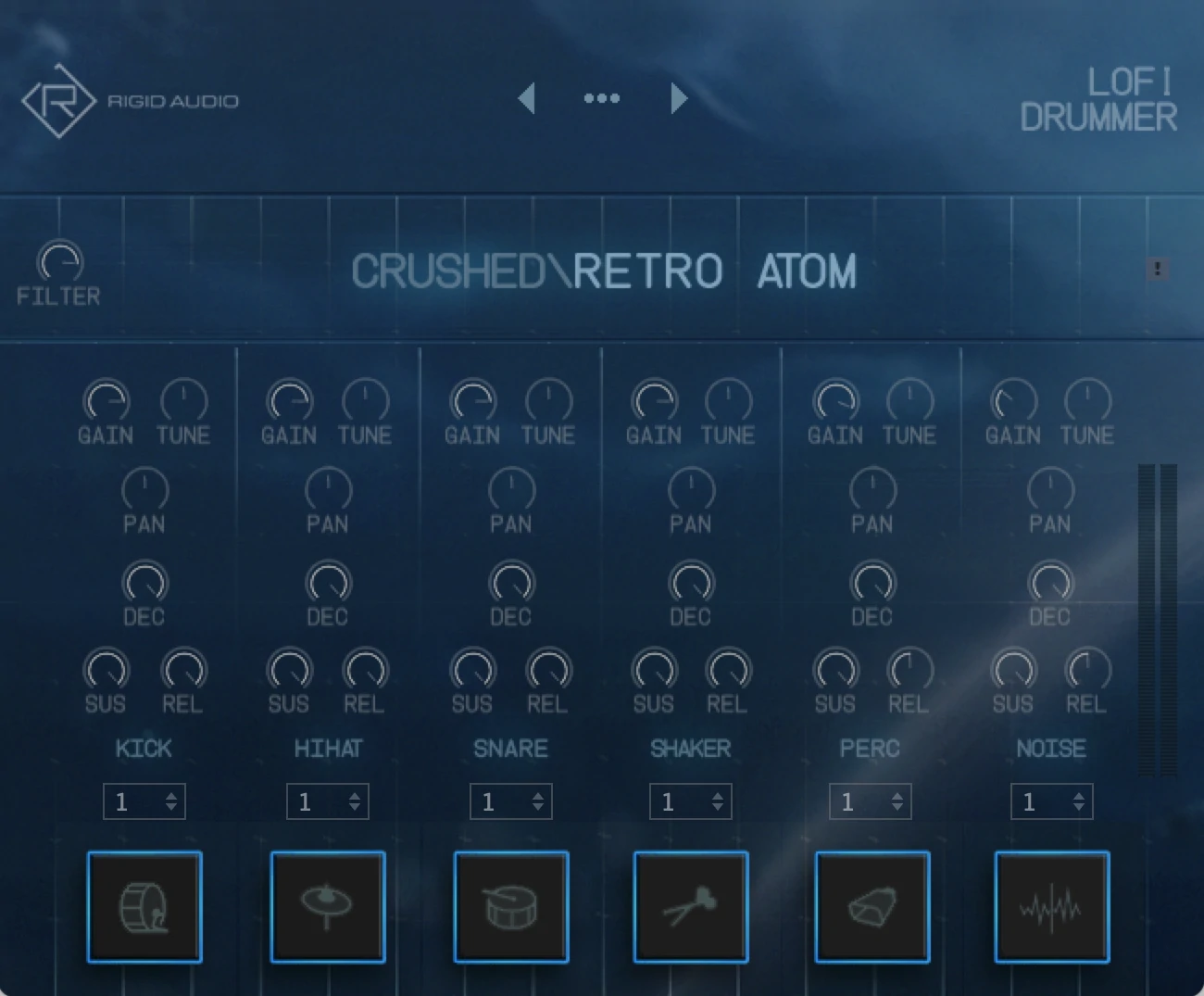 Lofi Drummer contains 70 drum kits and sounds, split into 5 categories: Crushed, Filtered, Hybrid, Mellow, and Processed.
Each section of the Lofi Drum Machine offers control over parameters such as decay, sustain, tune, gain, and the panning for managing the stereo field and release.
These controls help with shaping the samples loaded in Rigid Audio's Lofi drum machine.
Lofi Explorer: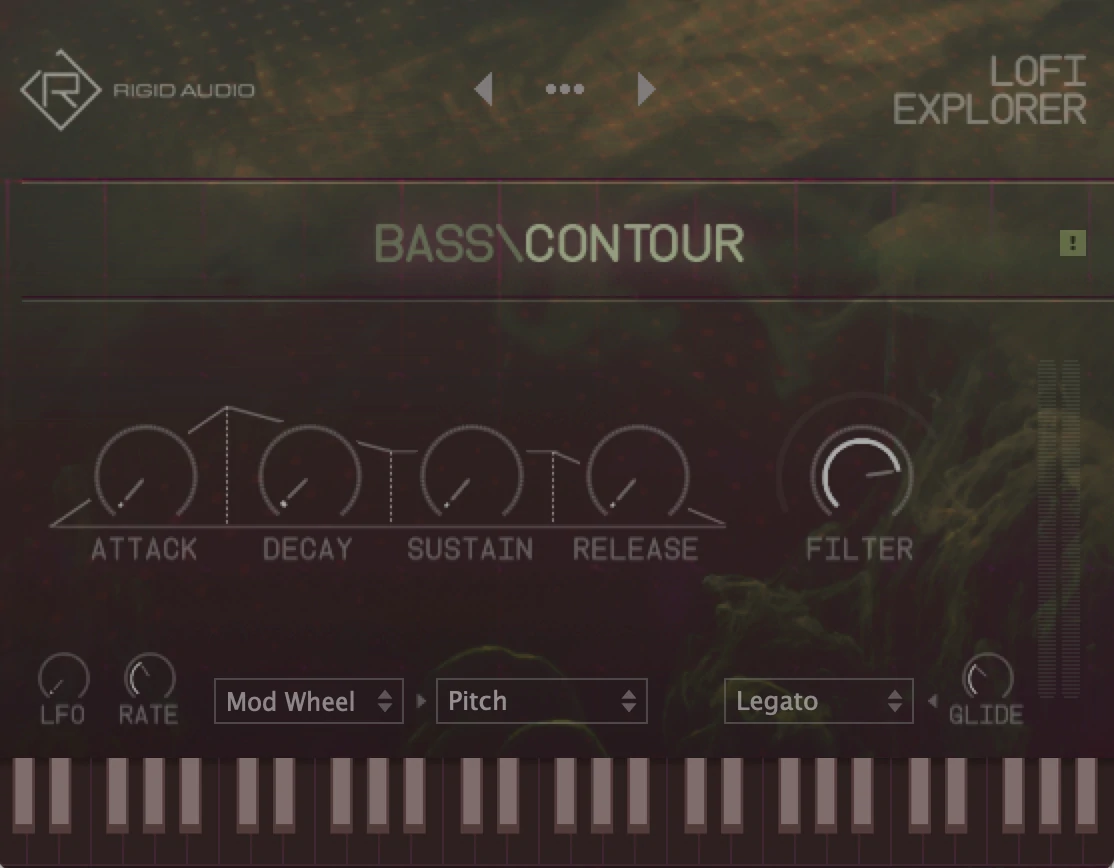 Lofi Explorer features standard ADSR controls, a master filter, glide, and a few other additions. It contains 123 instruments divided into the following categories: Atmo, Bass, Combi, Keys, and Lead.
Experiment with the LFO to add subtle modulation and movement to your pads, infusing them with a dynamic and evolving quality that enhances your music's overall depth and expressiveness.
Lofi Traveller: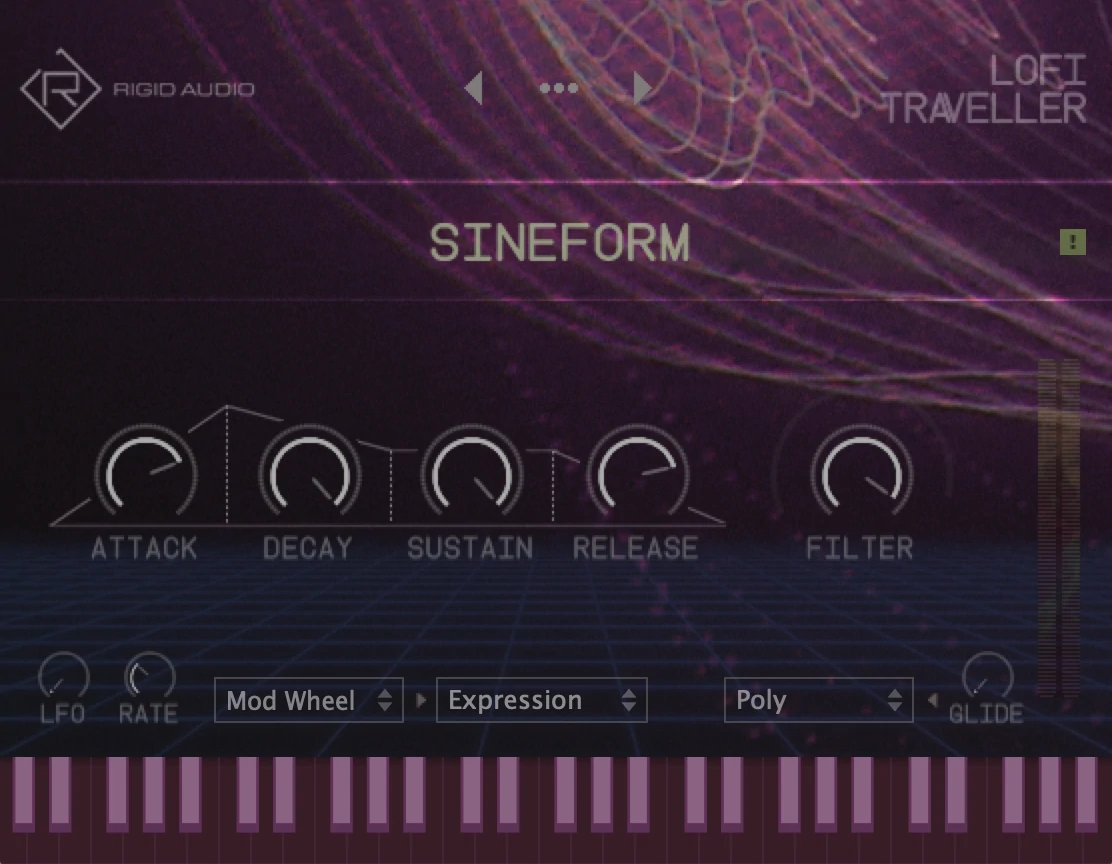 Traveller shares a similar layout to Explorer and provides the same sound manipulation parameters, including Pan, ADSR, and Master filter. However, it focuses more on creating ambient textures and offers a generous selection of 110 presets to inspire your sonic explorations.
Aquiver: This Kontakt Library Lives Up To Its Name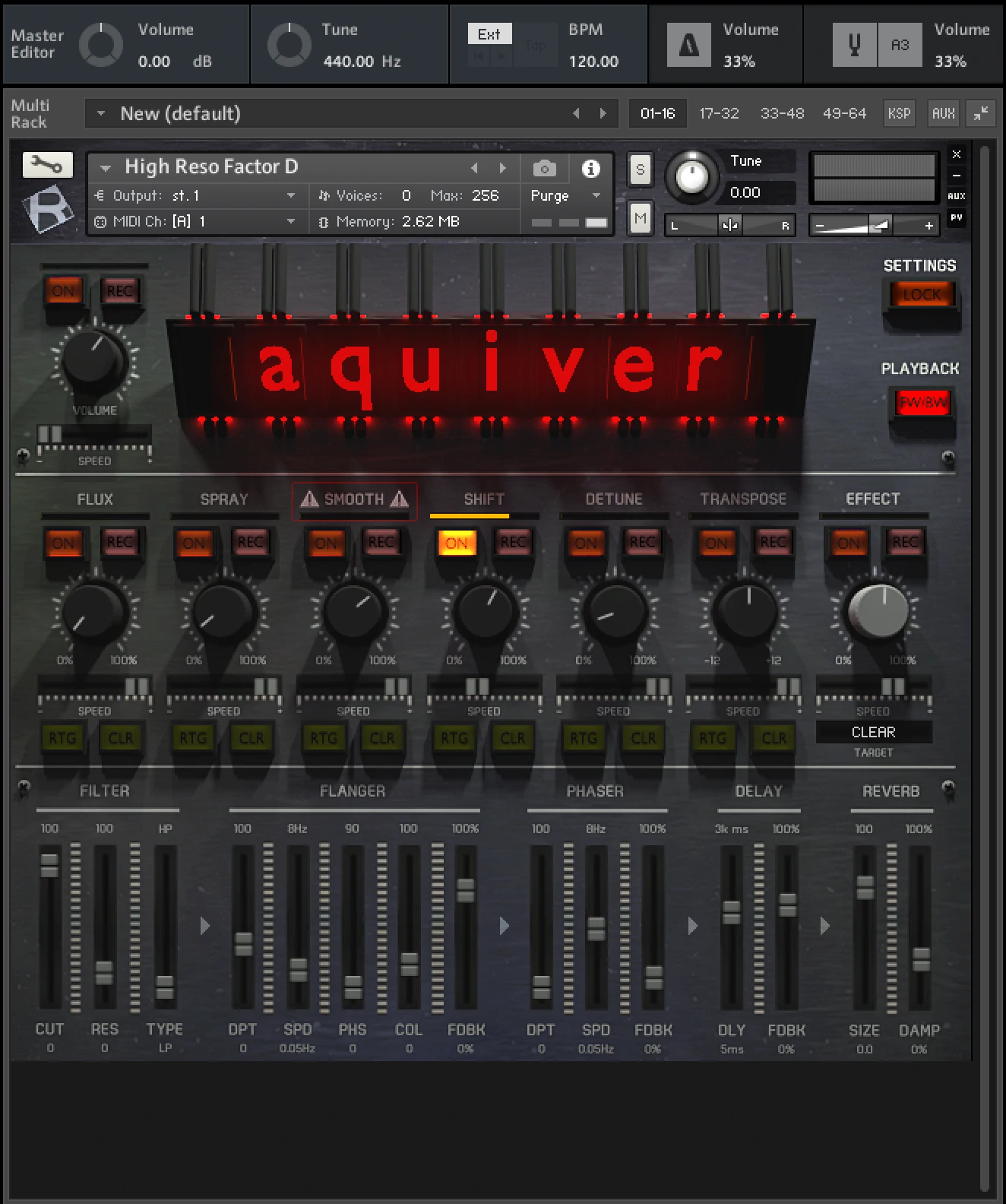 Aquiver is quite amazing and ideal for film and tv sensibilities. It comes with great sounding textures, pads, Braams, keys, and deep basses, packed with 1000+ sounds.
Aquiver's UI offers a variety of granular synth parameter options you can adjust to help you customize your sounds.
The options are as follows:
1. Flux
2. Spray
3. Smooth
4. Shift
5. Detune
6. Transpose
7. Effect
All of these can be modulated, which helps add dimension and movement to your music.
Quick Tip: The real power is making your own quiver settings. Start by experimenting with the Aquiver's presets, then record your own.
In addition to features that can modulate, you have the basic effects.
Filter
Flanger
Phaser
Delay
Reverb
Also extremely useful for shaping your sound.
Atomicron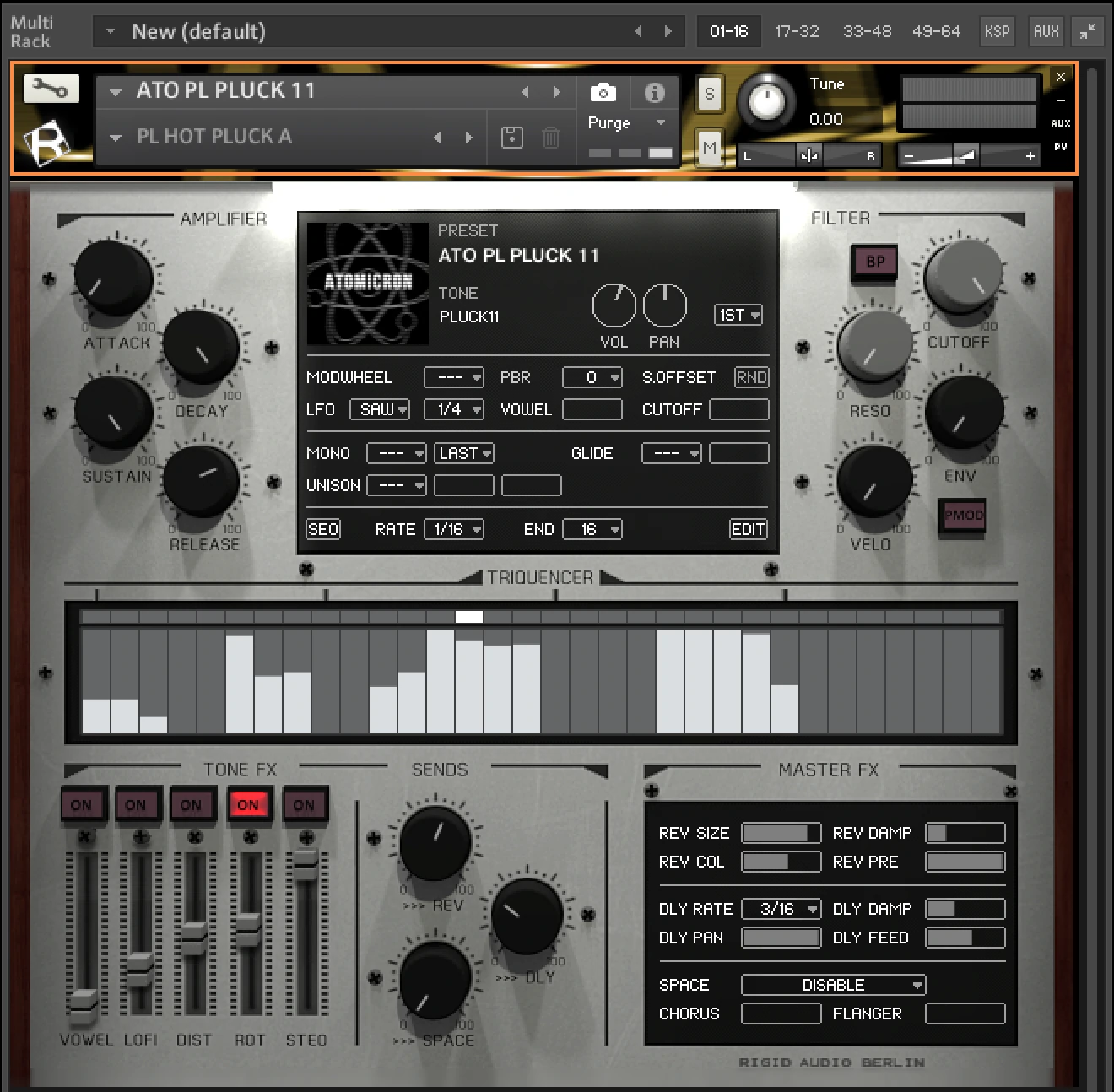 Atomicron is a versatile Kontakt Library containing 75 edgy synth sounds. Here's a list of sounds to choose from:
Basses
Leads
Pads
Plucks
Analog Waveforms
Textures
Atomicron also has a cool Sequencer dubbed 'TRIQUENCER'. The Sequencer allows you to program 3 patterns, making undertones, arps, and melodies, building textures a breeze to create.
You can further tweak your sound and layers using the filter, tone shaping fx, and master.
Resmonia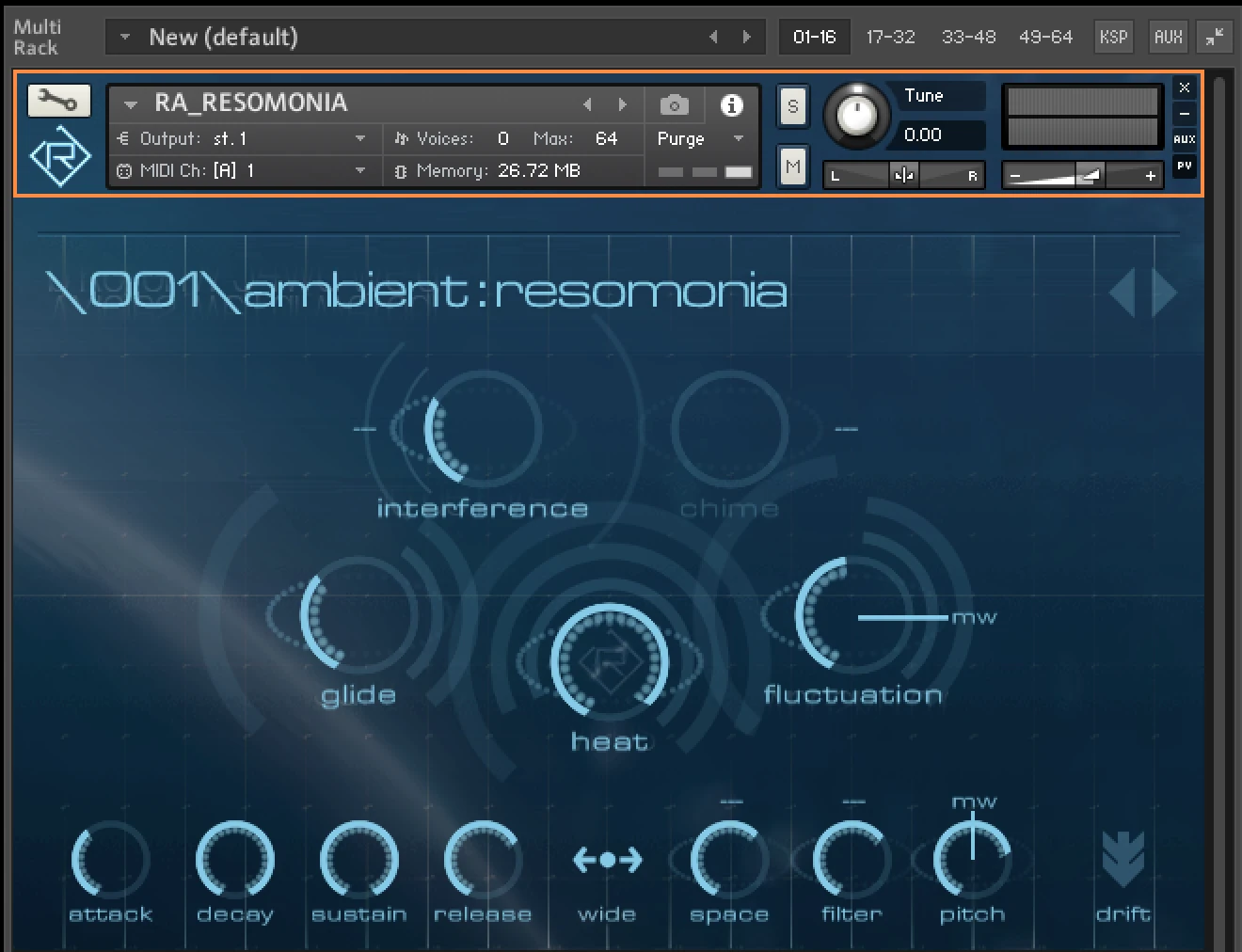 Resmonia is one of my favorite Kontakt Libraries in the Everything Bundle. It has 128 presets categorized into Ambient, Hybrid, Pad, Plucked, Wind, and Soundscape.
The GUI is simple to navigate, as well as the tweaking parameters for each sound.
Resmonia Parameters
Some of the parameters in Resmonia, such as ADSR, Pitch, Wide, and Glide, are self explanatory, there are a few that aren't. I'll share my interpretation of these less obvious parameters to provide better clarification.
ADSR: These are the fundamental controls of sound design and synthesis.
Interference Control: It sounds like the sounds being played are folding onto itself, this creating interference.
Chime Control: Introduces what sounds like a ring modulator and LFO, giving the sound a higher-end wobbling layer.
Glide: Think of portamento control to help notes bend and slide into one another.
Heat: Makes the sound (pad, for example) more compressed and or saturated but not excited.
Fluctuation: Add a pattern that interrupts and stops what you're playing from sounding monotonous.
Space: Introduces reverb creating with space and openness
Wide: Enabling this function increases the width of your pad or Soundscape.
Filter: When turned clockwise turns into a High Pass filter.
Pitch: Just as it sounds, increase the pitch of your sounds
Fluctuation, Space, Filter, and Pitch can be routed to the modulation wheel of your MIDI controller for a hands-on approach.
Conclusion
Rigid Audio has a lot to offer music creators with their Kontakt Libraries. The Everything Bundle is diverse, affordable and should be in anyone's collection who plans to write for cinematic sound design or to dabble around writing for video games, apps, or films.