Are you looking to expand your collection of Vintage synths? If so, IK Multimedia has you covered with this awesome deal on their Syntronik 2 Collection. It includes 22 iconic synths packed with more than 5,500 presets that cover a wide range of sounds. That's more than enough sonic bliss to keep you making music for years…AND YEARS!
Note: The legacy presets from Syntronik and Syntronik Deluxe are all present in Syntronik 2 and sound exactly the same. So there should be no issues recalling older projects.
Walkthrough Of Syntronik 2 from IK Multimedia
Here, Brian is giving a walkthrough of Syntronik 2, how to install it as well as demonstrating some of the cool sounds within.
Let's dive into some of my favorite synths units from Syntronik 2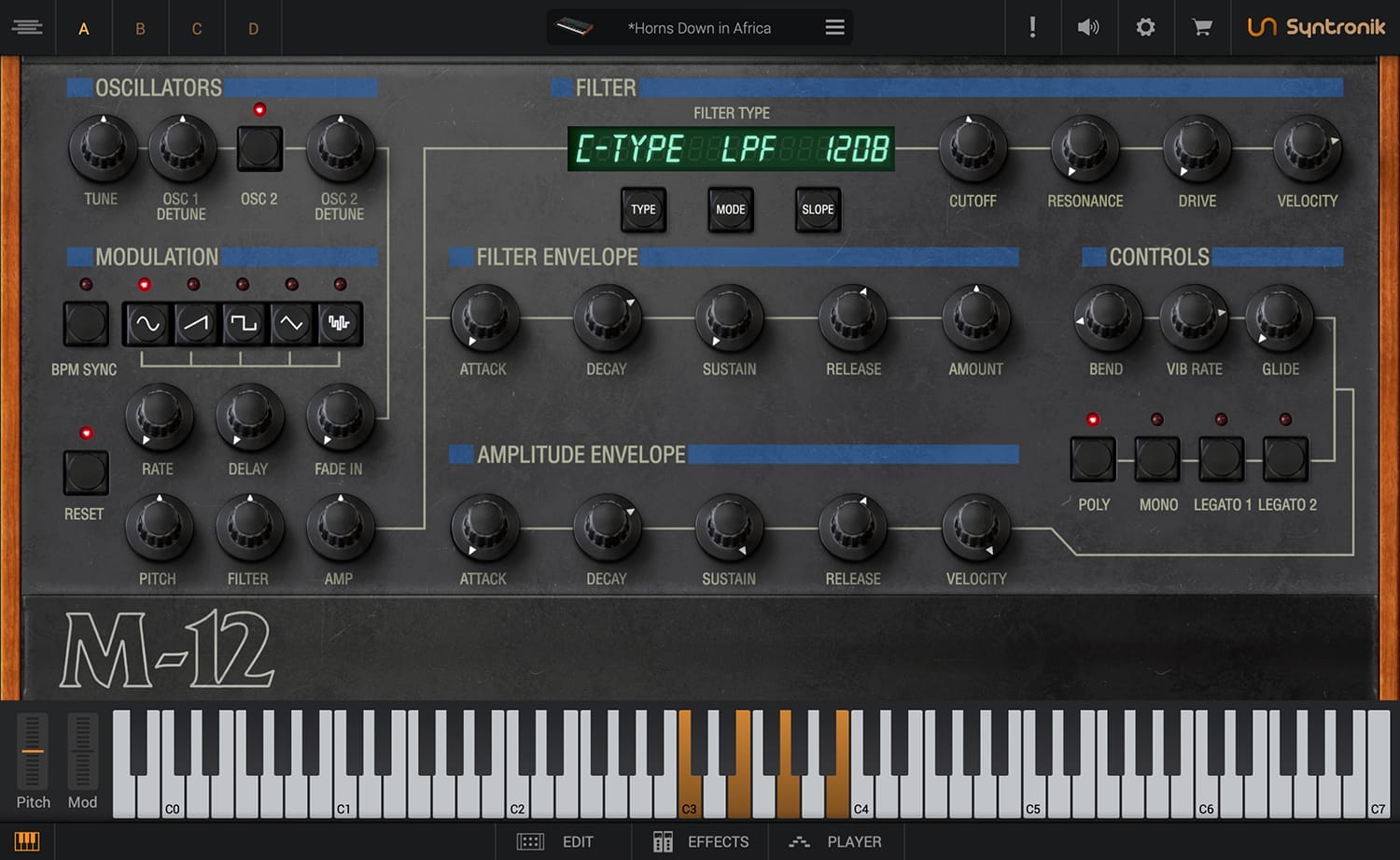 The Matrix 12 was one of the most sought-after synthesizers out of the Oberheim line. It was widely recognized as the best synth during the middle of the 1980s. It was quick, rich sounding, and had extremely great resonant filters in addition to nice thick-sounding characteristics.
The M-12 emulates the famous Oberheim Matrix 12 capturing its many filter modes, look, mod matrix, and most importantly, it's iconic sound.
Sound Content: 115 Instrument presets/20,000+ Samples
Cato: Moog Knock Off?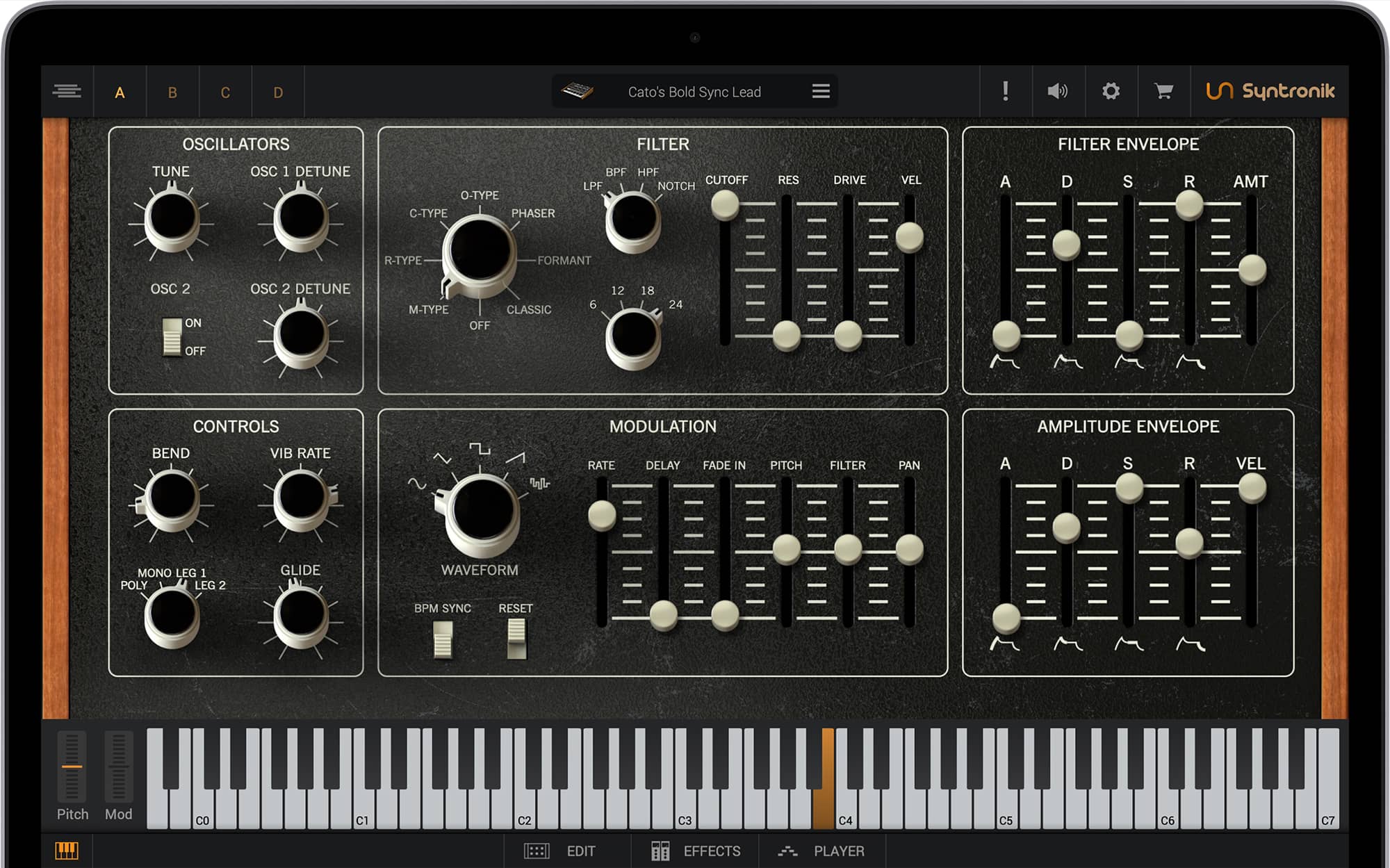 Cato is IK's take on the Octave Cat, a two oscillator mono/dualphonic synthesizer. This was the go-to alternative synth for those who wanted but couldn't afford the Mini Moog and the ARP Odyssey. Cato was a mix of both. It was compact, rich sounding, but still edgy. The Cato also contained two sub oscillators, which contributed to the unit's big bottom low end.
Sound Content: 122 instrument presets/7,000 samples
KW-8000: Korg Would Proud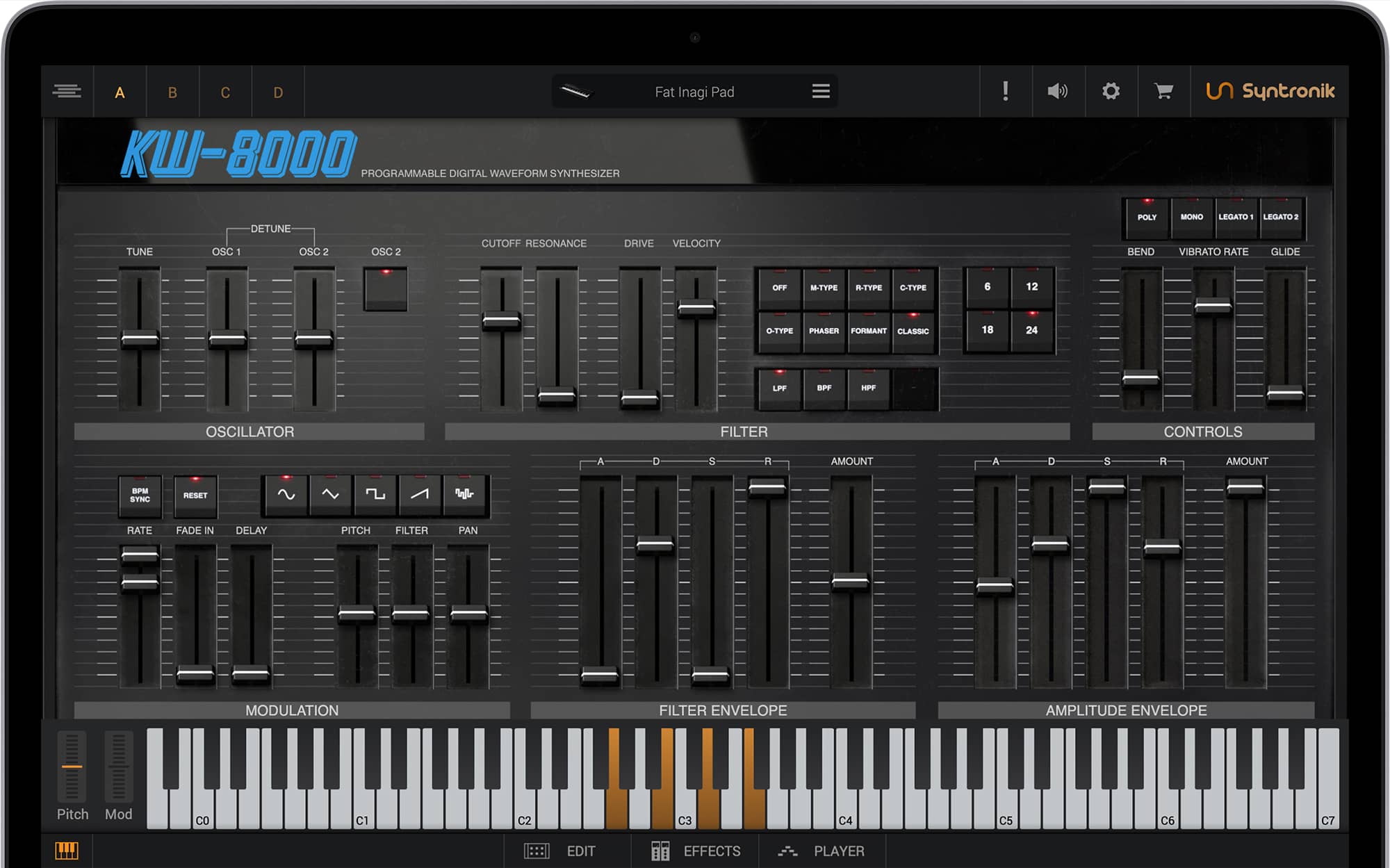 IK's KW-8000 is an emulation of the DW-8000 by Korg. The synth had a unique knobless design and was said to be the answer to the DX7, Yamaha's FM synth. The DX7 has a glassy tone to it, which you've certainly heard a lot in 80s movies like Beverly Hills Cops. Despite sharing this glassy sound character, the DW-8000 was the most analog-sounding synth in its class at the time due to its signature-sounding low pass filter.
Sound Content: 200 instrument presets/15,000+ Samples
Bully: 3 Moog Emulations
The Syntronik Bully was one of the first synthesizers I tried out of the bundle, the emulation is based on the Moog Targus series (I, II, and III), an organ pedal-styled synth whose first iteration became popular in the 70s. The Targus was known for its great sounding low end, distinct sounding Sawtooth Wave, and sweeping low pass filter. I find myself using it a lot paired with the White 2A compressor to really color and bring out the bass in a current fashion.
Sound Content: 100 Instruments/Over 1,000 samples
DCO-X: A Yummy Roland Mash-up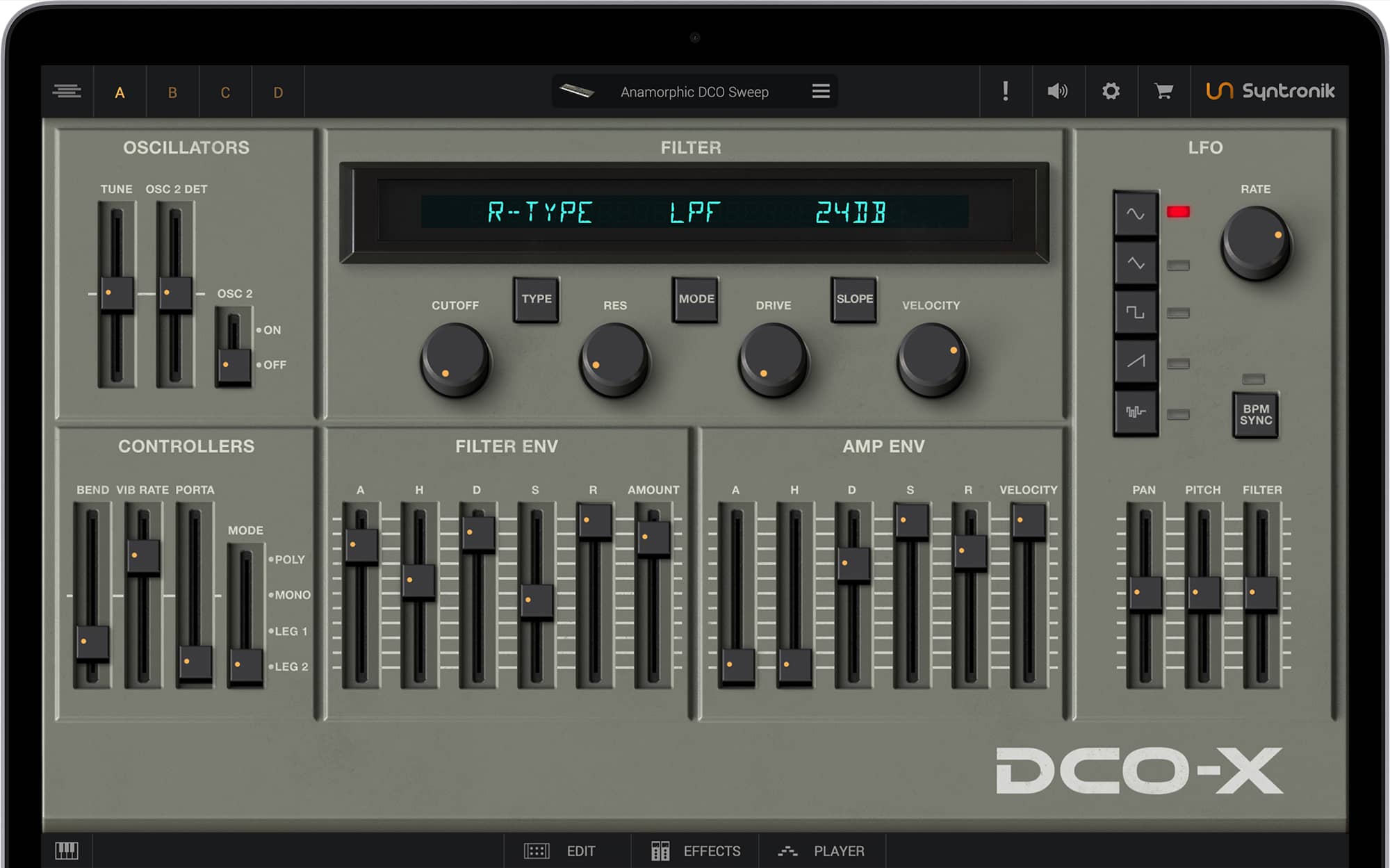 As a huge Roland fan, listening to Syntronik's DCO-X brought a tear to my eye. It's a combination of some of my favorite Roland JX models/features blended into one synth. There are two oscillators per voice to help achieve the classic analog sound, the famous chorus from the Juno 60, as well as that signature warmth Roland is known for. Roland's JX series also had a great-sounding mid-range quality which made them good for programming brass instruments, deep dark pads, and FM textures.
Sound Content: 79 Instruments/10,000+ Sounds
There are so many great synths in this bundle, these were just a small handful I find myself using on a regular basis.
More Audio Demos Of Syntronik 2
Mixing/Processing FX
There are more FX (nearly twice as much) in Syntronik 2 than in prior versions sharing the same look and feel as their new MixBox, their most recent mixing suite, that sports an awesome 500 series look to it.
Although the synthesizers have their own parameters that you can tweak and utilize for sound design, I still like strapping on a few effects to modify the synths and create my own sonic palette.
The processing units I like to start with are the White 2A, Saturator X, and the EQ-PG. This helps me introduce analog-styled sonics as well as a near-mix sound before I even started mixing.
Notable Syntronik 2 Features
33 analog synthesizer emulations
5,500+ Presets: All sorts of yummy sound textures to play with and combine
Layering System: Play any 4 synths at the same time with keyboard splits of your choosing
2 sub oscillators: They are tied to oscillators 1 and 2 to help with generating amazing low-end sounds (basses and such)
Drift technology: Imitates how real analog oscillators move to make the synth function realistically
71 FX: Inspired by MixBox and T-RackS for Processing
Sequencer with Note/Chord Arpeggiator: Store presets and patterns, great tools for melodic creation
Resizable GUI: Scale the plugin to fit your screen and session needs
For a full list of features, head over to our Syntronik 2 page
How To Save CPU Resources Will Using Syntronik 2
The easiest way to reduce CPU resources would be to render your MIDI information to  raw wavs and deactivate your plugin. This will free up resources efficiently, but at the cost of using hard drive space.
Slick Industry Production Tip That Can Also Help Free Up CPU Sources
A lot of Industry producers purchase vintage synthesizers like the ones emulated in this bundle and sample them. They sample a one-shot, load it into their sampler, and basically use the 16-level method that was popular on the Akai MPC.
This is essentially taking the one-shot sample, bet it a bleep or bloop, and spreads the sound across the range of the MIDI controller (pads or keyboard) allowing the user to play the sample melodically.
You could use that exact same tip utilizing the virtual instruments and save a lot of resources, both CPU and hard drive space.
Conclusion
This is a wonderful improvement to the original Syntronik that I remember, with added synthesizers, sounds, and capabilities. Make sure you have enough hard drive space to store this library, as it is quite large. IK sampled round robins of the actual synths when creating their emulations. That being said, there are a lot of wavetables to account for, but it's well worth it!
About Author: Greg Savage is a music producer/sound designer with over 20 years of experience. For information on Sync Licensing and mentoring please visit https://www.diymusicbiz.com/