[vc_row][vc_column][vc_column_text]I'm going to preface this article by making it clear that there is absolutely nothing wrong with using free software in your work. I definitely don't disagree with the fact that pro-level tools often give you superior, unparalleled results compared to their free counterparts.
However, I fully operate under the belief that your tools don't make you better at your craft – it's your knowledge of those tools, and the way in which you use them. If you know your existing gear inside out, you're going to be a hell of a lot better off compared to that one guy we all know who's just gotten into music production, and has pirated every single piece of professional music software under the sun in the process.
Good composers/producers will make the most out of their existing tools. They will embrace any limitations they have, and use those limitations to come up with something great. From my experience, that's a skill best learnt as early as possible in your journey.
[embedyt] https://www.youtube.com/watch?v=vhz2cZOgNsw&width=625&height=352[/embedyt]
Click button below to subscribe to our Youtube channel!
Free software is undeniably getting better and better. Today, I'm going to highlight some great music production freeware that I've had experience with. The best part is that a good portion of this software has been (and will continue to be) used in professional scenarios, so even if you're a very experienced composer/producer, this article may feature something that could grab your attention!
That's enough rambling from me… let's dive in.
1. TAL-NoiseMaker
TAL-NoiseMaker is a simple but powerful soft synth plugin developed by TAL software. It's the successor to their popular TAL-Elek7ro synth. This plugin was actually introduced to me during one of my papers at the NZ School of Music, and I grew to like it very much – in fact, I'm using it extensively on my upcoming solo EP.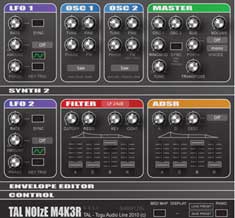 For a free plugin, NoiseMaker is seriously versatile, and the sound quality is incredible. As a result, I'd highly recommend this synth, not just as a starting point for learning about synthesis, but as a viable and highly functional tool in music production.
The synth features 2 main oscillators and a sub oscillator, with a set of common controls for each one – tuning/transposition, phase, pulse width and frequency modulation. NoiseMaker also includes a rectangle-waveform sub oscillator. Along with the oscillators, TAL includes an envelope editor, a great built-in filter and two LFOs. It can be programmed to respond to keyboard velocity and modwheel automation. Finally, it includes built-in reverb and delay effects.
DOWNLOAD: https://tal-software.com/products/tal-noisemaker
SYSTEM REQUIREMENTS:
Windows XP or higher
Mac OS X 10.7 or higher
32-bit or 64-bit
3. Helm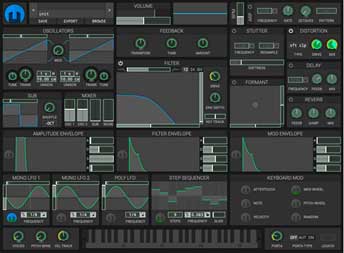 A friend of mine swears by Helm, and for good reason – I've seen him use this seriously versatile polyphonic synthesizer in a multitude of amazing ways. Truth be told, it's a synth I'm yet to get the hang of. However, it's absolutely packed with features. Like TAL-NoiseMaker, it comes with two main oscillators and a sub oscillator, but the main oscillators have a much wider range of waveforms. Helm also includes three LFOs, a step sequencer, feedback controls, a series of built-in effects such as stutter, distortion, delay, reverb and formant, and so much more. Just take a look at that UI!
Helm's strength lies in its modulation capabilities. The LFOs, envelopes, MIDI control parameters (modulation, velocity, etc.) and even the step sequencer can all be mapped to literally any parameter (or set of parameters!) within the synth. This allows for some crazy chaining where we can have the modwheel control the speed of the step sequencer, which controls LFO 2, which plays with the distortion effect, all with great ease. There's even a 'random' function that allows us to randomize any parameter. This piece of software is – to use the technical term – insane, especially since it's free!
Helm is completely open source, and the developer does accept voluntary donations if you wish to support the project.
DOWNLOAD: https://tytel.org/helm/
SYSTEM REQUIREMENTS:
Windows 7 or later
Mac OS X 10.7 or later
Ubuntu Trusty 14.04 or later
Debian Jessie or later
4. VSCO Community Edition
No, we're not talking about the mobile photo editor app – VSCO in this case stands for Versilian Studios Chamber Orchestra. This is a free orchestral sample library developed by a company called Versilian Studios. It has paid versions (Standard Edition, Pro Edition & Go Edition which are $99, $229 and $249 respectively) but there are also open source editions of the library (both official and third party), available to download from the official website. These editions obviously have limitations compared to their paid counterparts (as well as other pro-level orchestral libraries on the market), but they can serve as an entry point (or even a quick sketching tool) for when you need orchestral sounds in your music.
DOWNLOAD: https://vis.versilstudios.com/vsco-community.html
SYSTEM REQUIREMENTS: (varies according to version)
3 GB disk space
Official RAM requirements are not listed, however I'd recommend having at least 4 GB equipped
Comes in SFZ, VSTi and Kontakt 5.5+ FULL formats, depending on the version you select
5. iZotope Vinyl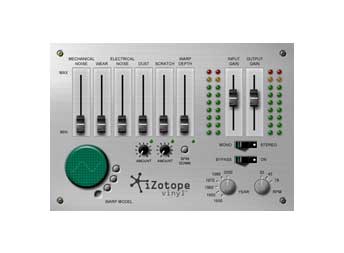 Sometimes you need that scratchy/noisy record-player aesthetic in your music, especially when you're producing something Lo-Fi. iZotope's Vinyl is a piece of freeware that allows you to add certain aesthetical 'artefacts' to your music – vinyl crackles, scratches, mechanical noise and even a warping effect that modulates the pitch of the track according to the specified intensity. Down the bottom right of the interface are a couple of dials for selecting a "decade" (which emulates the frequency response characteristics of playback devices from the selected era) as well as an RPM control. Note that these are automatable too!
My favourite feature definitely has to be the "spin down" button, which emulates the quirky pitching-down effect you get when you slow down or stop a record. I'm yet to find a use for it, but I certainly look forward to utilizing it when I have the chance. There's also a bonus little 'easter egg' that can be unveiled by clicking the screws on the four corners of the interface. Enjoy!
DOWNLOAD: https://www.izotope.com/en/products/vinyl.html
SYSTEM REQUIREMENTS:
Mac OS X 10.6.8 or later
Windows XP or later
6. KOMPLETE START
You've probably heard of Native Instruments's absolutely massive KOMPLETE collection. Well, it so happens that they have a free edition that includes six gigabytes of content – 7 soft synthesizers, 9 different sampled instruments, 2 effects and a massive loop library, all of which are professional quality. There's literally so much in this package, so much that there isn't enough time to cover all of it in detail within this article or the corresponding video. I'll quickly list the included products here though, as well as some basic descriptions:
BASE SOFTWARE:
KONTAKT 6 Player (sample library player)
REAKTOR 6 Player (synthesizer platform)
Guitar Rig 5 Player (guitar amp simulator)
SAMPLED INSTRUMENTS:
Play Series Selection (a series of powerful hybrid sounds)
Kinetic Treats (evolving sounds and textures generated from the sound of children's toys)
Expansions Selection (a collection of 1,500 loops and samples)
Kontakt Factory Selection (a collection of virtual instruments for the free KONTAKT Player, organised in five categories: World, Band, Synth, Vintage and Urban Beats)
SYNTHESIZER:
TRK-01 BASS (bass synthesizer)
Mikro Prism (REAKTOR-based synthesizer)
LazerBass (simple monophonic synthesizer)
Carbon 2 (soft synthesizer)
Space Drone (pad synthesizer)
Newscool (generative sequencer and sound generator)
Blocks Base (virtual modular synth components for REAKTOR)
FURTHER INFO & DOWNLOAD: https://www.native-instruments.com/en/products/komplete/bundles/komplete-start/
SYSTEM REQUIREMENTS:
macOS 10.12 or higher
Windows 7 or higher (64-bit, latest service pack)
4 GB RAM (6 GB or higher recommended)
7 GB disk space required for complete installation
7. Steven Slate Drums 5 Free Edition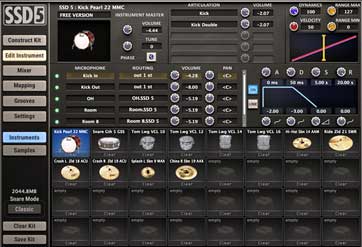 Steven Slate's professional drum libraries have gained much popularity in the music production world. At the time of writing, the latest available version is Steven Slate Drums 5, which retails for $149. However, there exists a free version of SSD5, which includes a single drum kit: the "Deluxe 2 Free Edition."
So far, I'd been using Logic's stock drum kit designer plugin for all my drum kit work, so I have to say that I was seriously blown away at the quality of SSD5. The sound is crisp and very high-quality. The kit seems versatile enough, though it would definitely shine in pop and rock contexts. The library gives us a good level of customizability over the drum kit mix, as well as the mapping. The best part is that SSD5 free has no commercial restrictions! The installation process is a little fiddly, but once you're set up you can start making music quickly and easily. This library is an absolute joy to use.
DOWNLOAD: https://stevenslatedrums.com/ssd5/#SSD5FREE
SYSTEM REQUIREMENTS:
macOS 10.9 or later
Windows 7 or later
4 GB RAM
8. Keyzone Classic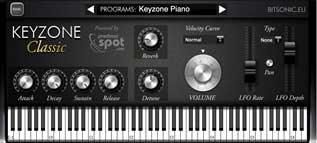 I've actually already reviewed this plugin before as part of my "Top Free Pianos" article earlier this year, but I'm going to bring it up again simply because it was a plugin that really impressed me in terms of sound quality.
Keyzone Classic is a great free piano library with a crisp, bright sound. Aside from the default piano, it also comes with Yamaha and Steinway patches, as well as a couple of Electric Pianos. The developers have been kind enough to supply us with some basic envelope controls, a built-in reverb, a detune knob and a basic LFO (which works great with the Electric Piano patch!).
If you're looking for some free piano sounds, then this sample library is the one to get!
DOWNLOAD: https://www.kvraudio.com/product/keyzone-classic-by-bitsonic
SYSTEM REQUIREMENTS:
macOS / Windows XP7, 8 or 10
1 GB RAM
9. Soundmagic Spectral by Michael Norris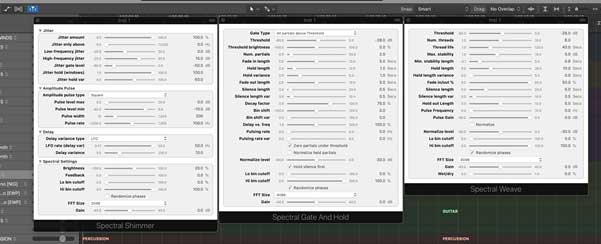 NOTE: This software only runs on Mac OS X!
This is a suite of plugins that was actually developed by one of my lecturers at the NZ School of Music, and it's probably the most unique and specialized software in this list. The suite contains 23 Audio Unit plugins that are designed to completely change your audio by applying real-time spectral processing. In doing so, it allows for exploration of a whole new, simply magical sonic world – from lengthy ambient drones to shimmering arpeggios.
Some of these plugins are pretty specialized, however I think there's a few that'll greatly interest composers and producers – specifically Spectral Gate & Hold, Spectral Weave, Spectral Dronemaker and Spectral Shimmer. Those particular plugins are super useful in a more ambient / drone-based context, especially in conjunction with audio effects such as Paulstretch from Audacity (which is another free tool, by the way!). During a composition assignment, I also took advantage of the Spectral Pitch Shifter, which is capable of producing some insane sounds – especially when you pitch-shift to the absolute extreme.
If you have access to a Mac device, I'd highly encourage you to download and try out these plugins. It's worth noting that the developer, Michael Norris, has some additional free software on his site which could be worth exploring as well.
FURTHER INFO AND DOWNLOAD: http://michaelnorris.info/software
SYSTEM REQUIREMENTS: Requires Mac OS X 10.6 or later. I can confirm that the software does work on macOS Mojave.
10. Audio Plugin Deals' Monthly Software Feature
I feel like I'm cheating a little with this last one, but here goes.
Every month, Audio Plugin Deals features a piece of software for free. This month, we have the Black Octopus Wicked Drum Hits – a library usually worth $27 – available for instant download right now! Keep an eye out on the Audio Plugin Deals store and newsletter for any software we'll feature in the future – you may stumble across something incredible.[/vc_column_text][/vc_column][/vc_row][vc_row][vc_column][templatera id="166935″][/vc_column][/vc_row][vc_row][vc_column][templatera id="168094″][/vc_column][/vc_row]