Cinco De Mayo is here! That means we're deepening our discounts on all sorts of plugins from brands such as; Arturia, IK Multimedia, OKAY AUDIO, Sample Logic, Black Salt Audio, and Karanyi Sounds...You know what, deeper discounts on the entire shop for you lovely music producers, recording engineers and music enthusiasts. Make sure you're using the discount code 'FIESTA10' Let's do it!

If you're looking for a new synth to add to your collection or a new mixing tool to compliment your DAW, what that need may be, I'm sure we have something for you.
That being said, here are some of my favorite plugins, I have them organized by category!
Best Plugin Deals for Music Producers Cinco De Mayo 2023
This is the shortcut, and each link takes you right to the product page, where you check specifics and listen to demos that are currently available.
Mixing and Processing Plugins
Knowing how to mix is a vital skill to have. Not only does it allow you to fully take control over your sound, but it can save you time, money and or help you make money. That is, if you're willing to put in the time to learn.
Even if you aren't going to handle the final mix and master, being able to get close to the sound you're after will make the mixing engineer's job a lot easier, and they will thank you for it.
Also, we're not in the days where mixes have to be done via hardware anymore, a lot can be done in the box, and we have plenty of great sounding plugins to help you achieve your sound.
Check these out
T-RackS 5 SE: This Bundle Packs A Heavy Punch
If you're looking for a set of powerful mixing plugins, T-RackS 5 SE is where it's at! On the other hand, if you've never used or heard of IK Multimedia, that's ok; we'll fill you in.
T-RackS 5 SE is a mixing suite with ten analog styled plugins to help you get a professional sounding mix and masters from the comfort of your own workspace.
Here are the analog plugins you get when you purchase T-RackS 5 SE
Black 76 Limiting Amplifier
Classic T-RackS Clipper
Classic T-RackS Compressor
Classic T-RackS Equalizer
Classic T-RackS Multi-band Limiter
CSR Room Reverb
De-Esser
Tape Echo
Vintage Tube Compressor/Limiter Model 670
White 2A Leveling Amplifier
Each plugin in this bundle is super intuitive, with a clean looking GUIs that are easy to navigate and great sounding presets to help get you started.
From time to time, the dev will supply updates with new presets from industry professionals (multiple genres), which they provide free for all users.
SWOLE: Music Producers, If  You Liked  Sausage Fattener You Like This…
SWOLE is a unique combination of compression, limiting, EQ, and saturation settings curated by Dev and Music Producer Jack Bodwen.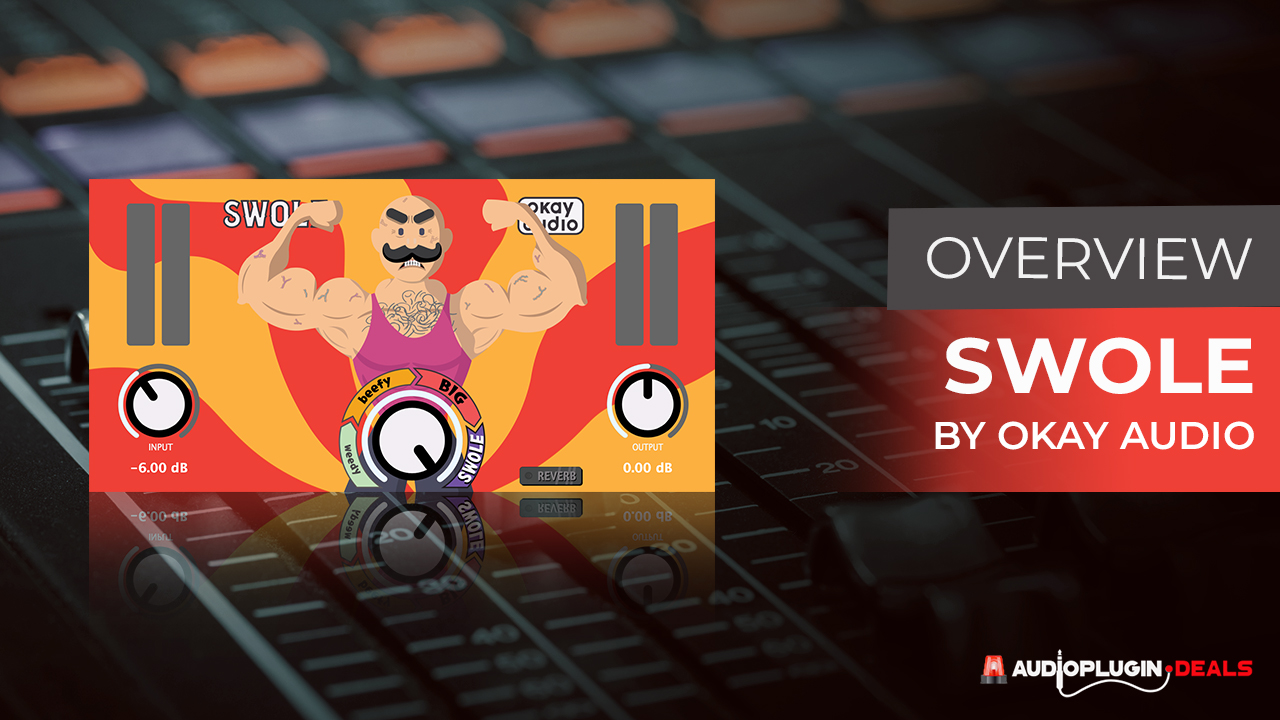 So if you're looking to add a little beef and Muscle to your sound? SWOLE might be the next go to in your arsenal. Swole is made by Okay Audio and is designed to help music producers add body and weight to the production with a few knob turns.
You can check out the interview here when Jack goes into the concept of SWOLE and how he went about creating the plugin.
Here are a few more benefits SWOLE offers
Simple Macro Controls: That govern complex settings in the background
Animated GUI: Who doesn't like a little fun?
Input/Out: For gain staging
Reverb/Width: Great for making the effects of the plugin sound massive
All around, a very useful and easy to use plugin. If you don't like fiddling around with settings trying to find the right sound, SWOLE is for you.
Tone Empire: Opto Red Compressor
I'm an Opto Styled Compressor fanatic, especially if it's emulating analog. What I love about the Opto Red is its ridiculously slow release. It's a little too long, which annoys some, but also makes it unique and extremely ideal for gluing tracks together as it's consistently hugging (gently) the audio signal!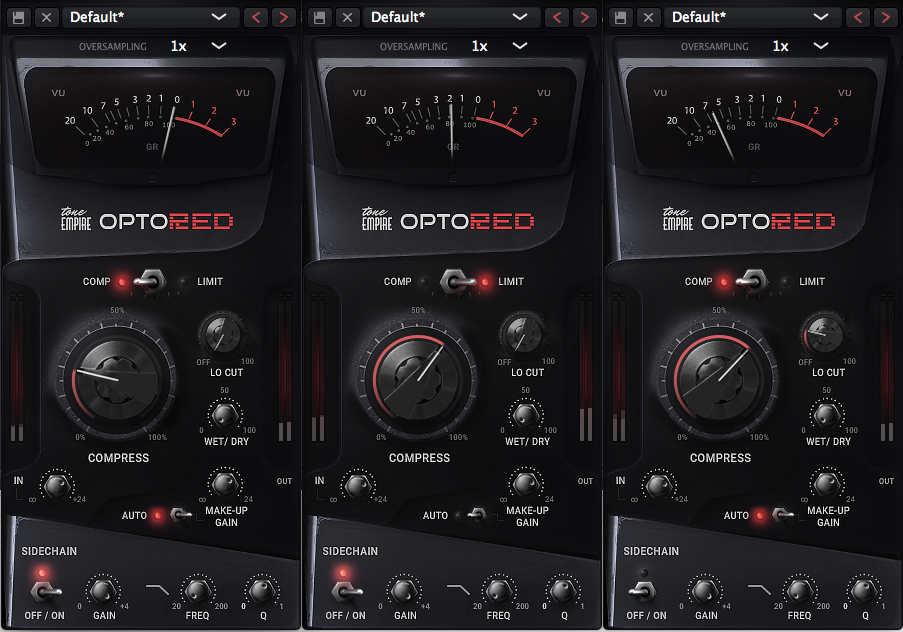 I like using OptoRed on drums, synths, basslines, and, of course, on buses or folder tracks that contain anything that needs to sound cohesive.
I don't know of another compressor like this.
A Few OptoRed Features
Super Long Release: Great for smooth sounding compression
Low Cut Filter: Ideal for removing unwanted frequencies during tracking sessions
Automatic Gain: ←- I wish more plugin manufacturers would employ this setting
Wet/Dry Mix: Adjust your mix/level between the processed and unprocessed signal(s).
Tape Mello-Fi
Tape MELLO-FI is a tape emulation/saturation plugin inspired by Arturia's Mellotron V. an emulation of the classic Mellotron. Tape plugins are ideal for introducing warmth, gel, glue, and all overall roundness to your music.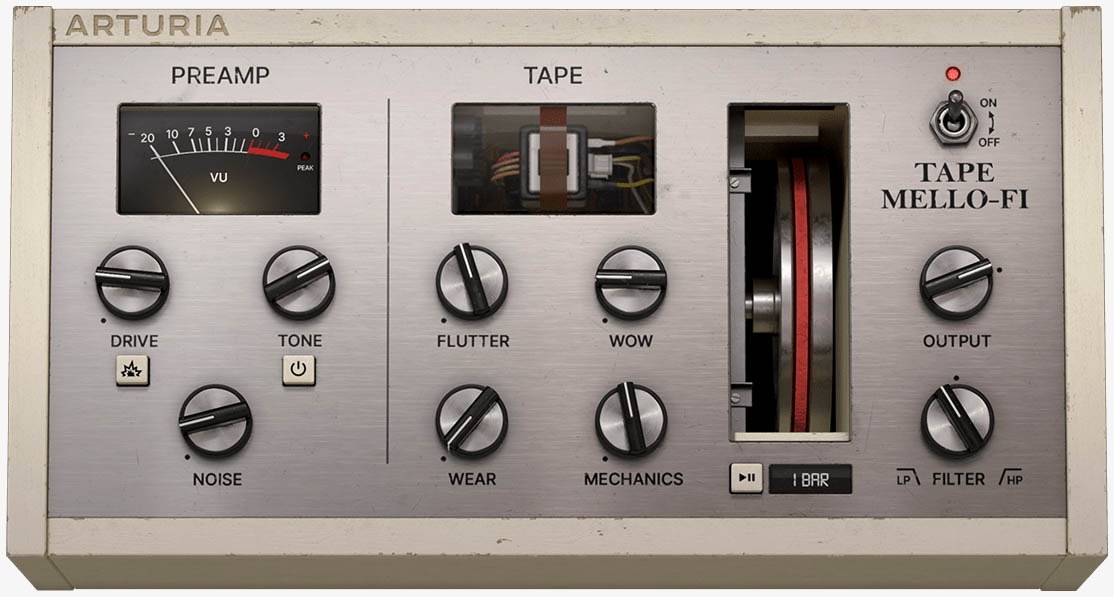 There's also a nice LO-FI like character to the plugin, making it ideal for LO-Fi music, hence the name.
With its versatile features and ability to add gooey lo-fi goodness to any track, Tape MELLO-FI is a valuable addition to any music creator's toolkit.
Two main sections you need to focus on when using Tape MELLO-FI, Tape and Preamp
Preamp: This action controls the characteristics of vintage tape, which allows you to push your audio signals through variances of warmth by controlling the Noise, Tone, and Drive of the preamp section.
Tape: This section deals with effects respective to the tape itself. Here you control; wow/flutter, mechanics, wear, and everyday artifacts that you would run into with tape, which can be used to add more flavor and authenticity to the sound.
Overall, this is great Tape Emulation to add to your sound palette.
Step Your Game Up: Get Better Sounds!
Starting off with good quality sounds is vital to the mixing process. It helps ideas come together fast and also results in less mixing. The better sounds you have access to, the better your music production, generally speaking.
If you don't have high quality sounds or need suggestions for others, check out these.
Method 1: The Super Drum Machine By SOUNDYETI?
Method 1 is a Kontakt powered Drum Machine that comes fully loaded with samples, drum kits, patterns, and processing fx. Control each sample via its 32-step sequencer, accents, and fx to make your drum programming stand out or process all channels with Method's global fx.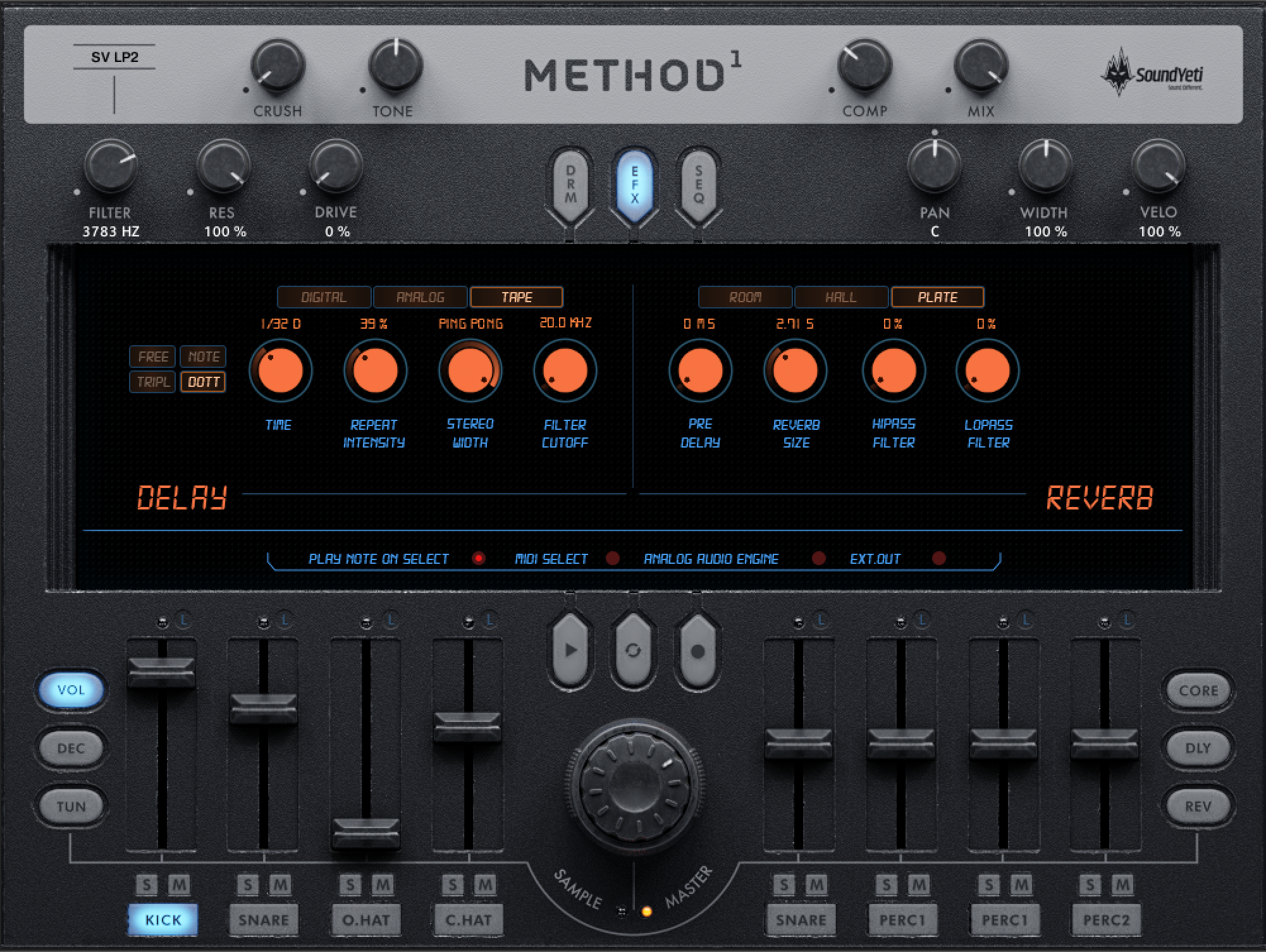 Notable Features
Over 10,000 samples you can use to create unique patterns with
225 preset kits to help get you started
500 preset patterns of rhythmic inspiration
MIDI drag and drop directly to your DAW for further programming
Swing, groove, flam, pitch, and accent controls help you add that human feel
Built-in multi-track sequencer great for creating complex patterns and arrangements
8-track step sequencer with full accent control
Tempo sync to any DAW
Endless possibilities with these sounds and features packed into this drum machine. It comes with everything you need to produce: EDM, HIP-HOP. POP, etc, and you can mix and match samples (cycle) easily.
Dandy: Bass Guitar Plugin
Coined The Gentleman Bass, and for good reason. This is UJAM's Dandy is a Bass Guitar Plugin containing a wide range of presets, player styles, patterns, phrases and Fx to help you not only lay down believable basslines but also help them sit in the mix properly.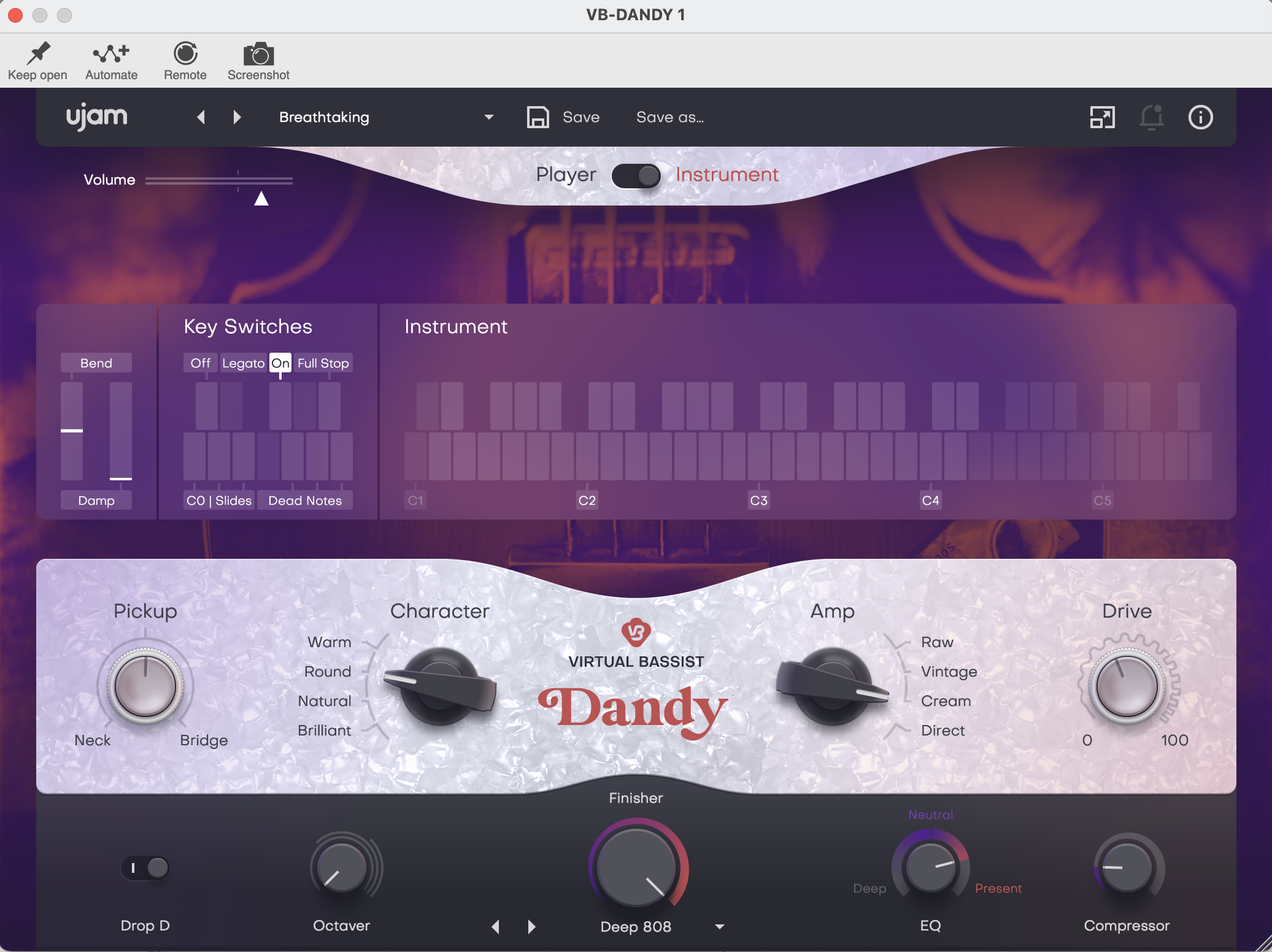 It can be used as a plugin or in standalone mode and is extremely user friendly
Some of Dandy's Features
Versatile: Suitable for multiple genres including Soul, Hip-Hop, R&B, Funk, Neo-Soul, and Rock
GUI: Clean and well-organized GUI with parameters and features easily accessible
Drag & Drop MIDI functionality: For seamless integration with your DAW
Player Mode: With presets to cycle through Dandy's Grooves and Fills
Instrument Mode: With articulations like slides, damps, bends, stops and mutes for playing basslines
Packed!: Includes over 900 phrases, 100 presets, and 30 different music styles
Fx Section: Finisher Knob with 15 FX options to polish your bass/basslines
Mixing tools: EQ, compression, and saturation with adjustable settings
Drum Fury 1 & 2: Yes, Grab Both Cinematic Drum Libraries
Sample Logic's Drum Fury Bundle is comprised of two Kontakt Sample Libraries, Drum Fury 1& 2. They are perfect for music productions that aspire to create cinematic music or want to enhance their current production with epic sounding drum elements.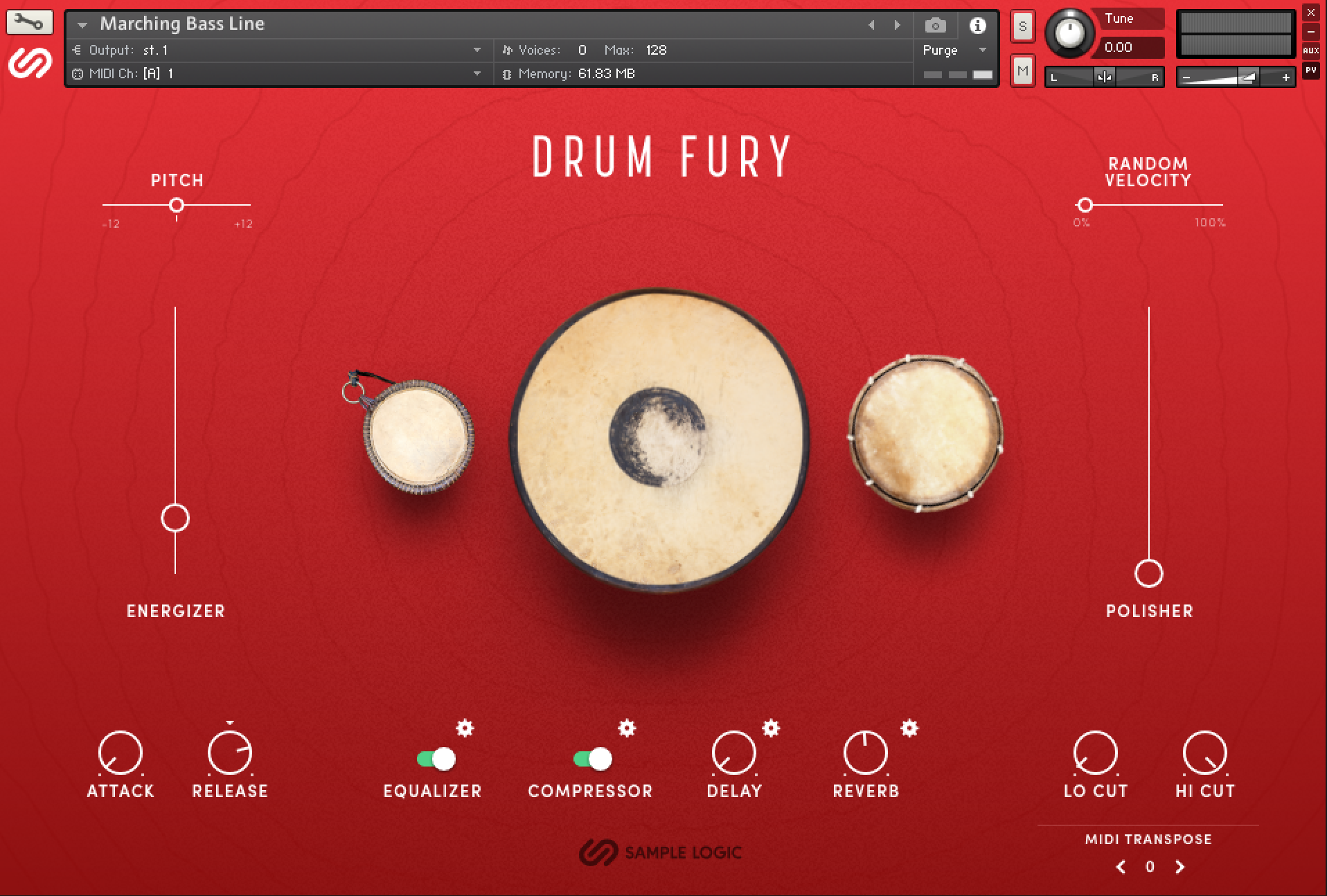 Some Of The Sounds Included 
Cinematic Impact Collections
Concert Bass Drum (Multiple Sticks)
Cymbals (Multiple Sizes, Strikes, Swipes & Scrapes)
Gong (Hits, Rolls & Rubs)
Marching Drums (Cymbals, Snares, Kicks, etc)
Gongs
Taiko Drums
Toms
etc
There's over 30,000 sounds patches of sounds including recordings using various mic positions
You have control over the basic ADSR controls, EQ, Compression, Delay and Reverb, and sounding mapping. Drum Fury 1 is the main feature and version 2 builds onto 1. That said, you can purchase them separately, but I'd go for both!
Some of the not so obvious features
Random Velocity: Helps your playing sound more humanized and realistic.
Energizer: Combination of saturation, compression, and distortion. This helps add aggression as well as edge to the sounds.
Polisher: This is a macro that controls width, transient shaping, and eq. This is much more subtle than the energizer macro.
Various Mic Positions: For added flexibility with programming and drum mixing
Production Tools: Samplers, Experimental Plugins, etc
Good production tools are essential to have for a music producer to work quickly and efficiently. Now depending on which DAW you have, you may have everything you need in this department, but if not, then you may want to pay attention to a few of these tools. They do make a huge difference, especially when it comes to workflow.
Chop Monster: Here's An Interesting Way To Approach Sampling
If you're a sample based music producer, you'll want to check out ChopMonster. This plugin makes it easy to take a sample and chop it up into 4, 8, and 16 slice segments.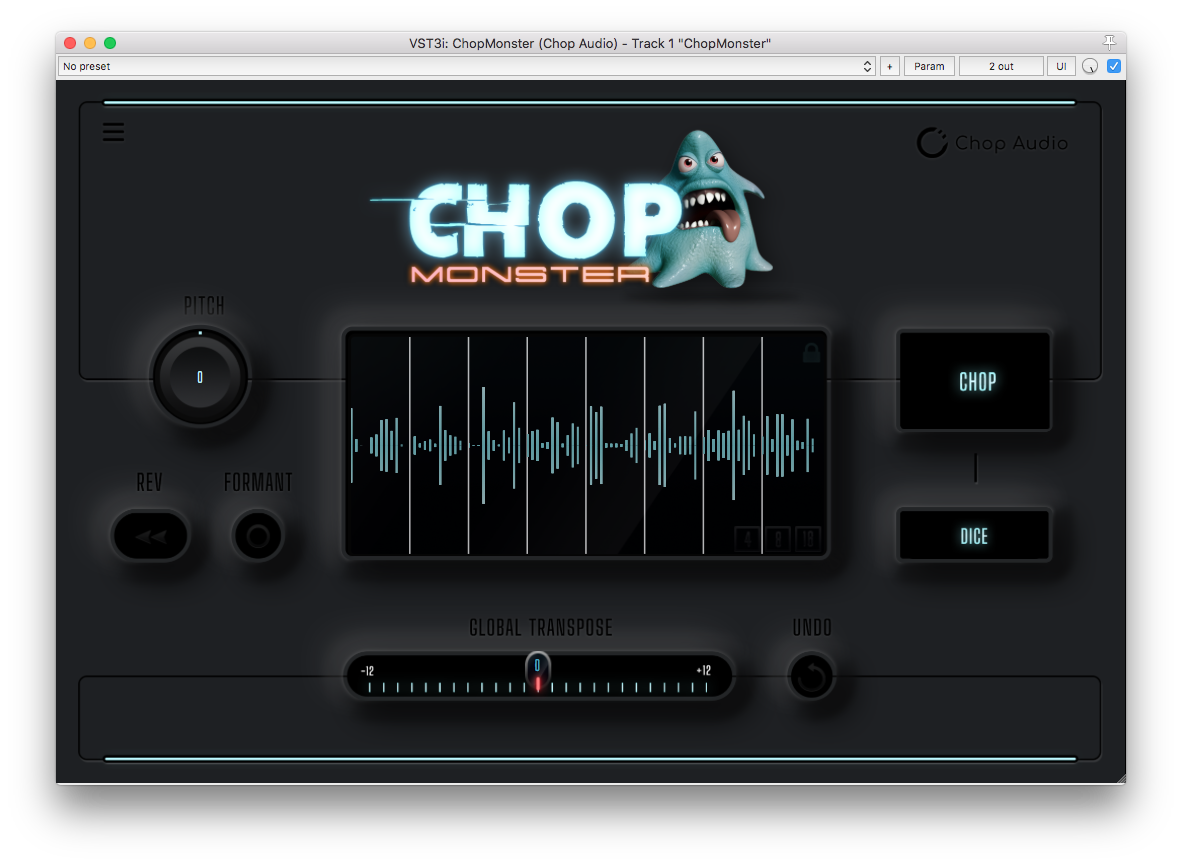 From here, you can replay the chops in any order or have ChopMonster auto chop/reorder the samples for you and drag the segments into your DAW.
One thing I like doing is having ChopMonster generate a few different chop variations and then drag the segments into the DAW, using each as different sections of the song/production.
LoopMix: AudioModern's Creative Loop Mixer
LoopMix is another great plugin that allows you to mix and mangle sample packs (loops/samples), allowing you to experiment and create new and innovative music.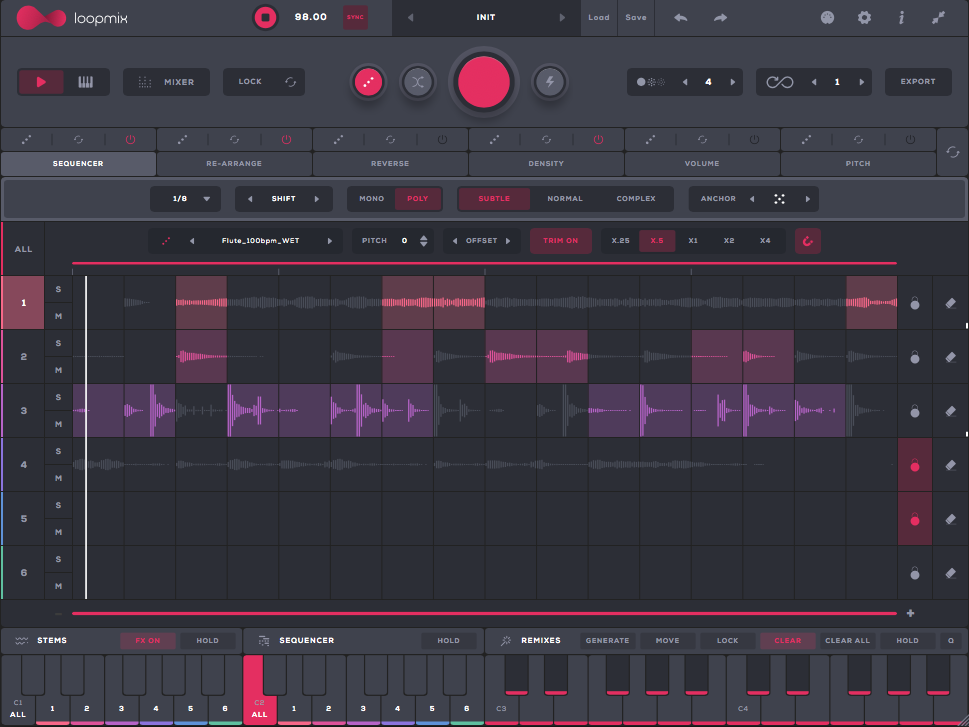 This goes far beyond simple slicing/chopping. With LoopMix, you have 6 different sequencing windows that allow you to control; the main sequence, reverse, density, level, re-arrange, and pitch across 6 separate channels.
Those are simple parameters, but the way AudioModern implements them is amazing.
Some Standout Features In Additional Those Listed Above
Drag/Drop: This works for importing and exporting loops from LoopMix
GUI: Lots of options, but easily managed and organized
Stock Samples: Comes with stock of 2000+ samples covering multiple genres to get you started
Load Samples: Load your own samples if you don't want to work with the stock
I'm a huge fan of stock sounds, especially when you're learning/getting familiar with a plugin, but the real power is manipulating your own. That's where you'll push LoopMix to its limits!
CHORDJAM by Audiomodern
Yes, another plugin from AudioModern, this one is ChordJam. If you're struggling to understand chords and progressions, no problem. This plugin has you covered!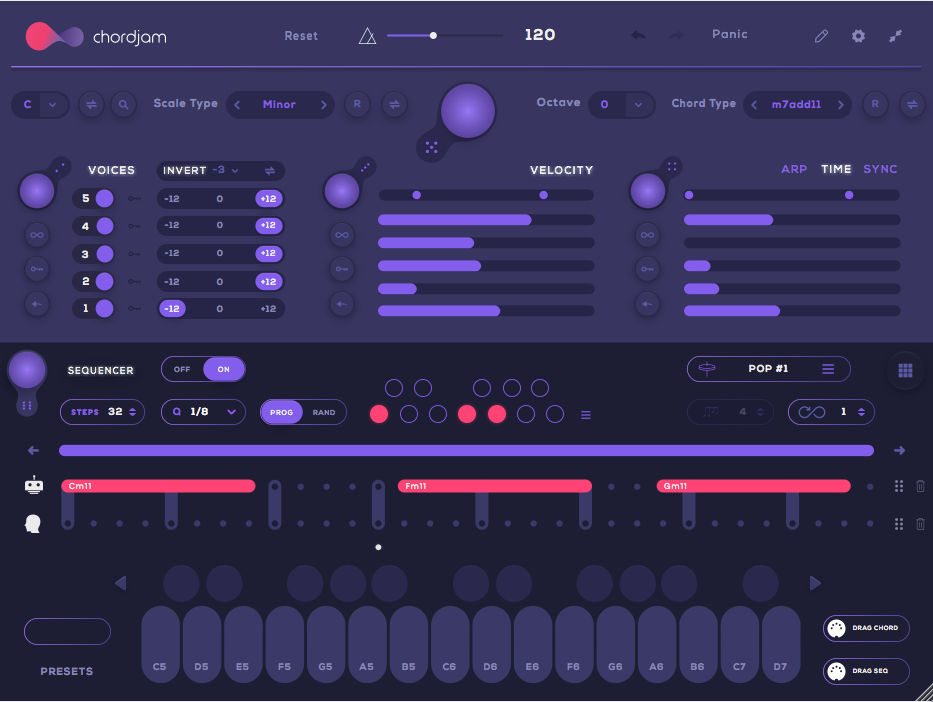 A Few Cool ChordJam Features Worth Mentioning
Arp: Turn any chord into an arpeggio.
Chord Identification: Drop and drag MIDI/Audio files into ChordJam, and it will identify possible keys and chord types based on the data.
Randomization: Just about any section can be randomized; velocity, voices, arpeggio, it's truly endless. You randomize them individually or all at once.
Drag/Drop: Drag and drop yours and progressions from ChordJam to your DAW.
Chord Generation Section: Set the key and scale you want to work in as well as voicing, velocity, chord type, and other parameters
Sequencer: This section is broken down into 2 sequencers; user and robot. The robot sequencer generates progressions for you, and the user allows you to input your own.
Efx Fragments by Arturia: Not Your Average Grain Sampler
Grain sampling is one of those things that you either love or hate. It's unique and can inspire some creative ideas, but depending on how the company employs technology can make the plugin a pain in the butt.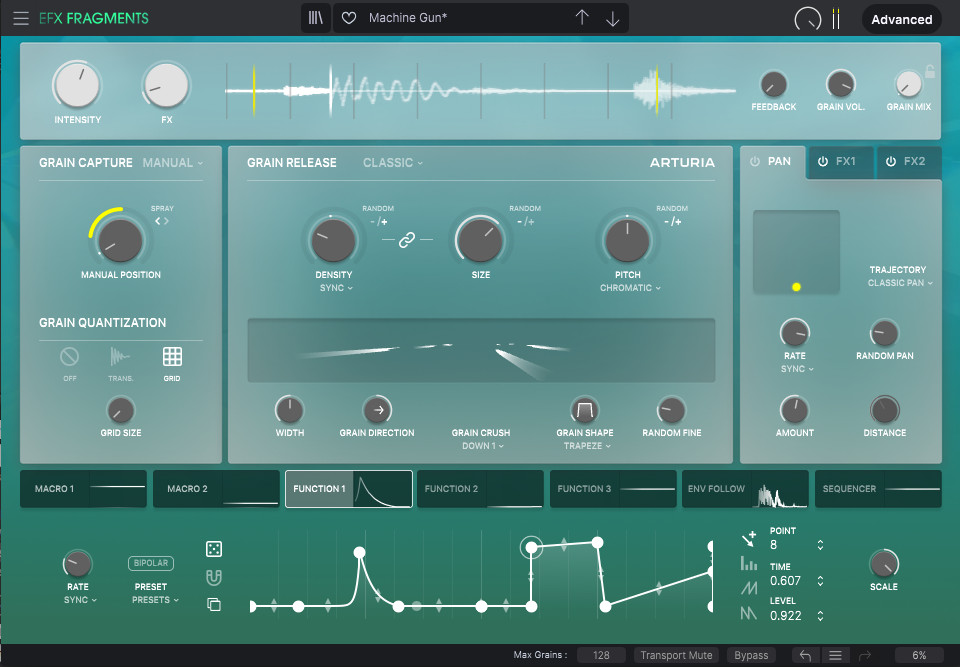 That's not the case with Efx Fragments. Arturia has outdone itself with this one. They took the idea of grain sampling and turned it into a processing fx unit. It finds the balance between accessibility and depth. Meaning it's easy to use, but you can get deep and complex with this processor as well.
Some Of The Awesome Features
User friendly granular processing engine
Standard/Advanced modes: This is always a plus with Arturia
Built-In Tutorials: Step by step walkthrough of the functions within the plugin
Modulation tools: Macro Controls, Sequencer, Envelope, and more sequencer
Processing Fx: EQ, Reverb, Echo, Chorus, Flange… the works
Grain Quantization: Switch between transient or grid (8-32)
There Are More But….
This is what immediately comes to mind. Hopefully, you find these plugins useful as well. However, if you didn't see someone on the list that piqued your interest, you can browse our shop; there are a lot more plugins on sale their
Be sure to use the discount code 'FIESTA10' when you check out to get the additional discount!