UJAM's Dandy is a bass guitar plugin with the sole idea of giving you access to a professional bassist (virtual) right at your fingertips. They call it "The Gentleman Bassist."
Dandy works well for many genres, including but not limited to Hip-Hop, Neo Soul, R&B, Blues, and Rock. It's quite diverse bass plugin that sounds smooth, and is laced with articulations that can help you make it sound authentic.
In this article, we'll dive into some of the features Dandy offers and how they can be used to improve your music production.

The Problem Music Makers Face On Their Journey
Knowing which sounds to reach for when it's time to create. I don't mean in terms of the category of sounds: Piano, Choir, Strings, Bass, etc., but more so the actual quality of the sounds you choose to reach for.
Having a good bass is important for many genres as it provides a solid foundation and, in many cases, is the glue that sounds everything together in terms of the composition.
You will not have that issue with Dandy. This instrument comes packed with everything you need to make your basslines; smooth, present, punchy, laid back in the mix or in your face, and edgy.
Let's Take A Listen To UJAM
UJAM Dandy Layout
Dandy is laid out into two neat sections, Player Mode and Instrument Mode.
Player Mode: This allows you to experiment with intros and fills. This is perfect for kickstarting ideas, and it's laced with over 1000 music phrases that can be strung together making music recreate fun and easy.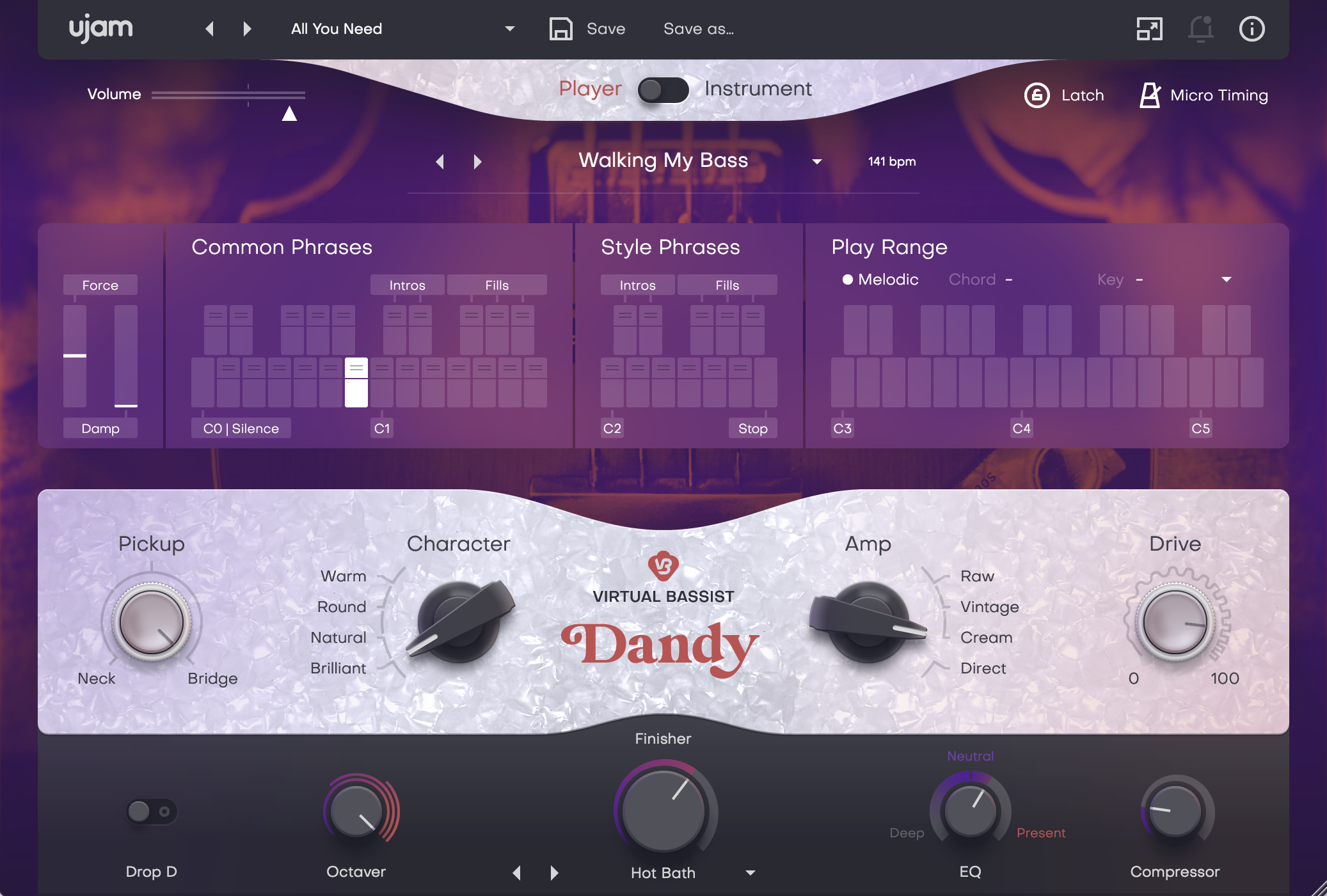 I love how it's broken down into simple to understand sub sections as well: Common Phrases, Style Phrases, and Play Range. Again, very clear and easy to understand sections.
Instrument Mode: This the mode I find myself in most of the time as it allows you to freeform and do your own thing with the aid of great sounding articulations.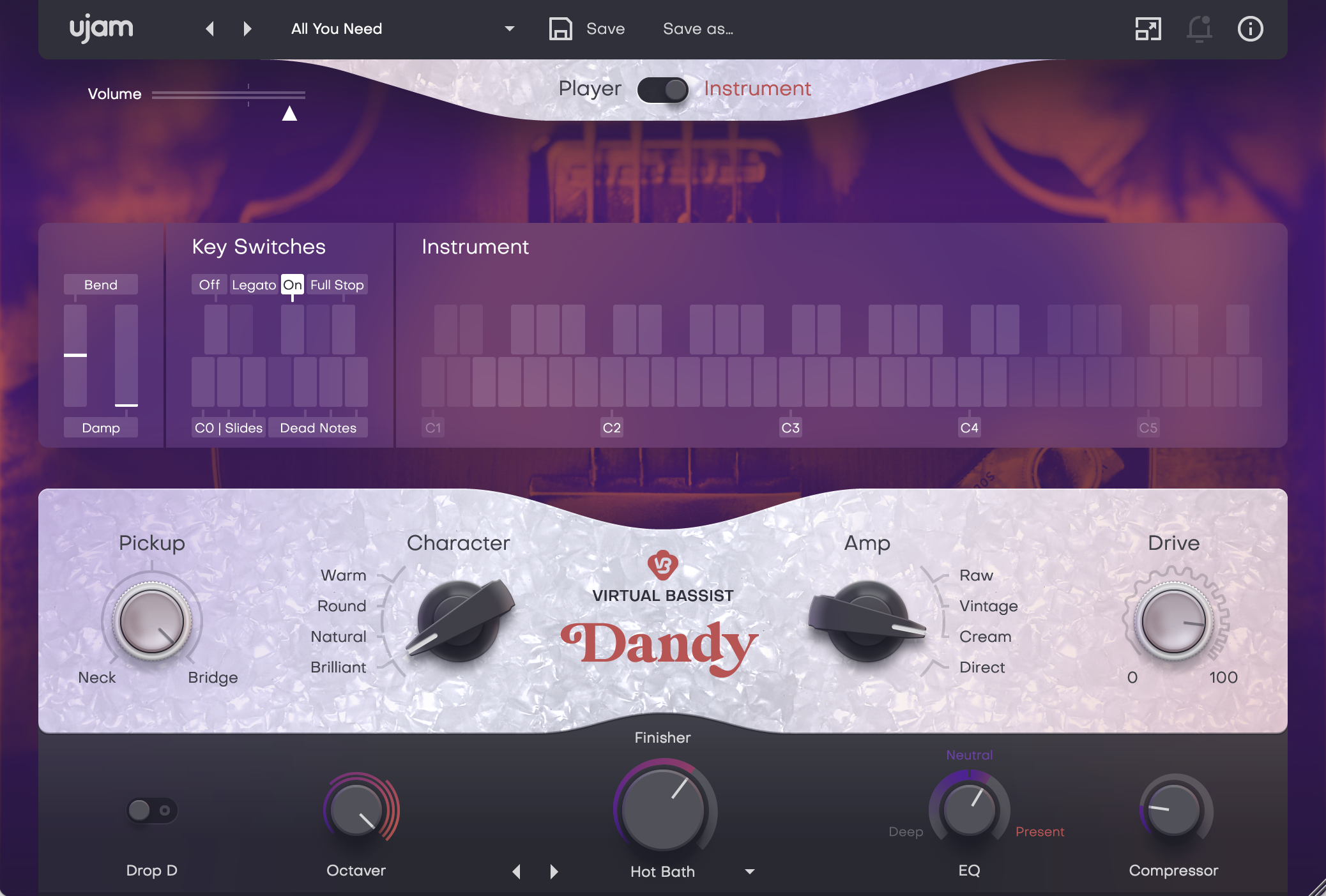 This would be ideal for those who wish to play their own solos and melodic parts. Don't ignore the use of articulations as they help your performance sound more realistic, even if you don't play the instrument.
Shaping The Tone Of This Bass Guitar Plugin
This puts the cherry on top of the cake for me. Having good processing fx at you disposal makes all the difference in the world.
Dandy's Amp
Let's talk about what these settings mean
Raw: 1×15 Cab expect reduced highs and some distortion in the low end frequencies
Cream: Also suppressed high end but with warm saturation and a bit of presence in the mid range
Vintage: Classic bass sound (4×10 amp) neutral yet useful
Direct: Bypasses the AMP section altogether. This is ideal if you want a clear unprocessed sound or wish to process using an external source
Dandy's Pickup
The pickup is nice. You have the ability to select between Neck and Body or variables in between. Similar to a wet and dry mix.
Neck: The closer you get the neck the more of a mid range or nasal ish sound you get
Bridge: The closer you are to the bridge, the more boldness and body you'll be presented with.

Character
Here you have 4 different flavors: Warm, Round, Natural and Brilliant.
Round: Sounds warm and round but has a little punch/edge to it
Warm: Contains warmth, but lacks the punch present in the Rounding setting
Brilliant: A little on the high end of things presenting presence
Natural: Has a full sound but is best used when you want to use external plugins, similar to the Direct setting in the AMP section
The Drive Section
The Drive governs the AMP's level of distortion and its character is dependent on the AMP selection. Drive does not work with the Direct setting.
Compression and EQ
Basic processing Fx, but so vital when shaping tones
Compressor: Evens out the guitar's dynamic range, giving a little bump in the low end frequencies without losing its presence in the mix. The harder you push the compressor, the more transients will be present
EQ: This is a 4 Band EQ works with the Character section. As you adjust the Character settings, the EQ works like a Macro affecting multiple parameters that compliment a guitars tone.
Be sure to experience with the EQ positions: Deep, Present and Neutral.
UJAM's Signature Finisher Setting & Octaver
Finisher is a rather unique setting. Can't say I've seen this on many guitar plugins outside of UJAM. I'd say Finisher is similar to a 1 Knob device but has 15 modes that compliment the bass guitar. Turning the knob to the right emphasis the selected mode and turning it left does the opposite. My favorite are Grittify and Hot Bath.
Octaver is used to add harmonic content. Essentially what it's doing doubling the note you play 1 octave above. Dial the amount in cautious as it can go from thick and beautiful to muddy very quickly.
Dandy FAQ: Questions You May Have This Plugin
Does UJAM Dandy Work With Fl Studio?
Yes, UJAM Dandy will work with Fl Studio as well as most DAW that accept VST, AU and AAX Formats. Install Dandy, open an FL Studio Session and get to work.
Does Dandy Require A USB Dongle?
No, you make an account at UJAM, download the plugin…install it and then activate with your login details.
UJAM Dandy Little Bassist Features:
Bass Sounds: Nice sounding bass station for Soul, Hip-Hop, R&B, Funk, Neo-Soul, Rock, and more
Clean GUI: Dandy's GUI is organized and easy on the eyes with its parameters and features right in front of you
Drag and Drop MIDI: Excellent for getting MIDI data into your DAW
Player Mode: Cycle through Dandy's Grooves and Fills with a presets of your choosing
Instrument Mode: Play basslines with articulations like slides, damps, bends, stops and mutes
Presets: 900+ phrases, 100 presets, and 30 different music styles
Finisher Knob: 15 fx for help polish your bass/basslines
Mixing Tools: Harmonics, EQ, Compression and Saturation options you can dial in
Wrapping it Up: Do You Need Dandy? Is It The Right Bass Plugin For You?
Alright, to answer this question, you have to know and understand two things. 1. Your personal needs and wants, as well as UJAM's goals.
2. UJAM's aim is to create plugins that are functional, easy to use, and empower the user. This is done by making sure the sounds are quality and usable, and the plugin is easy to operate with a clean GUI that doesn't confuse the little s!@# out of you.
They've nailed that with ease.
Now it comes down to you. What do you need? What do you lack, and what sound are you after? Does this plugin fill the gap, or will it fit well with your current palette of sounds?