Here's a  Loop Slicer that's killing it right now
If you're an aspiring music producer looking to jump into production, we have the perfect software application for you, it's called Slice. It gives you everything you need to get up and running without breaking the bank.
This is a production tool both experienced producers and beginners alike will appreciate its user friendly interface, which makes the production process a breeze. With Slice, you'll have all the tools you need at your fingertips, no matter your skill level.

What Exactly is Slice?
Slice is an incredibly flexible loop slicer with beat making functionality. The plugin is designed to cater to the needs of beat makers who want to easily slice and chop but also have options. Initial Audio doesn't disappoint in that department.
Slice offers a vast array of manipulation functionality including, but not limited to: Looping, Pitch Shifting, Slicing, Gating, Formant Shifting, Reverse, etc. There are a lot of different options to choose from/mix and match to achieve, resulting in many unique and creative possibilities.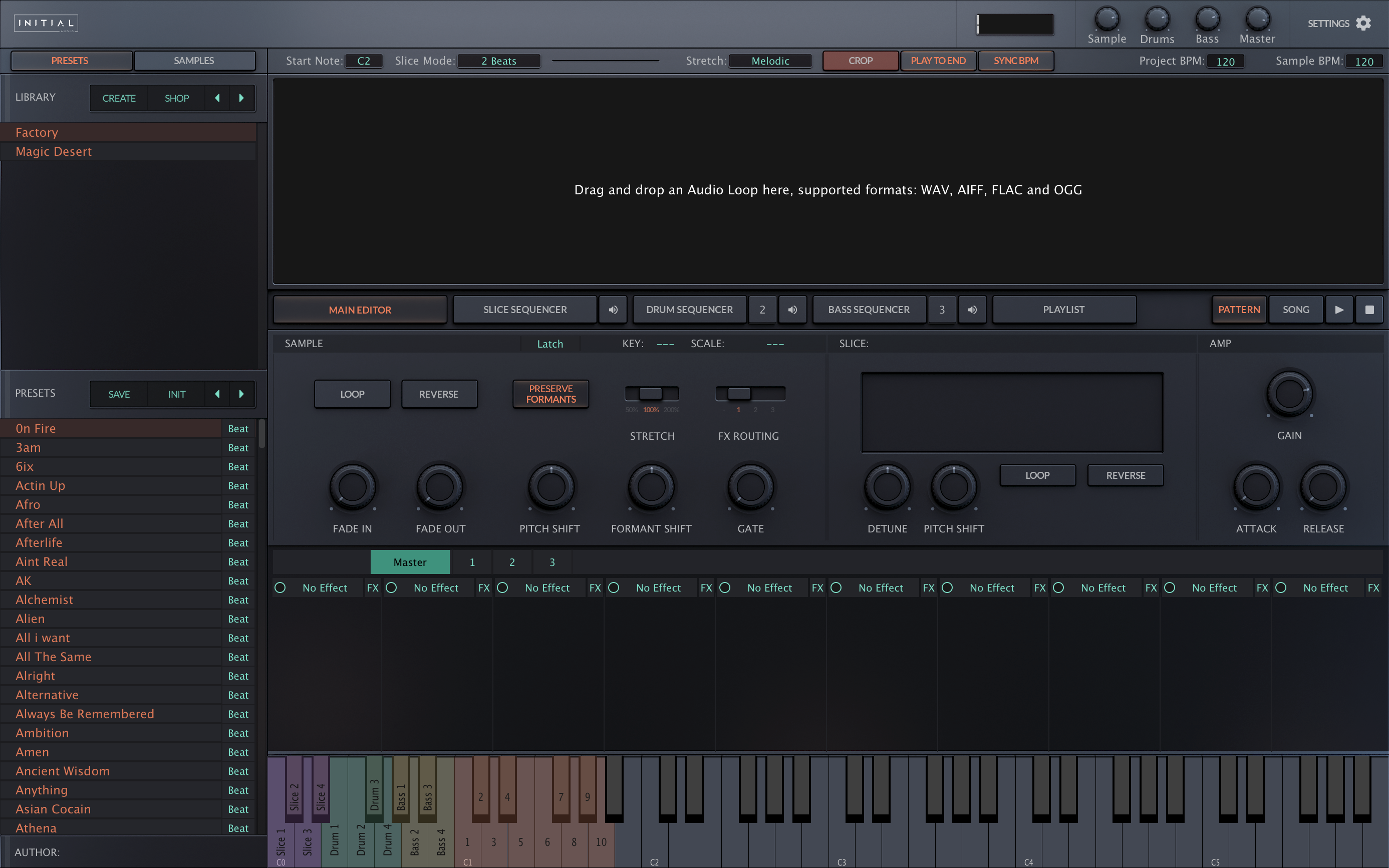 Lots of power at your fingertips with this one.
It doesn't end there, Slice goes beyond being a powerful slicer by allowing you to create and arrange beats right within the plugin. No need for a DAW as it can run standalone, making it one of the most feature rich slicers available today.
Initial Audio included a nice stock sound library (over 300 sounds), 11 built-in fx, and beat starters! Meaning there are pre-made tracks you can use to kickstart your production already programmed within the application.
Not just audio stem files but the samples, chops, and drum shots, as well as their sequence/arrangement.
8 Reasons Why Music Producers Will Love This Loop Slicer
This is especially true if you're currently an FL Studio user, continue reading to find out why
Intuitive Loop Slicing: Slice offers an intuitive interface for slicing audio loops, making extracting and manipulating specific sample sections easy. Music producers can quickly chop up loops, rearrange them, and easily create unique patterns.
Versatile Beat Making: Slice offers a way for music producers to go well beyond basic slicing and into beat making/writing.
Built-in Sequencing Tools: Slice provides powerful built-in drum, bass, and sample sequencers, allowing producers to create patterns/sequences directly within the plugin.
Stock Sound Library: Slice has a vast library of over 300 melodic trap, hip-hop, drill, R&B loops, drum patterns, and beat starters.
Drag and Drop Workflow: Slice's drag-and-drop functionality makes importing and manipulating samples a breeze. Load up your own samples and truly put this slicer through its paces.
Time-Stretching: Slice's advanced time-stretching algorithms maintain audio quality and characteristics across different tempos. This enables producers to maintain the integrity of the original sound while manipulating audio samples.
FL Studio Styled Playlist: Hey, FL Studio users, does this look a little familiar? Slice's playlist editor lets producers arrange their patterns into complete compositions.
Seamless Integration: Slice works with most popular DAWs like, Reason, Logic Pro X FL Studio, Ableton Live, Reaper, and more.
As mentioned earlier, you don't need a DAW, but if you already have one, it's worth integrating it into your existing workflow.
The Loop Slicer's Interface & Sample Manipulation Features
Slice's GUI has a pretty visually appealing user interface that is easy on the eyes. If you're familiar with Initial Audio's other plugins, like Master Suite or Sektor, you'll feel right at home with Slice's look and feel.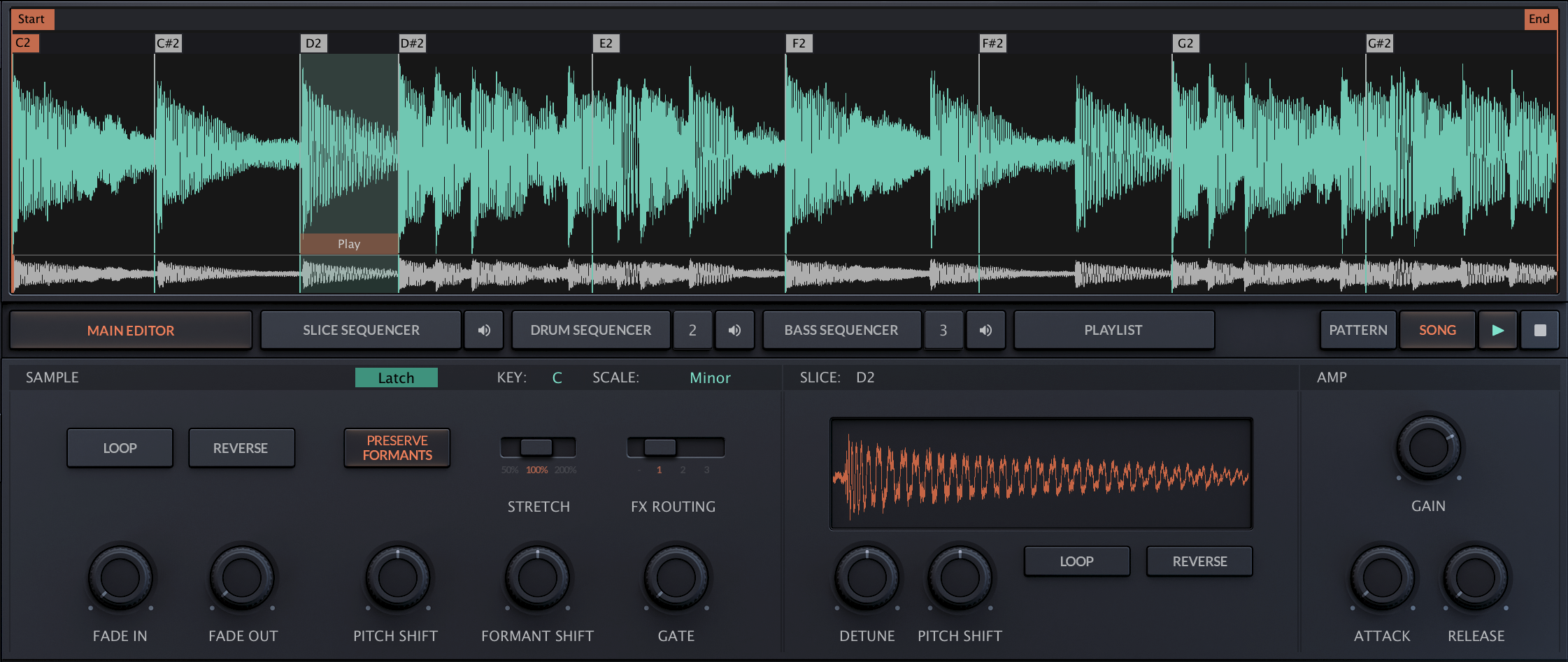 Let's take a look at some of the features you'll be working with to make your sample and loop packs stand out above the rest.
Loop & Reverse: You can set the sample to loop when triggered or play in reverse. There are two ways to control this. You can enable these functions on the entire sample or on the individual slices.
Pitch Shift: This is tuning the sample or slice to play in a higher or lower range.
Detune vs Pitch: Pitch shifting = pitching a to another note. For example, shifting a C to E. Detuning = adjusting the pitch by fractions of semitones.
Stretch: Works like SlowMo, Halftime, and other plugins. Initial Audio built this feature into their sampler.  100% plays the sample in its original state. 50% plays the sample back in halftime, and 200% plays the sample in double time.
Slice's Sequencers & Playlist (Arranger)
In a traditional DAW, each track, device, and instrument gets its own sequencer track which is populated by audio/midi that build the framework for your melodies, drum patterns, etc. Slice's sequencers are very similar but condensed! You have separate sequencers for your Slices (sample loops sliced), Bass, and Drums, each with 4 patterns you can program within and after, arranged in the Playlist. So, it's the exact same concept but stripped down to fit the confines of Slice.
Slice Sequencer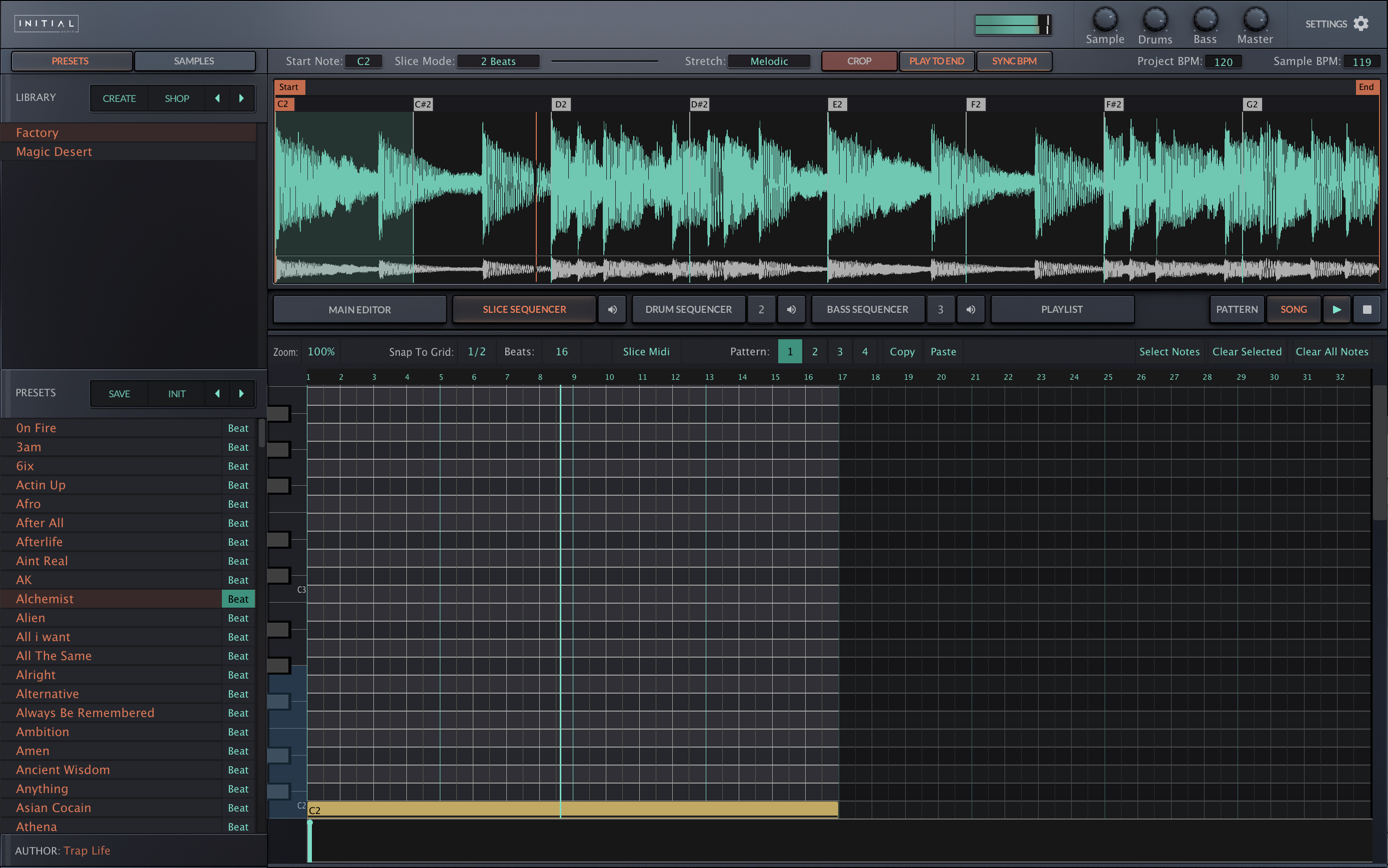 This sequencer is specific for arranging your chopped samples (sliced samples). In this example, the producer held the note triggering 16 bars of the same as opposed to the chop residing on note C2.
Playlist Editor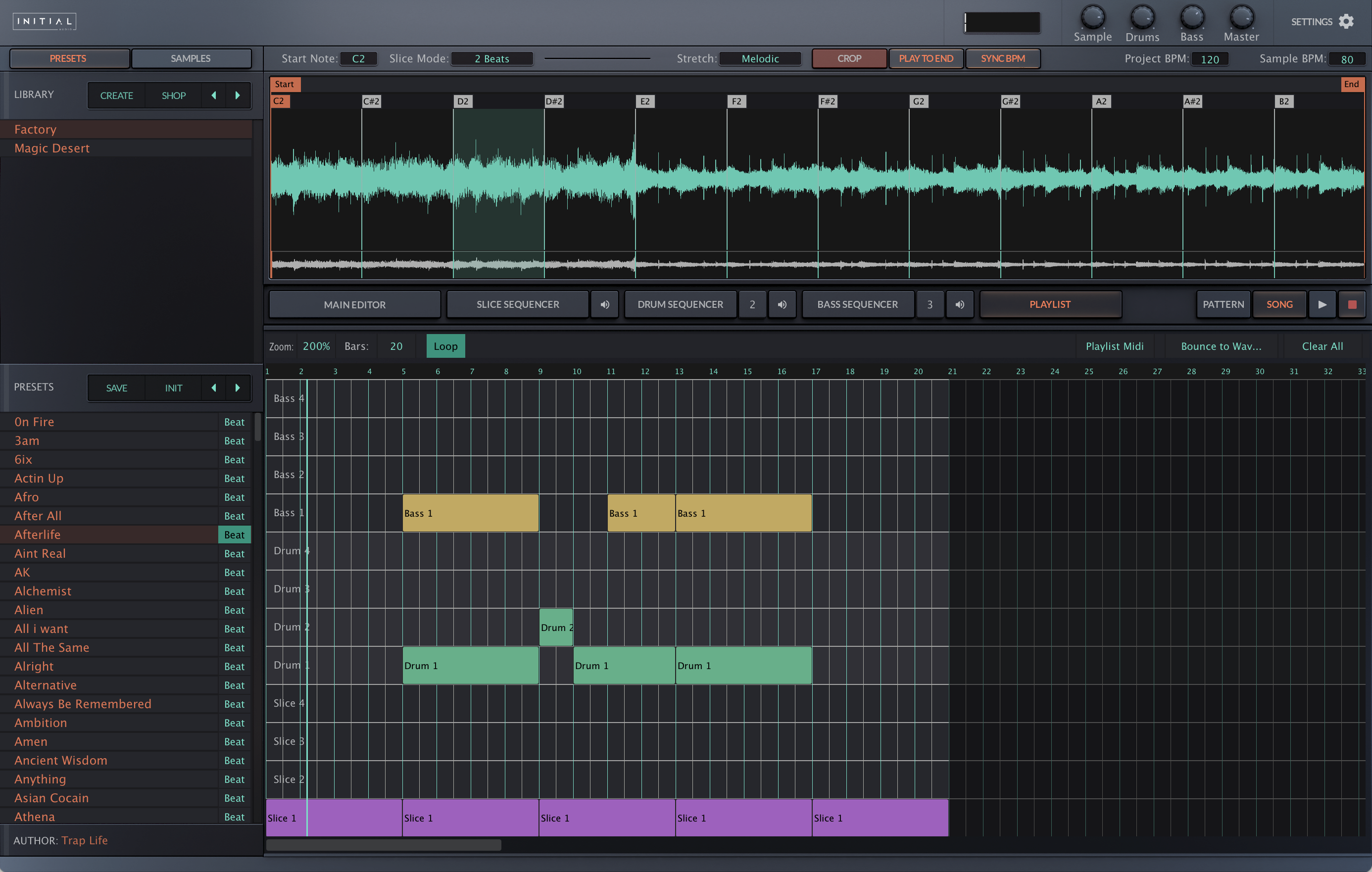 For you FL Studio users, the Playlist section, as well as the pattern workflow, should be fairly familiar. The Playlist section is where you take all of your patterns from each sequencer and arrange them, turning your patterns and ideas into fully developed pieces (instrumentals/compositions).
The Drum Sequencer
Here is where you load your 1 shot samples in channels. Each channel has 4 parameters you can use to sweeten your samples. Those parameters are Gain, Pan, Pitch, and Reverb.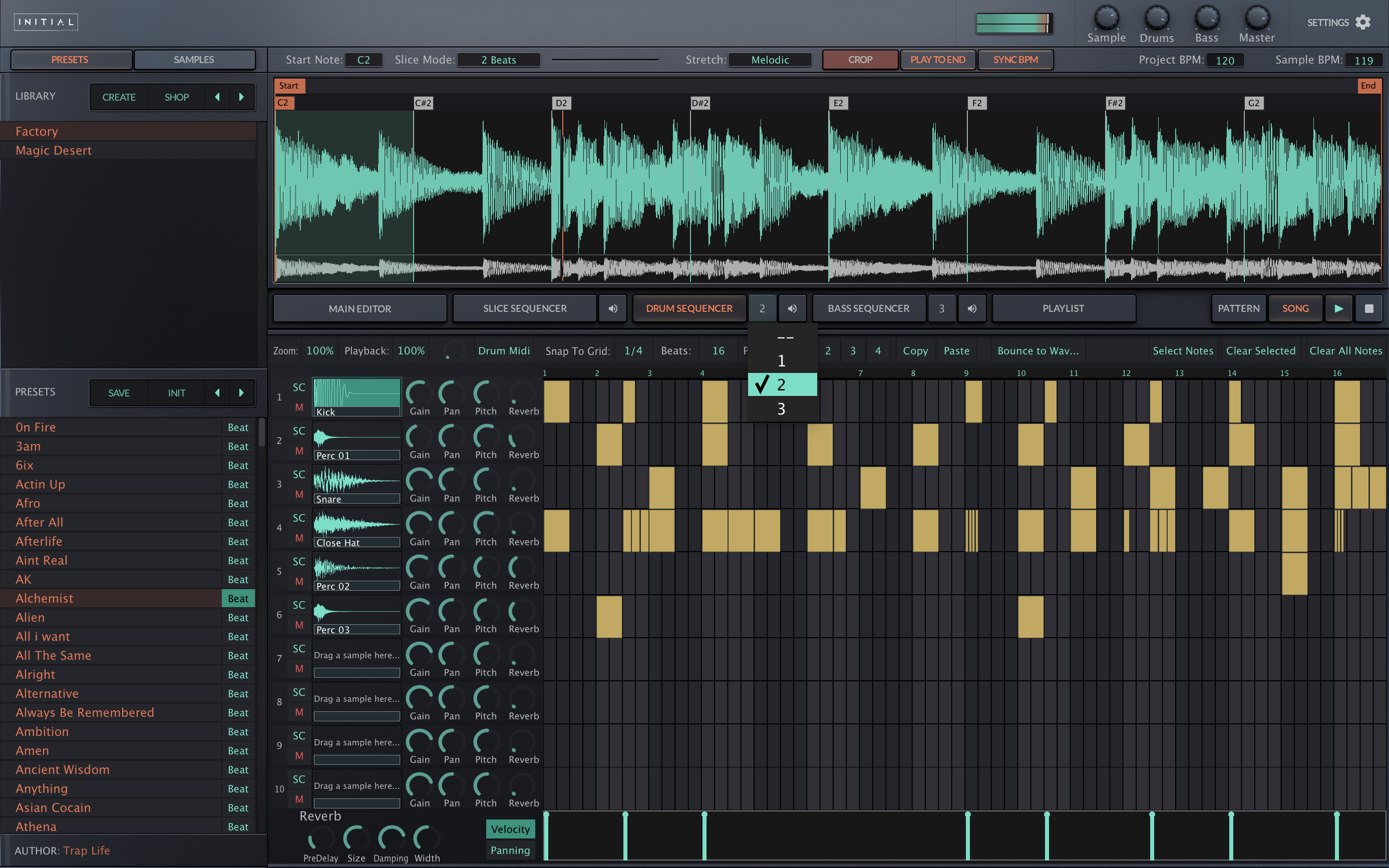 The Drum Sequencer in Slice is primarily designed for drums and percussions, but you can load any 1 shot sound you prefer. In addition, it offers various options, such as changing the beat, grid size, and grid to assist you in your sequencing process.
Slicing, Chopping, and Triggering Samples
Chop Samples: Click Slice Mode to activate the drop-down menu and select your slicing style.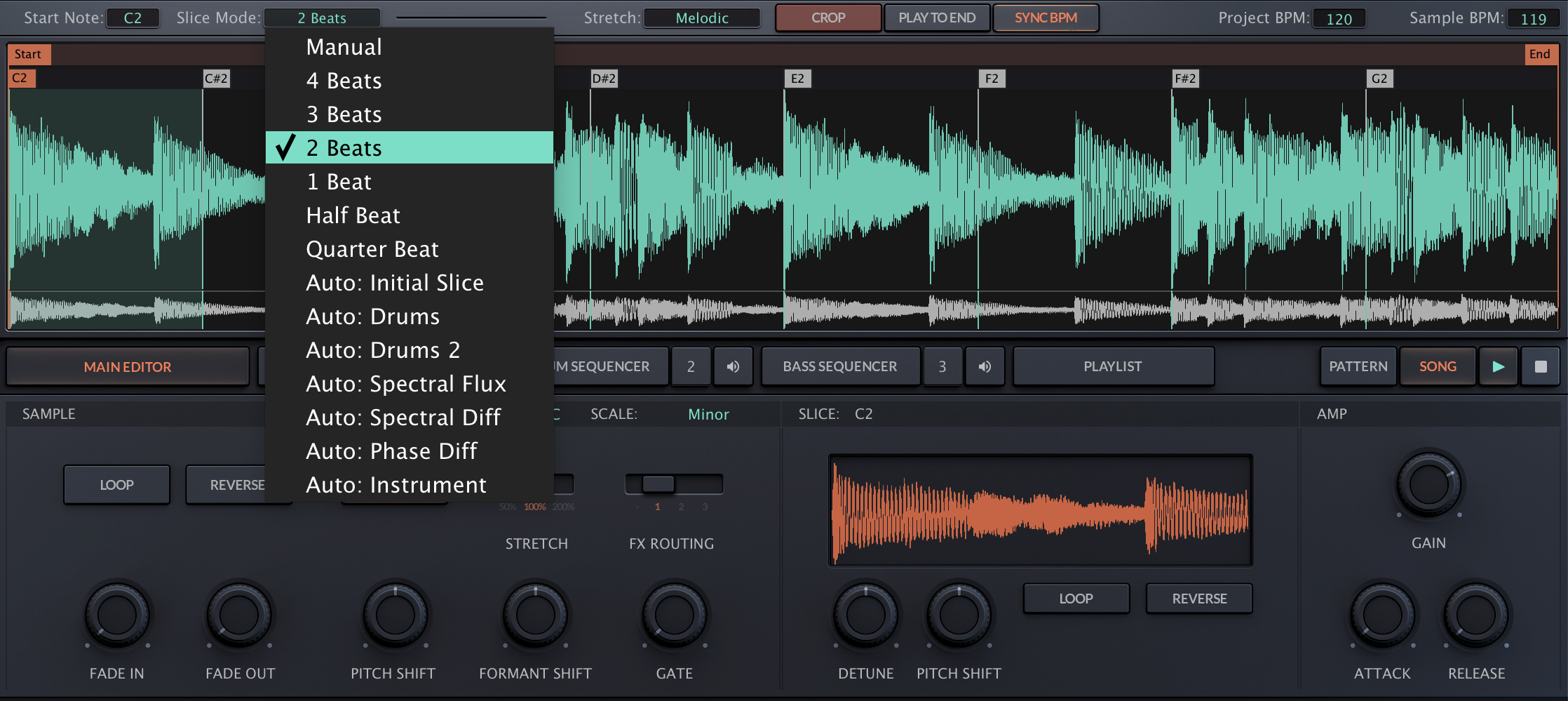 All are good algorithms to use, but I find myself combining auto and manual. Double click an area on the sample to create a manual slice. Slices, once made, are automatically assigned to a key. After the slices are made, you can move them around as needed for more accuracy and precision.
Triggering/Sample Playback
While playing back the slices, you have a couple of options.
1. You can hold any key to trigger a slice. The longer you hold the note, the more of the sample gets played. This happens when the Latch is disabled and Play To End is enabled.
2. Trigger only samples assigned to it. To enable this, you'll need to Enable Latch and Disable Play To End. This will play the slice up to the next slice with a single trigger. Disabling the Latch will require you to continue to hold the key in order to play for the duration of the slice.
Initial Audio Slice FAQ
We often come across common questions related to Slice. Let's address the most common questions and provide the answers you need.
What Audio Files Does Slice Support?
Slice supports WAV, AIFF, OGG, and FLAC. These are lossless audio formats.
Is Slice The Same As Splice?
Slice supports samples from Splice but is not a part of Splice, they are two completely different products owned by different companies.
How Do You Use Initial Audio Slice?
Take a sample you like, drag and drop it into Slice. Use the auto chop feature or one of its many slicing options to slice up your sample. Hit 'record' in your DAW (assuming you're using a DAW) and playback the slices in any order you want.
Conclusion
Look, if you want a powerful tool that can help you get right to putting beats together quickly, Slice is definitely worth checking out, regardless of your experience level.
On the surface, Slice looks to be ideal for Hip-Hop, Pop, Drill, and R&B, but that limitation is really at the hands of the user.
For $29.00, Slice is a steal and optimized (in terms of workflow) for FL Studio, which is a major advantage for FL users.
Psst, If you own Slice or any other plugins from Initial Audio, share your experience with us!