If you're anything like me, I'm sure you already have plenty of Synth Plugins on your harddrive. Some are your regular 'go-to's,' others are for testing, learning, and experimentation, and some you have for the sake of having because they look cool, a friend or colleague recommendation, or you've found them on sale (wink wink).

Seriously though, can we ever have enough synths and noisemakers as music producers? They are fun to use and tinker around with and can be a great source of inspiration.
With that being said, If you're looking for a few more synths to add to your collection, please consider the following in no particular order.
NAVE Synth: Amazing Playground For Creative Sound Creations
NAVE was the first synth I came across when looking for applications for mobile devices. This was a little over 5 years ago, on the iPhone. I was impressed then and even more impressed now that Nave can be used with a traditional DAW and workflow.
What I fell in love with immediately about NAVE is the layout. Everything you need for sound fiddling is right in front of you (easy access). This makes sound designing or tweaking tasks very easy.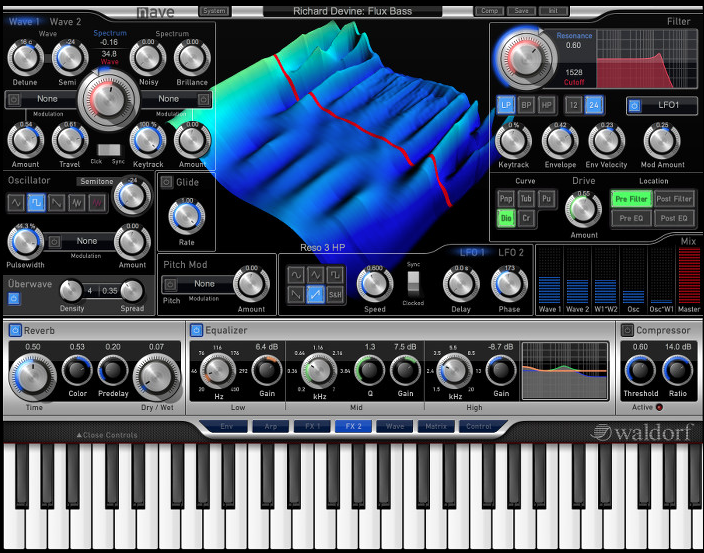 NAVE is not a synth like Electra X, Nexus, or Sylenth and is more catering to those who are into designing their own sound.
However, If you're not a sound designer, no worries, the synth is packed with hundreds of presets: pads, lead synths, basses, and other rich sounding presets that are ready to go, just not as many as the romplers mentioned above.
That said, Waldorf took time with the Design and choice of sound designers, which is highly appreciated.
2 independent wavetable oscillators for awesome design control
400+ presets designed by professional sound designers
Osc module with (up to) 8-oscillator (saw, triangle, PWM, Noise (white/pink)
2 ring modulators
Multimode filter with LP/BP/HP, 12dB, and 24dB
3 envelopes, 2 LFOs
10 Modulation Matrix entries
Drive with an adjustable curve, depth, and position
Modulation effect with either Chorus, Flanger, or Phaser
Reverb, Modulation Delay
3Band Parametric Equalizer
Compressor
Blades with musical scales and optional chord mode
Polyphonic Aftertouch
Up to 3 X/Y control pads
Arpeggiator
Speech synthesizer for wavetables,
3D wavetable editing
Generation of wavetables from external audio files
Nave's Ear Candy (Have a Listen)
Overall, Naves is rich in atmospheres and textures, it reminds me of the Virus TIs in terms of its wavetables. Packed with lots of inspiring presets and as an added bonus, Nave's presets load into Waldorf's Quantum and Iridium synthesizers.
PPG Wave 3.V: Vintage PPG Sound For Pennies
This is an amazing emulation of the original PPG Wave Synthesizer by Wolfgang Palm, coined by many as one of the most revered synths during the 80s.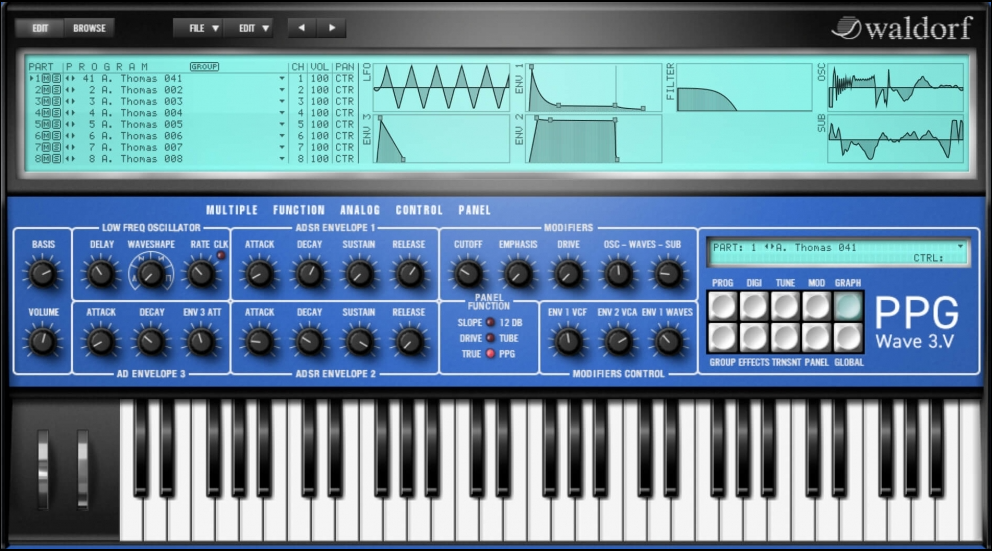 Its sound has helped mold some of the most iconic songs by artists such as:
Art of Noise
David Bowie
Depeche Mode
Eat-Static
Electronic Dream Planet
Gary Numan
Psychadelic Furs
Robert Palmer
Steve Winwood
Stevie Nicks
Stevie Wonder
The plugin emulation comes with the original wavetables and 100 additional tables designed by Wolfgang Palm. I enjoy creating pads and brass with this synthesizer; its banks/presets are also great sounding.
The PPG Wave offers 256 voices of polyphony (dependent on the user's CPU). Voices offer two wavetable oscillators with variable playback resolutions (8,12, and 32-bit).
This, combined with over 2000 wavetables, makes sound creation endless. Sample loading can be achieved via drag and drop (super easy) and an 8-part multimode for using multiple samples.
The selectable 12/24dB lowpass filter is excellent for creating warm sounds, and an overdrive laced with a filter can add a nice kiss of authenticity to your sound.
LARGO: Inspired By Waldorf's Blofeld (Not a Direct Emulation)
Largo is a beast of a synth and definitely, one I've regrettably slept on over the years. The Waldorf synth sports 3 oscillators, 2 sub-oscillators located in the first two (oscillators), multimode filters, 4 stereo outputs, and a mass amount of flexibility.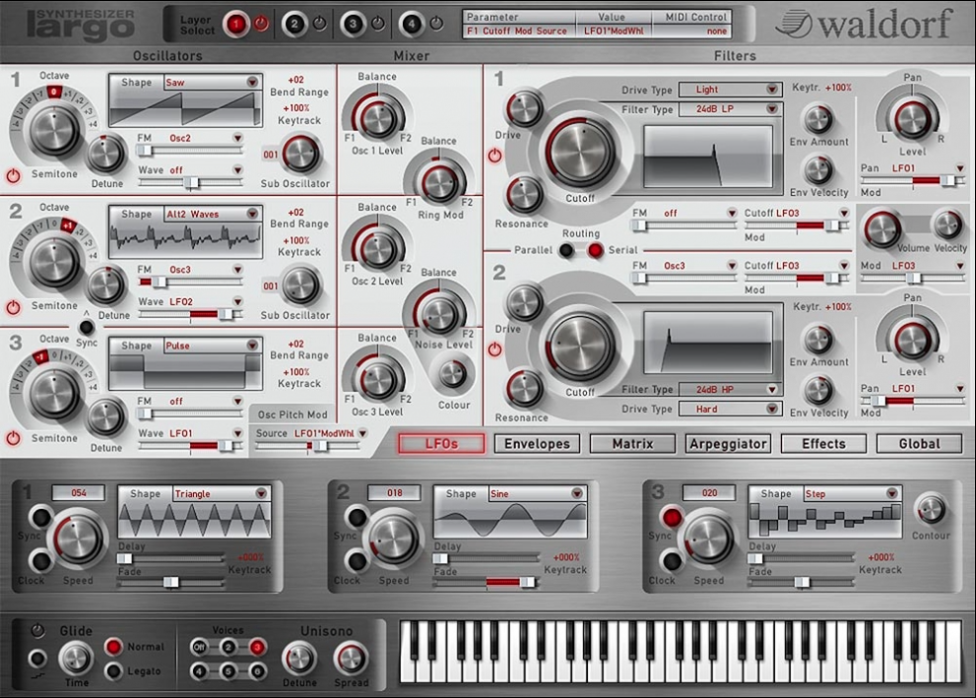 The GUI is easy to navigate and very intuitive. The interface reminds me a bit of the Virus. I am unsure if they've studied that synth during development, but the comfortable feeling is appreciated.
Largo's overall sound and design capabilities are pretty nice, and as expected when dealing with Waldorfs plugins, their filters are very good.
This makes shaping tones of sounds and getting them to fit in the mix a lot easier. That's a great consistency I've noticed across all of their products.
The 16-step arpeggiator is freely programmable and laced with quality fx such as Phaser, Flanger, Delay, Chorus Reverb, and Overdrive. I really enjoy Largo's bass boosts in the filter section, which gives the sounds a little more umf and richness, especially to low-end elements (bass, synths, etc.).
For a bit more control, you can use the EQ section.
Also worth mentioning is the Unison, which includes an additional stereo spread (I didn't expect that) that I find very handy.
Other Largo Features
Powerful File Browser
Program Manager for easy reorganization of bank content.
up to 256 voices per instance (depending on available CPU power)
up to 4 layers per sound
4 stereo outputs (alternatively 1 stereo sum)
host automation of almost all parameters
MIDI Controller automation of the most important parameters
How Largo Sounds
Often, companies have good synths but only a few 'well made' presets. For some, this isn't a big deal as they're programmers (sound designers). Those who don't Sound Design like the ability to load presets and get to work immediately with minimal tweaking.
They want to select a good preset and create. Waldorf offers great features and sounds, and I like their features and consistency of quality across their products.
Also, be sure to check out other deals on sounds and synths at https://audioplugin.deals/shop/

New To Audio Plugin Deals?
Are you new to the site? How do all the sales, discounts, and deals work? Not a problem.
Here's everything you need to know about acquiring discounts and other exclusive deals → https://audioplugin.deals/how-it-works/