If you're a music producer looking for a good Lofi Keys plugin, we have a great one in store for you, pun intended.
In this article, we will break down the Lofi Keys, laying out all the features and goodness that come with it that'll help you unlock the keys to some killer Lofi/Chill Beats.
Listen To These LOFI Tracks
Lofi Keys Plugin Features: Why This Plugin Is a Must Have
The quality of the plugin is evident from the examples provided. This isn't just a reflection on the demo creator's skills but also a testament to the sound design of the plugin itself.
Both the design team and the demo creators deserve commendation. As users, we often encounter great demos, but the actual sounds are limited in versatility. With Lofi Keys, every sound is excellent and versatile for various genre usages.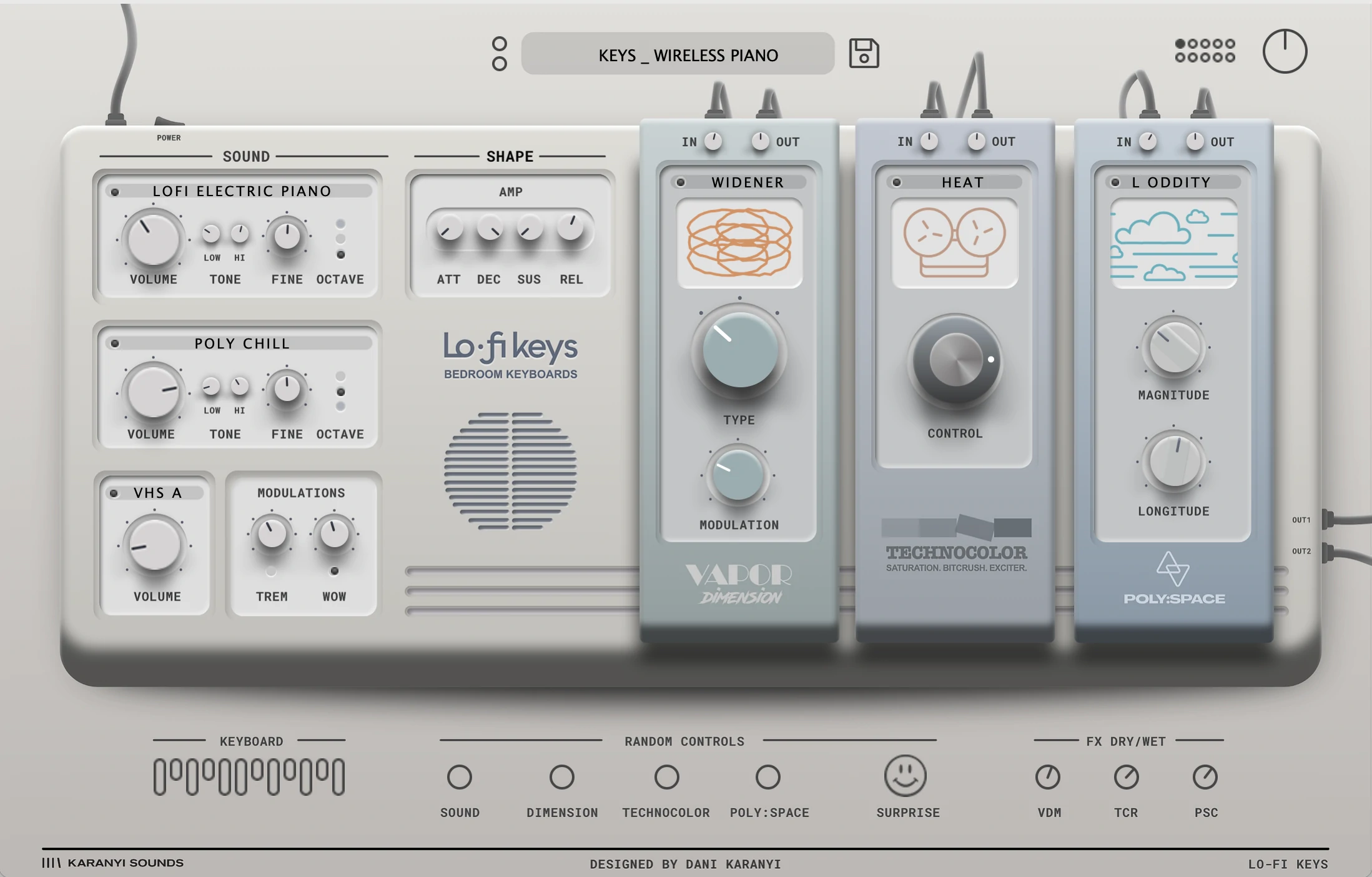 Lofi Keys Features
1. Vintage Resampling
Lofi Keys samples legendary electric pianos and synth classics using vintage tape players, cassettes, and VHS players. The plugin offers a sound that is both authentic, unique, and pleasing to the ear.
2. Great Sound Palette
8 iconic electric pianos and analog synths, including the award winning Blüthner acoustic piano, Lofi Keys, making sure beatmakers and music producers alike are never short of options.
3. Creative Effects
The beauty of Lofi music lies within its authentic imperfections. That said, Kanaryi includes sweeteners such as Vinyl Noises, Tape, VHS, WOW, and other fx and processors for users to manipulate their sound with
4. Randomization
I'm a big fan of the 'Random Controls' section because it offers the ability to produce new sounds effortlessly with just one click.
Found at the bottom of the plugin, this feature lets you try out random combinations of processes instantly.
It's a time saver and a great tool to spark sound design inspiration.
5. Great Effect Units
Lofi Keys does more than offer sounds. It includes 3 effect units to amplify its potential.
The Dimension provides a vintage chorus effect, echoing classic sounds. Technocolor, an exciter, gives your tracks an added boost. The Poly Space reverb ensures your music has the right atmospheric touch.
How To Download and Install Lofi Keys: A General Rundown
Plugin installations are pretty standard these days: Download the file, click a few buttons, pick a path, click, and boom, installation is complete. However, I did run into 1 issue that I hope I can help you avoid.
After you purchase Lofi Keys, you'll receive an email titled
"Your Karanyi Sounds order is now complete.''
This email contains your serial, invoice/order number, downloads for both Windows and Mac, and different build versions.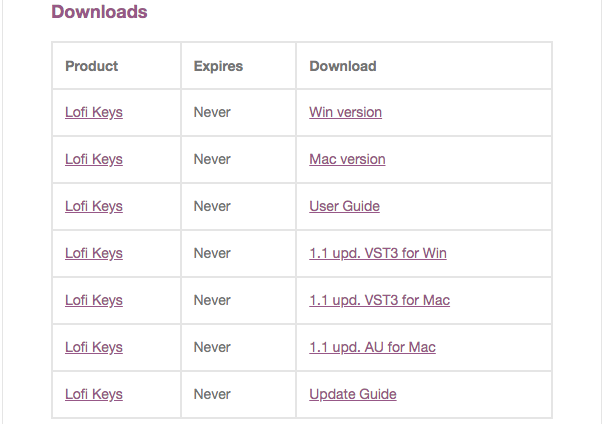 When I clicked the build I wanted, it brought me to a black screen that looked like this.
I clicked a few more links and ran into the same issues.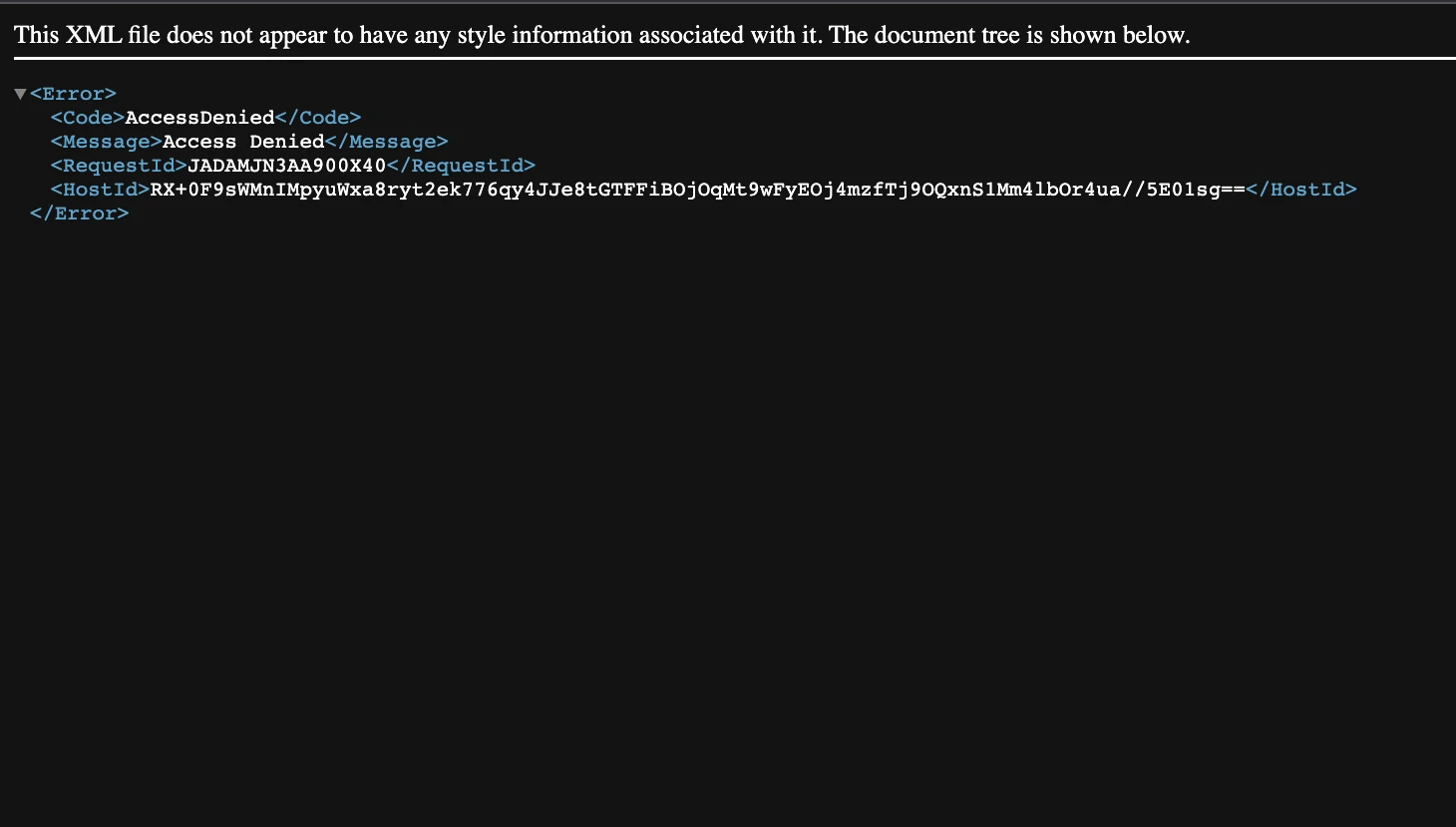 If you are running into this issue, go into your 'account' on the Karanyi site and download from there.
This worked perfectly, and the download was pretty fast.
1. Download the Installer
After purchasing or obtaining the Lofi Keys plugin, you should receive a download link or access to a user account where the installer can be downloaded.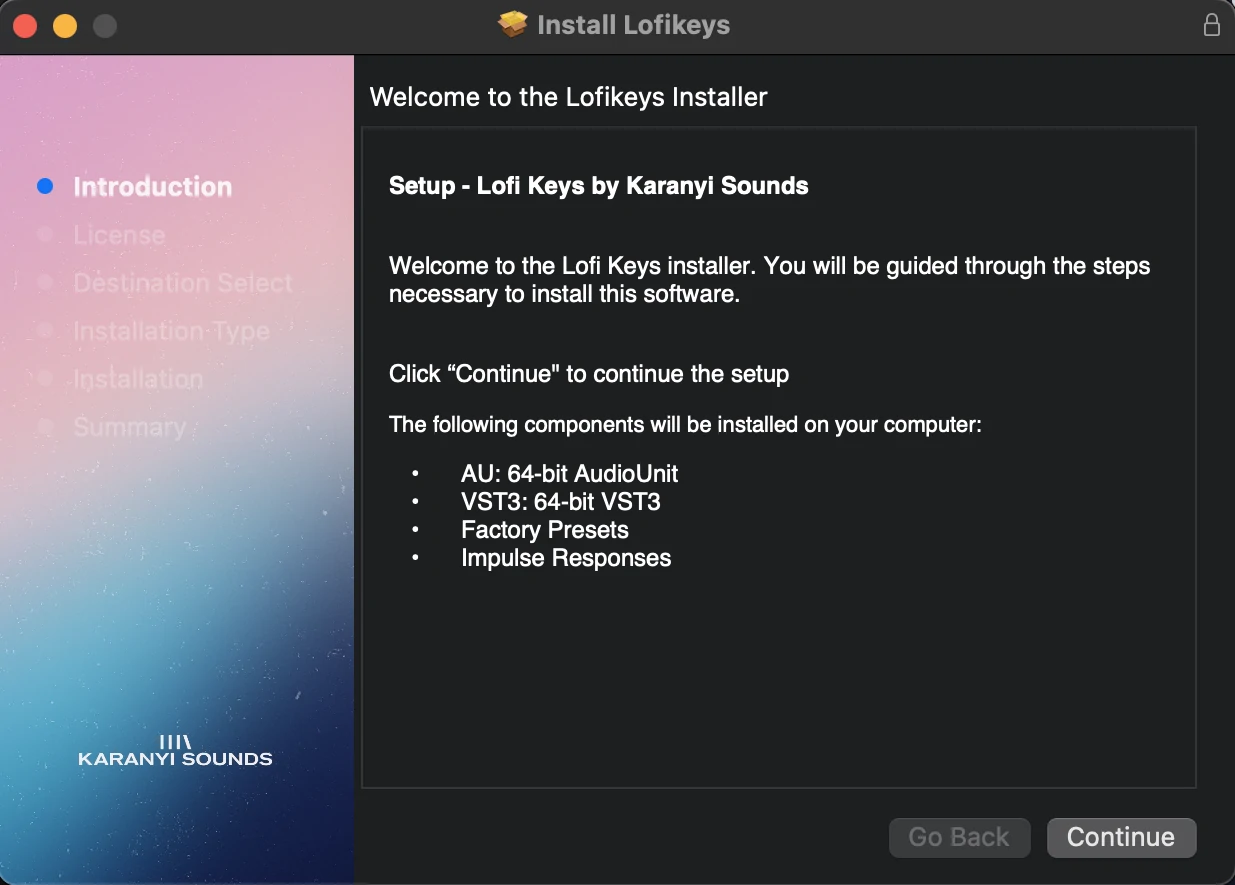 2. Run the Installer
Locate the downloaded file (usually a .exe for Windows or .dmg for Mac).
Double click or right click and open to open and run the installer.
3. Choose Installation Path
The default directory is present automatically, but you are free to choose your own path as well. Installing it in the default directory your DAW scans for plugins is recommended.
4. Select Plugin Format
VST3, AU, etc. Choose the one compatible with your DAW.
5. Complete the Installation
Follow any additional onscreen instructions.
Once the installation is complete, the plugin should be available in your DAW.
6. Verify Lofi Keys Is In Your DAW
Open your DAW and refresh your plugin list.
Look for Lofi Keys in your instrument or VST list.
If it doesn't appear, ensure your DAW scans the correct directory where Lofi Keys was installed.
7. Activate Your Lofi Keys Plugin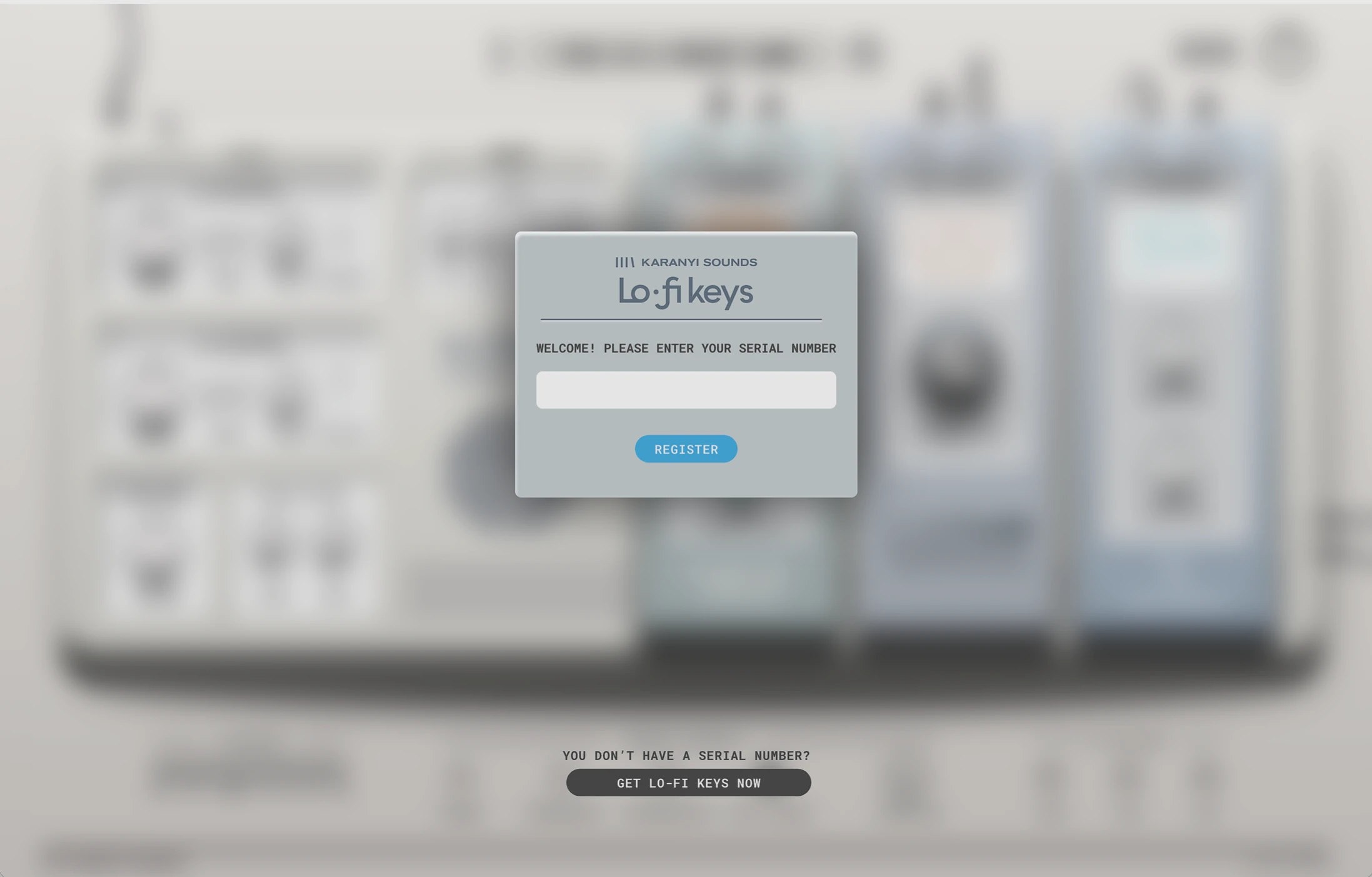 Load the plugin into a channel of your choosing. Once this is done, you'll notice a spot for you to enter your serial number. Enter it and enjoy!
System Requirements for Lofi Keys
Mac
OS: macOS 10.11 or above (Compatible with Intel & M1 Apple Silicon) (64bit essential)
Ram: Minimum 4 GB RAM, though 8 GB is the sweet spot
Processor: Quadcore CPU at 2 GHz or faster
HDD: Reserve 2 GB on your drive for installation
Plugin Formats: Supports AU and VST3 formats
Windows:
OS: Runs on Windows 7 and above (Strictly 64bit)
Ram: At least 4 GB RAM, but 8 GB is better
Processor: Quadcore 2 GHz CPU or better
HDD: 2 GB storage is needed for setup. More is better
Plugin Format: Designed for VST3
Quick Heads Up: This Lofi Plugin does not work with Maschine or Pro Tools.
1. What are the main sound sources in Lofi Keys?
Lofi Keys boasts 40 different sound sources spread across two sound slots, ensuring a diverse sonic experience.
2. Can I use Lofi Keys with FL Studio?
Lofi Keys is 100% compatible with FL Studio, Reason as well as other major DAWs except for Pro Tools.
3. How Does The 'Smart Random' Feature Work?
The 'Smart Random' control is a unique feature that allows users to generate new sounds instantly, providing a fresh palette of sounds at the click of a button.
4. Are there any presets available?
Yes, Lofi Keys comes preloaded with over 40 factory and artist presets, ensuring that users can start creating right out of the box.
5. What Is The Standard Tempo For Lofi Beats?
70 and 110 BPM, with many tracks floating around the 90 to 95 BPM mark. Feel fre to experiment with this, there are no rules.
6. What Are Some Signature Instruments Used In Lofi Hip-hop?
Soft pianos, electric pianos, mellow guitars, and vintage synths. Ambient noises such as vinyl crackles, tape hiss, rain, and cafe ambiance are also commonly layered in tracks to add texture and nostalgia.
Ending Thoughts
Lofi Keys is perfect for music producers looking to cook up those laid back, soulful, and chill-sounding hip hop beats.
The Lofi Keys plugins presets sound good on their own but using the features and fx it comes with will help you carve out your own sound, give you an edge, and help you stand out amongst other producers.