[vc_row][vc_column][vc_column_text]The harp is truly one of the most beautiful instruments we have been blessed with, and nothing you say will convince me otherwise. It's also a relatively straightforward instrument to sample, which is why there's so many harp sample libraries out there – there's definitely a lot to pick from. Today, we'll be looking at Etherealwinds Harp II by Versilian Studios, the same developers that gave us the VSCO 2 library.
[embedyt] https://www.youtube.com/watch?v=FiXnprk9Am4&width=625&height=352[/embedyt]
Click button below to subscribe to our Youtube channel!
Versilian Studios have come a long way since the original edition of their VSCO library, which was completely free (and admittedly not the best-sounding, though I was really impressed by the sound of the harp in that library too). Since then, they've diversified their range of sample library products, providing professional-quality samples all the way from the chamber orchestra to individual instruments like an Italian harpsichord, an upright piano and even a set of wine glasses!
Library Background
This particular library is part of Versillian's Artist Series range of products. It was created in collaboration with a Celtic harpist and composer by the name of Jordi Francis, and it features a 34-string lever harp sampled chromatically in its full 24-bit / 48 kHz glory. The library gives us a wide selection of articulations and special effects, and in addition it also gives us a tenor vocal library featuring the voice of none other than Jordi Francis himself. The vocal library is admittedly not as powerful or playable as a dedicated vocal sample library like Soundiron's Voices of Gaia series, but lots can still be achieved – for example, one could use the vocal patches to create some vox-like pad sounds (especially if you like processing the hell out of acoustic recordings!).
This library can be used in a variety of genres and contexts. Versilian describes the tone of the harp as 'halfway between a lap harp and a full concert harp,' which is a fairly apt description.
Samples and Patches
The harp is sampled at 3 dynamic layers, with 4 round robins each. The vocals take up two octaves, and the patches give us access to 14 sustained sounds as well as 240 short phrases. In total, the library includes around 3200 samples.
On top of the standard harp and vocal patches, we're also given three additional patches which feature the same harp, but this time run through a series of effects. These give us access to some really nice, versatile drone and pad sounds.
Interface and Playability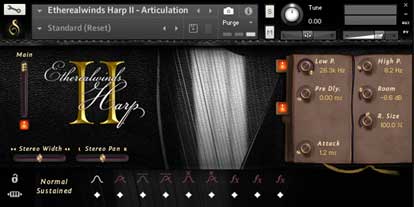 The user interface is fairly minimal and extremely easy to use. We can select the articulations from the buttons at the bottom. We also have options for stereo width and pan, as well as some reverb controls at the far right.
By clicking and dragging left or right on the keyboard button at the bottom left corner, we can bring up a set of keyswitches to switch between the articulations easily.

The available articulations include normal, p.d.l.t. (or près de la table – played near the harp soundboard), muted, and three different sets of effects. The effects include glissandos, tremolos and trills.
The vocal patches feature a similar-looking interface, but all the articulations are replaced with different vowel sounds or phrases (depending on the patch). Again, these can all be triggered through the use of keyswitches. Dynamic crossfading is also available through the modwheel.
Tech Specs
FULL version of Kontakt 5.6.8 or later
8 GB available disk space
Not too much RAM, thankfully
included is a full chromatically-sampled vocal library with two octaves of common syllables and 240 individual phrases with a grand total of 3,200 samples.
Weather you have an interest in video game music or something a little more spectacular we are sure you will love Etherealwinds Harp.[/vc_column_text][/vc_column][/vc_row][vc_row css=".vc_custom_1560492815574{margin-top: 40px !important;}"][vc_column width="1/6″][/vc_column][vc_column width="2/3″][vc_btn title="Buy Etherealwinds Harp 2″ style="flat" shape="square" color="violet" align="center" i_align="right" i_icon_fontawesome="fa fa-shopping-cart" add_icon="true" link="url:https%3A%2F%2Faudioplugin.deals%2Fetherealwinds-harp-ii-by-versilian-studios%2F|title:Etherealwinds%20Harp%20II%20by%20Versilian%20Studios||"][/vc_column][vc_column width="1/6″][/vc_column][/vc_row][vc_row][vc_column][templatera id="166935″][/vc_column][/vc_row][vc_row][vc_column][templatera id="168094″][/vc_column][/vc_row]