Wild Chases is a loop and sample library created by Ueberschall. It contains a mixture of loops and single hits from ten different electronic construction kits. Every loop can be brought together to create fast, intense and driving rhythms. In the words of the developers, "Wild Chases is all about momentum."
Instead of using an existing sample engine, Ueberschall's libraries run on their own looping engine, Elastik. It's compatible with both Mac and Windows, and it allows for a huge amount of control over loops and samples.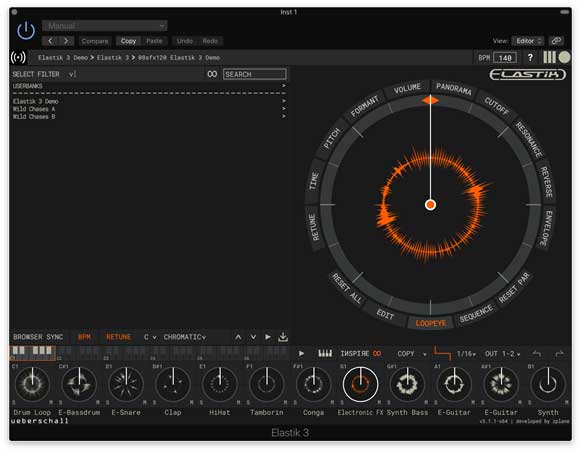 Elastik's interface takes a really cool approach to loop usage.
On the left side of the interface, we have a menu for navigating through your installed soundbanks – at the moment I only have WIld Chases installed, so that will be the only visible soundbank (alongside the Elastik 3 Demo soundbank). We can listen to each loop before equipping it.
Right at the bottom of the interface, we see twelve different circles. When you first load up Elastik player, these are filled with various loops from the Elastik 3 Demo soundbank. Each of these loops are visualized through audio waveforms that are bent into the shape of a circle. We can drag loops from our soundbank menu into any of these circles to equip them and use them in our compositions. Each one of these circles corresponds to a key on the MIDI keyboard – holding those keys down will play the loop. As each loop is played, a white playhead will move clockwise along the audio waveform.
Click button below to subscribe to our Youtube channel!
Finally, on the right side, we can see a large circular area that somewhat resembles an eye – this is essentially a much larger version of the circles at the bottom. Wild Chases (and indeed all of Ueberschall's soundbanks) revolve around this area – it's called the "Loopeye." Once again, the selected loop is visualized through a circular audio waveform, with the same white playhead. Around the loopeye are various parameters which we can adjust individually.
"But Sai," you say, "I don't use loops… I prefer to make my own original beats, thank you very much!" I hear you, and so does Ueberschall! With every set of loops, they also provide single drum, cymbal and hi-hat hits which can be dragged into the loop circles to be played like a regular sampler instrument. These can also be accessed in the soundbank menu, under the "Singlesounds" folder for each kit.
Designed For Flexibility
As I mentioned, Elastik is geared towards giving you a good level of control over each loop, and it does this through the Loopeye parameters. A few of these parameters are actually grouped to be used like an XY pad – for example Volume & Pan, Cutoff & Resonance (both of which are pictured below) and Pitch & Formant.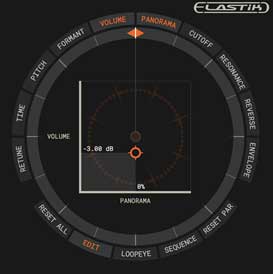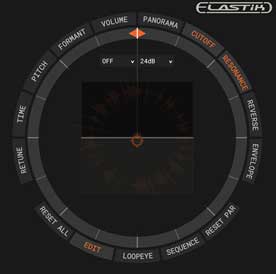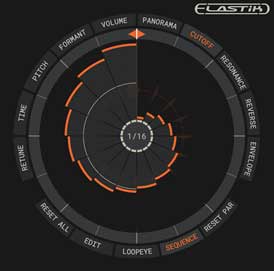 What's really cool is that every single one of these parameters can be run through a built-in sequencer, which can be accessed through the 'SEQUENCE' button around the bottom of the loopeye. This allows us to accent certain beats, change the panning or even create cool looping crescendos through sequencing the Volume or Cutoff parameters (as pictured left). And once again, the interface does a FANTASTIC job of visualizing the sequence – look at how cool that crescendo pattern looks!
Other Cool Features
It's worth noting that these loops, despite being recorded at a specific tempo, will snap to your project's BPM. I would advise staying close to the loops' original BPM as much as possible though, so as to maintain the sound quality. Also, speeding up the loops works much better than slowing them down (though slowing them down significantly can create a cool 'lo-fi' type sound which you may be after – there's creative possibilities with every limitation!).
Some of the kits also feature pitched material. You may want to use this material in your project, but a lot of the time you'll find that it won't fit because your project is in a different key! Rather than having to re-pitch the entire project or apply a pitch-shifter effect, simply hit that 'retune' parameter just at the left of the loopeye to adjust the loop's tonality.
The Elastik player has tonnes of other features that I simply don't have time to explore in this article or the corresponding video. However, the Elastik manual is always available at the Ueberschall website for you to explore. In the meantime, this should give you a starting point as to figuring out how the library works, and whether you'd like to invest in it!
Note that there are also four other Ueberschall soundbanks which you can purchase at the Audio Plugin Deals store for a great price. You can check these out at audioplugin.deals/developer/ueberschall/.
Tech Specs
10 construction kits
library contains nearly 700 loops and samples spanning 2.5 GB
Comes in the Elastik format: Elastik player is compatible with Mac & Windows, and comes in AU, VST, AAX (Pro Tools) and Standalone.
electronica based construction kits